A Day In The Life of Nepal
"Villages like this are routinely affected by landslides and it's not uncommon for entire villages of 200, 300, up to 1,000 people to be completely buried by rockfalls."




"It will likely be helicopter access only."




Matt Darvas, World Vision aid group





"We don't feel safe at all. There have been so many aftershocks. It doesn't stop."




"I've watched hundreds of bodies burn. I never thought I'd see so many ... Nepal should learn a lesson from this. They should realize proper buildings should be built."




"There should be open spaces people can run to."




Rajendra Dhungana, at Pashuputi Nath Temple, Kathmandu
Volunteers and emergency workers search for bodies buried under the debris of one of the temples at Basantapur Durbar Square on April 27, 2015 in Kathmandu, Nepal.
(Omar Havana/Getty Images)
Many countries of the world with special units aligned with their military set up for just such emergencies, have sent along to Nepal their specialized groups of search-and-rescue specialists, doctors, nurses, field hospitals and technicians, to help the Himalayan country cope with the devastation brought about by the 7.8 magnitude earthquake that hit the capital Kathmandu and surrounding areas on Saturday afternoon.
A series of aftershocks, the worst of which occurred the following day with a magnitude 6.7 shock had residents of the city rushing again for wide open spaces to protect themselves from the crush of falling debris. The nation is in shock, not only for the thousands who have died and all those many more thousands who have been injured, but also for the irreplaceable loss of its heritage sites. Nepal has the most heritage sites of any other country listed with the UNESCO World Heritage group.
Aid workers have warned that the situation, devastating enough as it is where humanitarian aid can reach, may be far, far worse in those isolated and now difficult-to-reach areas closer to the epicentre of the quake. This was an earthquake that was the most violently powerful in more than 80 years to hit Nepal, destroying swaths of the most ancient portions of the city of Kathmandu. It was powerful enough that people also died in India, Bangladesh, Tibet and Pakistan.
Niranjan Shrestha/Associated Press

Trailokya Mohan Narayan Temple, Kathmandu, Volunteers help remove debris of a three-story temple.
Rescuers, including international teams of search specialists, spent Sunday looking for survivors under the rubble of buildings with the wreckage of concrete slabs, bricks, iron beams and wood, complicating their efforts and breathing air full of chalky concrete dust. In one neighbourhood, a backhoe was digging through what was left of a budget-rate guest house, finding six people dead, and extracting a dozen others. Still, 20 people are believed to be trapped under the wreckage.
India, Israel, Canada, the United States, Germany, France and the United Arab Emirates have all sent support to Nepal. The capital city is rife with warrens of small brick apartment buildings of poor construction. Those modern structures that are part of the city landscape by contrast managed to survive intact, while other buildings became piles of rubble.
Tens of thousands of people, fearing the results of further aftershocks spent Sunday in the streets, crowded and frantic with shock and fear.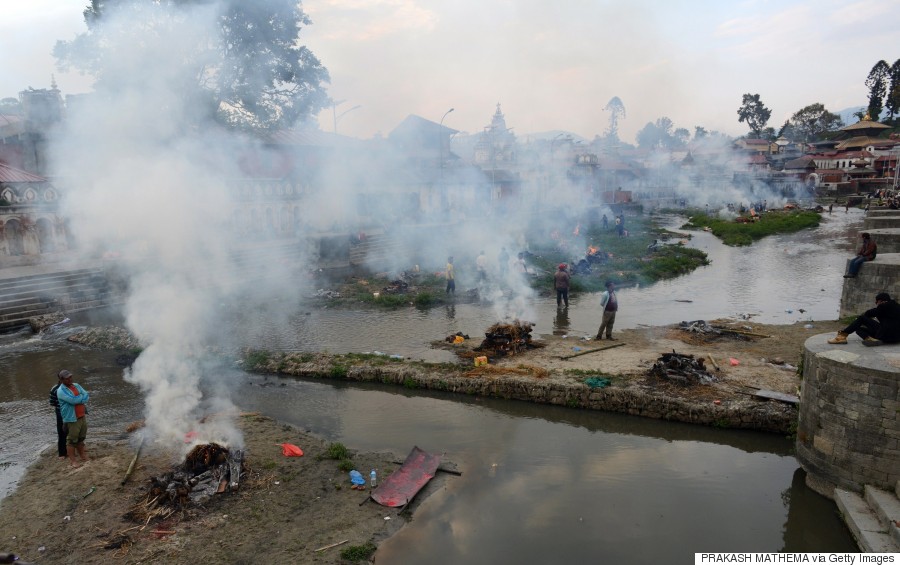 People burn the bodies of earthquake victims at a mass cremation at Pashupatinath in Kathmandu on April 26, 2015.
Labels: Disaster, Earthquake, Himalya, Nepal