That Nicotine Buzz
"A kid can inhale it and get a good nicotine buzz."




"Is this a fad or is it the beginning of primary nicotine addiction?"




"We think most users are using it a few times a month. But there are clearly some who are using it every day."




Dr. Neal Benowitz, San Francisco





"Perhaps it will be a passing fad. We don't know."




"But, when kids come to you and tell you that half the kids are JUULing, it's a valuable piece of information."




"Obviously, there's a certain allure, and that's interesting and worrisome."




Robert Reid, deputy chief, division of prevention and rehabilitation, University of Ottawa Heart Institute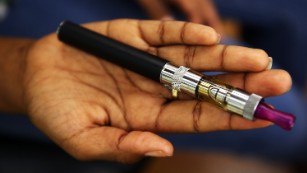 "To me, these are products that are really appealing to kids. ... Millions of kids are trying these e-cigarette products. Studies show that one in five eighth-graders that currently use tobacco products got there by starting with e-cigarettes."




"So these e-cigarettes are also a gateway for traditional tobacco use for many young kids.There are warnings on the labels of some vape liquids containing nicotine that are pretty clear: 'Nicotine is an addictive chemical; For use by adults 18 and older'."

Joseph Allen, assistant professor of exposure assessment science, Harvard T.H. Chan School of Public Health
"Our main concern is adults having the tools that they need to quit smoking. Young adults, if they are not smokers, they absolutely should not start using a nicotine product."

"Spend some time in a vape shop and see the customers that come in for these wildly named products. They are adults. They are over 25 years old, and they are the same type that watches 'Family Guy' on Sunday nights."

"It's something that is a little lurid, appeals to adults. We're not a country of serious, uptight people that just want straightforward products."

American Vaping Association President Greg Conley

"I definitely think about ... how it affects what I'm putting into my lungs, because I don't really know too much about it. ... I'm not even sure how it turns into vape. ... But I haven't been too concerned about it, obviously, because I'm still using it [since first starting to vape in her teens]."

"It [warning label on her JUUL box, read for the first time] says 'California Proposition 65 warning: This product contains chemicals known to the state of California to cause cancer or birth defects, or other reproductive harm.' OK, I never read that before. Doesn't make me feel great, but that's what it says, so, I guess, yeah, that is the only warning. But that's probably the only warning that needs to be on there."

"[Did the warning change her mind about vaping?] No, definitely not."

Bella Kacoyannakis, 20, East Longmeadow, Massachusetts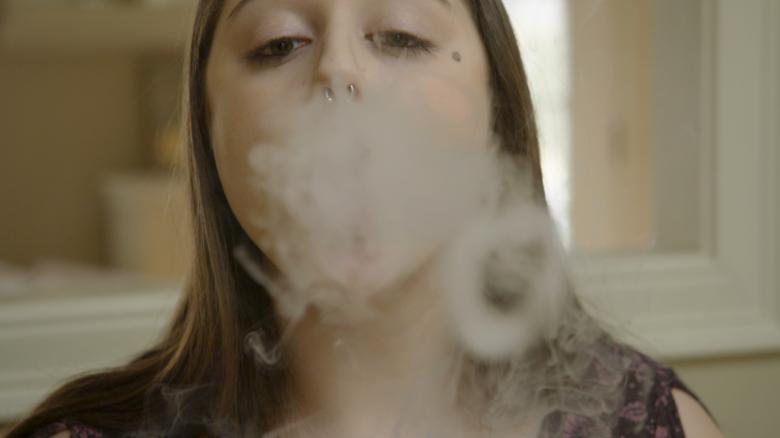 Twenty-year-old Bella Kacoyannakis started vaping when she was still in her teens
According to the company that produces the
"Apple of vaping"
-- the device that has spread through high schools in the U.S. and Canada as well as university dorms -- headquartered in San Francisco, it has one interest only, to improve the lives of smokers, to aid them in their determination to stop smoking cigarettes, nothing more, nothing less. Dr. Benowitz, whose clinic happens to be located several blocks from the JUUL headquarters, notes when he met the company founders three years earlier his message to them was:
"You have to make sure this doesn't spread through high schools."
Spread it has; like the proverbial firestorm of popular acclaim for a product whose allures has taken young people always on the lookout for the latest cool attraction, by storm. The past decade has seen a notable decrease of young smokers, a situation that has gone into reverse with the introduction of e-cigarettes and vaping devices causing health authorities to pose hard questions, according to Dr. Benowitz, an expert on nicotine toxicology, speaking at a national conference on smoking cessation held in Ottawa, Ontario.
A recent survey of teens and substance abuse throughout the province found ten percent of Ottawa high school students had vaped in 2017, in comparison to six percent who said they had smoked. The recent nature of this phenomenon means that little is as yet understood about whether young users do so socially, or whether as time goes on they will become confirmed cigarette smokers, becoming lifetime users of nicotine. This is an issue identified as worrisome by physician and University of California professor, Dr. Benowitz.
Admittedly, the hit of nicotine delivered through e-cigarettes is acknowledged to be less harmful than that from cigarettes. Public Health England points out that e-cigarettes are 95 percent less harmful than cigarettes, and some British and French jurisdictions have enlisted vape store personnel as advisers for smoke cessation. The danger rests in the smoke, according to research. Sweden, with its high use of snuff-like smokeless tobacco,
"snus"
, lists a low rate of lung cancer.
Concerns remain, however, that devices like JUUL differ from those first-generation e-cigarettes since JUUL uses nicotine salts, diminishing that harsh taste but delivering high nicotine content. Flavours used for vaping products such as mango and creme brulee may appeal to adult smokers but these are flavours that young smokers also respond positively to. And while vaping may be less harmful than smoking, concerns abound about nicotine's effects on the still-developing adolescent brain.
Labels: Bioscience, e-Cigarettes, Health, Nicotine, Research, Vaping