A Mysterious Frozen Lake Disgorging Its Corpses

"It's hard to believe that each individual died in exactly the same way. We were extremely surprised by the genetics of the Roopkund skeletons."




"The presence of individuals with ancestries typically associated with the eastern Mediterranean suggests that Roopkund Lake was not just a site of local interest, but instead drew visitors from across the globe."




Eadaoin Harney, lead author, evolutionary biologist, Harvard University





"We have searched all the archives, but no such records [journeys of distinct populations in antiquity] were found."




"It is still not clear what brought these individuals to Roopkund Lake or how they died. We hope that this study represents the first of many analyses of this mysterious site."




Niraj Raf, ancient DNA expert, Birbal Sahni Institute of Palaeosciences, India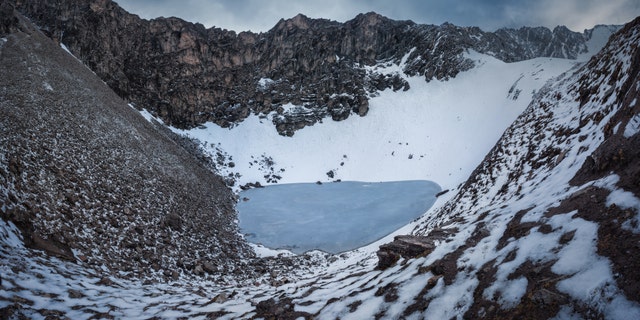 Roopkund Lake and its surrounding mountains.
(Atish Waghwase)
"Through the use of biomolecular analyses, such as ancient DNA, stable isotope dietary reconstruction, and radiocarbon dating, we discovered that the history of Roopkund Lake is more complex than we ever anticipated."




David Reich, geneticist, Harvard Medical School



"Individuals belonging to the Indian-related group had highly variable diets, showing reliance on C3 and C4 derived food sources. These findings are consistent with the genetic evidence that they belonged to a variety of socioeconomic groups in South Asia."


"In contrast, the individuals with eastern Mediterranean-related ancestry appear to have consumed a diet with very little millet."




Ayushi Nayak, archaeologist, Max Planck Institute for the Science of Human History
Scientists in India, the United States and Germany have published the results of a study they collaborated in, examining DNA from 38 remains found 16,500 feet above sea level at Roopkund Lake, known colloquially as 'Skeleton Lake' for the human bones it disgorges from time to time. The new genetic analysis published in
Nature Communications
, according to Jennifer Raff, a geneticist and anthropologist from University of Kansas, not involved in this research, has led to
"a far richer view into the possible histories of this site"
.
That it may have done, but the mystery of how much, less why the lake became a funeral depository for people whose genetic differences indicate they came from diverse parts of the world is no closer to being solved. The lake, one hundred and thirty feet in width, remains frozen for most of the year in its snowbound valley. When warm days arrive, a macabre spectacle can be seen with hundreds of human skeletons emerging, some with flesh remaining attached to the bones.
The mystery of what it all means has puzzled scientists for years; how did the people buried there arrive, and from where, and why would the lake be designated a burial site? The prevailing thesis up until this new published research, was simultaneous mass death owing to a catastrophic event that occurred over a thousand years earlier. An anthropological survey dating back several years had studied five of the skeletons, concluding them to date from 1,200 years ago.
Roopkund Lake and its mysteries have been known to science for the past several decades -- while the provenance of its skeletons was a puzzle. The fact that the site has been disturbed as a result of rock slides, the migration of ice disturbing the site, as well as human visitors disturbing and moving remains made it awkward to decipher when and how the burials took place, let alone who was buried there:
"In a case like this, that becomes impossible",
bioarchaeologist Cat Jarman of University of Bristol, England, explained.
Led by Niraj Raj and David Reich, a geneticist at Harvard University, the researchers extracted DNA from the remains of dozens of skeletal samples, identifying 28 as males and 15 females. Tests placed these individual skeletons into three distinct genetic groupings; twenty three, both males and females indicated ancestries typical of contemporary South Asians. Their remains had been deposited at the lake some time between the seventh and 10th centuries, discretely.
Some of the skeletons were identified as more ancient than others; many lifetimes apart. The findings settled on two more genetic groups suddenly appearing at the lake between the 17th and 20th centuries; one identified as being of East Asian-related ancestry, the remainder, 14 individuals of eastern Mediterranean ancestry. The great conundrum is how all these individuals died. No evidence can be found of bacterial infections, ruling out an epidemic.
There were children and elderly adults among the skeletons, none familial-related. Individuals were identified from chemical signatures as having had significantly varied diets, suggesting that several distinct population groups were involved. The genetic ancestry appears to resemble that of people today living in Greece or Crete, but it is clear that those from the distant eastern Mediterranean came from a far distance to reach Roopkund Lake, their reasons beyond obscure.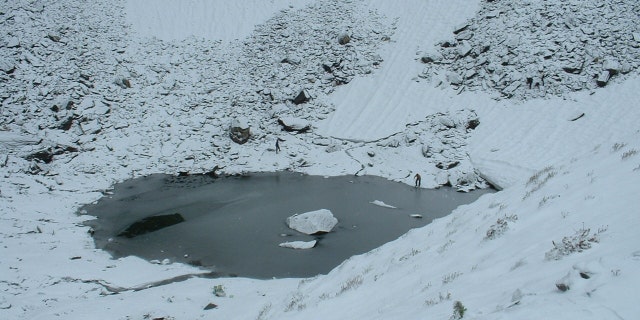 Roopkund Lake is 16,499 feet above sea level in the Indian Himalayas.
Labels: Archaeology, Burials, Himalaya, Human habitation, India, Mountain Lake