"Always Laughing"
"These concerts, the people are sitting there, old people, desolated and ill, and they came to the concerts and this music was for them our food. Music was our food. Through making music we were kept alive."




"When we can play, it cannot be so terrible."




"This was especially for Jews a very, very hard time. I didn't mind, because I enjoyed to be a mother and I was full of enthusiasm about being a mother, so I didn't mind so much."




"We were poor, and we knew that they will send us away, and we knew already in this time that it was our end."




"When I went home from bringing her to this place I remember I had to stop in the middle of the street and I listened to a voice, an inner voice: 'Now, nobody can help you, not your husband, not your little child, not the doctor."




Alice Herz-Sommer, oldest known Holocaust survivor, 110 years of age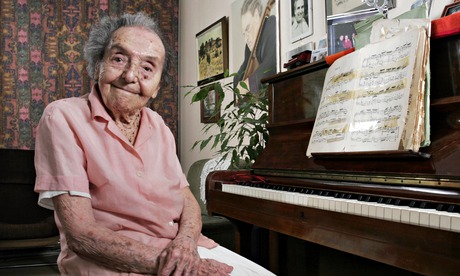 "I hope you will come back. What I want to tell you is that I admire you, your playing, hours and hours, the patience and the beauty of the music."




Upstairs Nazi neighbour, 1943 Prague, Czechoslovakia
Just as well that Frederic Bohbot, producer of the documentary
The Lady in Number 6: Music Saved My Life
, felt compelled to produce a short documentary film about this extraordinary woman, a pianist to the very last year of her life. The Oscar-nominated film, which he felt certain his elderly subject would be pleased to see receive the Oscar, will now not come to pass:
"There was no question in mind, 'would she ever see the Oscars'."
He seized the moment, as it were, now gone forever.
No matter, she had seen much else in her life, and despite the unbelievable grief and misery that life brought her she found solace in music and believed that joy could be found anywhere, even in the grimmest, most dreadful of all possible circumstances. And she was living proof, until yesterday, Sunday, February 23, that life was worth living and in living it happiness would be gained, despite unimaginable adversities.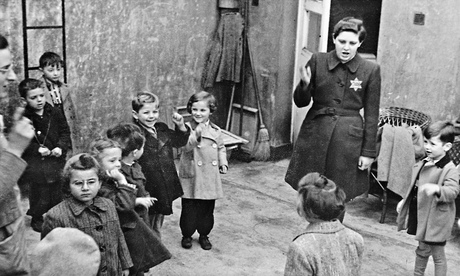 In 1942 her 73-year-old mother was selected for transport to Terezin. From there she would later go on to Treblinka, a notorious extermination camp located in (Terezin) Theresienstadt, Czechoslovakia. She had herself taken her mother to her destination with death, to the place where her mother was assembled along with other Jews meant for transport to the city, then the death camp. And it was then that the realization of the future hit her.
She sought to stifle the fearfully horrifying thoughts that assailed her, in understanding that she and all the Jews of the country were to be consigned to death. It was her music, playing the piano, that gave her comfort. She became engrossed in the 24 Etudes of Frederic Chopin, adapting a ritual of artistic perfection to hold at bay the full recognition of the ritual of ethnic cleansing that Nazi Germany had embarked upon.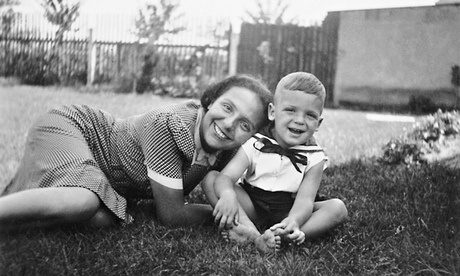 Her husband eventually died of typhus at another infamous death camp, Dachau. But before then, Alice Herz-Sommer with her son Stephan and her husband were all sent to the very same city of Terezin (Thereienstadt) where people such as she, classically trained musical professionals were encouraged to stage concerts. Of the 140,000 Jews who were dispatched to Terezin, 33,430 died there, with another 88,000 moved to Auschwitz and other death camps, where they too met their deaths.
Stephan and his mother Alice Herz-Sommer were two of the fewer than 20,000 who had somehow survived and were liberated when the Soviet army entered the camp in May of 1945. As she reminisced before the cameras for the documentary focusing on her life, she recalled herself
"always laughing"
, despite the horrors that surrounded her. In performing the music that delighted and transported her, in performing to lift the spirits of others around her, she found joy.
She was born in Prague, and her sister gave her piano lessons when she was only five. She recalls meeting Franz Kafka, and remembers also a statement of his:
"In this world, to bring up children: in this world?"
She married Leopold Sommer in 1931 and their son was born two years before the Nazi invasion of Czechoslovakia. The night before her departure to Terezin, she recalled a Nazi who lived upstairs who called on her so he could tell her that he would miss her piano playing.
Alice Herz-Sommer left Czechoslovakia in 1949, moving to join her twin sister Mizzi in Jerusalem where she taught music at the Jerusalem Conservatory until 1986, the year she moved to London. Her son, Raphael, had a career as a concert cellist. He pre-deceased his mother, in 2001. A long life, a good life, despite the unspeakable tragedy that intervened between her youth and young adulthood and her final freedom from impending death.
"We are all the same"
, she said,
"Good and bad"
. She held no bitterness in her soul.
Labels: Anti-Semitism, Holocaust, In-Memoriam, WWII