Hoping For The Best
"I was hoping for the best for one of my best teammates and one of my best friends, the past four years.




"As Canadians we don't just want to be at the Olympics competing anymore; we want to be on the podium.




"So looking at that, and looking at my chances, and looking at Denny's reputation in the 1,000 metres, and how he's been skating: yeah, like I said, it was an easy decision."




Gilmore Junio, Canadian Olympic team, speed skating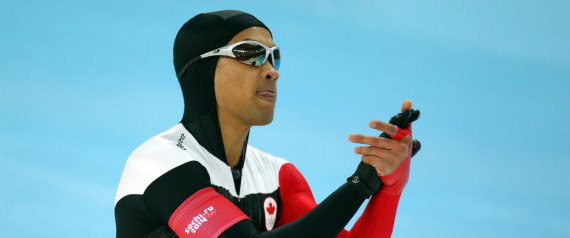 "We said we'd be behind you either way, and do what you feel is right. He wanted to give his spot to Denny. He felt it was the best chance Canada had at a medal and he wanted to do that for his team."




Marjorie Junio





"I found myself cheering for Denny as much as I would cheer for Gil every other day."




Jerry Junio
The entire Junio family: parents, brother, sister, half-sister, a cousin, sister's husband and in-laws, along with a few family friends made the trip from Canada to Sochi on the Black Sea in Russia to watch Gilmore Junio, their very personal hero, skate the 500-metre long-track speedskating competition.
They also had tickets for the 1,000 sprint, hoping he would skate that, too. He didn't, but they cheered on the alternate who skated in lieu of Gil Junio.
When Gil Junio qualified for the 500 at the Canadian trials, his good friend Denny Morrison fell, and Gil qualified for the 1,00 as well. Though speed-skater Denny Morrison had failed the trials he went along to Sochi to help the Canadian team in whatever way he could. Then Canadian coaches asked Mr. Junio if he might stand down and allow Mr. Morrison to skate, after Mr. Junio had finished 10th in the 500.
He thought about it, and he thought also about his performance, figuring if he competed in the 1000 he might not do better than the top 16. So he felt it was just right to offer the opportunity to his great good friend to skate in his stead. And when race time came, the Junio family cheered along with the Morrison family.
SOCHI, Russia -- Long-track speedskater Denny Morrison has won a silver medal in the men's 1,000 metres at the Sochi Olympics.
Denny Morrison, the long shot, the superb speed skater, won silver for Canada.
"I couldn't be more proud of the guy"
Gilmore Junio said.
"I love this guy"
, said Denny Morrison.
Labels: Canada, Sochi Olympics, Sports