The Imbecility of Paramedic Abuse by Patients
"I find that the worst cases of abuse don't leave a wound. It is the sexual assaults that are the most frustrating because it is often not brought on by people in an altered mental state, such as dementia, but by people who are disgusting."




"Most often drunks, who don't believe women should be in uniform and don't respect them in the field."




"I don't get too bothered by stuff [exposure to insults, violence while on the job]. And if that person was in an altered state when something happened -- then I honestly don't think twice about it afterwards, because they have absolutely no idea what they are doing."




"I see people on their worst day. Even if it isn't something we'd consider an emergency -- it is that person's emergency -- and if we can make that day even a little better, that's the high of doing this [job as a frontline first-responder as a paramedic]."




Jennie Cubitt, paramedic, rural Ontario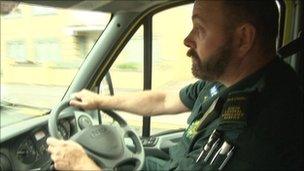 BBC News
Canadian society is hugely dependent in times of urgent medical situations, on the knowledge that they can dial a simple set of three numerals -- 911 -- to alert professionals skilled in the medical sciences and the art of patient care, to their emergency. They do so out of desperation, finding themselves in a situation they cannot themselves either solve or help themselves out of. If it isn't the individual themselves who calls, then it is an onlooker, someone else who recognizes the gravity of the situation.
Once that call is made, another trained professional at the other end of the telephone line asks critical questions and guides the caller, based on the response to those queries, how to act until the brief moments pass when an ambulance will respond to their emergency and the paramedics in charge of that ambulance will efficiently and expertly take over all the necessary reactions in response to the critical health/medical situation; the results of an accident, of the onset of a health crisis, a violent assault; whatever has occurred.
The paramedics come to the situation prepared in every conceivable way. They are experienced, having faced many and varied situations to which they have previously responded. They are exquisitely trained in medical procedures. Their vehicle is equipped with high-tech medical and diagnostic machinery, as well as drugs and medications which most medical emergency situations may call for in the perhaps desperate, interim treatment of a patient, until arrival at a hospital emergency department.
Paramedics have witnessed and been engaged in aiding the most vulnerable people caught in medical emergencies, and this continual exposure cannot help but have a traumatizing effect on their sensibilities. But these highly trained, socially and emotionally motivated professionals take as much as they can in stride and forge on, knowing that their response can be critical to whether or not a child or an adult, victims of accidents or health breakdowns, survive an episode in their lives requiring aid.
So it comes as something of a shock to be informed that these selfless, dedicated professionals are on occasion subjected to verbal and/or physical abuse; contempt for them as human beings, and belittling as health professionals, even while they are in the process of aiding the individual determined to inflict abuse on them. In an interview with a writer for the
National Post
newspaper, Joe O'Connor, Jennie Cubitt speaks of being kicked, punched and bitten.
She has been physically beaten, resulting in black eyes, split lips, as well as having been humiliated and assaulted sexually, even by those she has been administering life-saving protocols to. She ventilates on occasion by posting some of her miserably adverse experiences on a social media platform, popular with health-care workers such as doctors, nurses and paramedics, worldwide.
A 2010 survey of over 1,300 paramedics from Ontario and Nova Scotia reported that 26.1 percent of respondents had been subjected to physical assaults in the year previous to the survey, with over 40 percent speaking of having been physically intimidated, while close to 70 percent were verbally abused and 2.7 percent were victims of sexual assault. Drexel University in Philadelphia conducted a study in 2015, finding paramedics more than a dozen times likelier to be injured by a patient than a firefighter would be on the job.
Paramedics do have a right to defend themselves, but they will be charged with assault should they fight back. It's difficult to imagine how one might defend oneself without fighting back, actually. Yet, according to Jennie Cubitt, the prevalence of assaults against paramedics is vastly under-reported. Mot considering it, with a mental shrug, as 'part of the job', a situation she feels
" . . . needs to be addressed".
In Australia, the situation of attacks against paramedics has become such a problem that the idea of body cameras was considered. The 12-hour shift is hugely stressful, and for obvious reasons, apart from the prospect of being assaulted while on the job. Yet these are the people that society depends hugely upon to respond in a timely and efficient manner, using their skills and their experience to bring people in desperate situations out of their most immediate danger.
Labels: Abuse, Emergency, Paramedics, Violence