Future Wave -- Cancer Immunotherapy
"What it means is that any scientist in this country who has a good idea will actually be able to get it into the clinic."




"All of the discoveries that are sitting in labs now and haven't had the chance to move forward could rapidly be put into the clinic once this is established."




"I think we've learned a lot by what has gone wrong. But any time you use a new therapeutic, you're going to find things you didn't possibly anticipate."




Dr. John Bell, senior scientist, The Ottawa Hospital





"This form of therapy [genetic fabric-added virus to infect T cells], this manufacturing facility, will lead to personalized cancer treatment, which is really the next frontier."




Linda Eagen, president, Ottawa Regional Cancer Foundation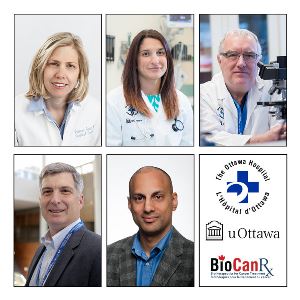 CAR-T cell cancer therapy is a promising new therapy that has been used with some patients in the United States. These have been patients with incurable, advanced cancers. And of course the reason why a new therapy has been offered to patients with nothing left to lose, in the hope that the therapy will produce results no other existing and approved therapies have been successful for in extending life, is precisely because patients with such advanced, incurable cancers look upon an emerging therapy that has such glowing promise, as their last hope.
Clinicians harvest immune cells from a patient's blood to re-engineer them for the purpose of transforming them into more assertive fighters targeting cancer cells. This is CAR-T cell therapy. Cancer cells are stealthy and determined attackers, with the capacity to somehow sidestep the body's natural immune response. Such modified T cells are multiplied in a laboratory, at which point billions of the cells are infused back into the patient's bloodstream, where their augmented presence is immediately put to work, fighting the cancer cells.
CAR-T clinical trials using these augmented T cells are available to American patients, but since the costly and sophisticated equipment required to manufacture CAR-T cells is absent from Canada, Canadian patients are unable to benefit from association with such clinical trials. Now, Canadians suffering from advanced leukemia or lymphoma, have a brighter future in battling their cancers looming on the near horizon. A new plan has been revealed, with the Biotherapeutics Manufacturing Centre in Ottawa on tap for an expansion.
In the interests of advancing research into cancer immunotherapy, including a new treatment with huge potential using genetically modified immune cells to fight leukemia and other blood cancers, Canadian scientists have been the recipient of an $11 million fund, meant to focus on making such advances available. The federally funded BioCanRx network announced the funding, designed to enable the building of the scientific and manufacturing capability needed for the launch of Canada-based human clinical trials of CAR-T cell therapy.
Grants totalling $5.5 million have been allocated to Ottawa, where a multimillion-dollar manufacturing centre is to be established for the production of a key component of CAR-T cells. Dr. Bell -- one of Canada's leading immunotherapy researchers -- will be supervising this new advance where Canadian researchers will initiate the first phase of clinical trials, with the use of generically modified immune cells, scheduled for 2019.
The production of CAR-T cells represents a costly process which up to the present relies on American suppliers to conduct experiments, a source of frustration for Canadians in the field, swiftly evolving as immunotherapy moves to the front of leveraging the potential of the body's immune system to fight cancer. An expansion to have Ottawa's Biotherapeutics Manufacturing Centre's function in the production of a virus capable of infecting T cells, adding genetic material, is vital to these plans.
The Ottawa Regional Cancer Foundation has dedicated its auspices to raising an additional $2.5-million for the purpose of aiding in the finance of this plan. All to the good, for patients and for the research community within Canada. Medical scientists in this field, however, are well aware that among the promising good news there have also been a number of disturbing setbacks.
As, for example, last July when the U.S. Food and Drug Administration ordered a high-profile CAR-T clinical trial to be halted. And for obvious reasons, when three leukemia patients died while undergoing therapy, from swelling of their brains. While the Phase 2 trial was permitted to restart, it was once again shut down in November, when two more patients died.
Fully aware of unwanted surprises when launching new therapies, and thinking ahead, a two-year study is set to be launched to examine previous CAR-T clinical trials, to identify potential pitfalls. Dr. Manoj Lalu, assistant professor in the department of anesthesiology at University of Ottawa, will also interview patients so that mutual awareness of their needs as well as the research goals are fully understood.
"By doing that homework, we're hopefully going to build the safest and most potentially beneficial trial possible"
, noted Dr. Lalu, associate scientist at The Ottawa Hospital Research Institute.
Dr. John Bell, senior scientist at The Ottawa Hospital, professor at the University of Ottawa and Scientific Director of BioCanRx: "CAR-T therapy is a new approach that has the potential to revolutionize cancer treatment. As with all experimental cancer therapies, there is a need to carry out additional studies to optimize the safety and effectiveness of the treatment. BioCanRx funding will allow us to give Canadian patients across the country accelerated access to this exciting new therapy as safely as possible. We will also continue to learn how to make this treatment even better at fighting cancer."

Dr. Natasha Kekre, scientist and bone marrow transplant specialist at The Ottawa Hospital and assistant professor at the University of Ottawa: "I came to The Ottawa Hospital last year because I wanted to help translate exciting laboratory discoveries into new therapies for patients, and Ottawa is one of the best places to do this. I'm delighted to be playing a role in four of these new projects."

Dr. Manoj Lalu, anesthesiologist and associate scientist at The Ottawa Hospital and assistant professor at the University of Ottawa: "We want to make Canada's first CAR-T trial safe and effective. We're going to review all the previous research and consult with patients, clinicians and scientists to create a world-class trial protocol. This will help us bring this exciting technology to patients in a responsible way that works within Canada's health system."

Dr. Rebecca Auer, surgical oncologist and scientist at The Ottawa Hospital and associate professor at the University of Ottawa: "Cancer-fighting viruses have shown promise in both laboratory and clinical studies, but we want to make them even better. Our approach uses viruses to create a kind of personalized vaccine for each patient, which we hope will help the patient's own immune system attack their cancer."

Dr. Dean Fergusson, senior scientist and Director of the Clinical Epidemiology Program at The Ottawa Hospital as well as a professor at the University of Ottawa: "While many exciting discoveries are made in laboratories every year, few ever become successful human treatments. Our goal is to improve the design, analysis and reporting of cancer immunotherapy studies in laboratory models, so that researchers can efficiently and effectively translate their most promising discoveries into clinical trials."
Labels: Biochemistry, Canada, Cancer, Medicine, Research