Lost At Sea
"His condition isn't good, but he's getting better. The boat is really scratched up and looks like it has been in the water for a long time.




"He's staying at the local council house and a family is feeding him. We've been giving him a lot of water, and he's gaining strength."




Ola Fjeldstad, Norwegian anthropology student
One mightn't wonder that Jose Ivan, so far from his home in Mexico, wouldn't quite resemble the man he was when he set out for El Salvador back in September 2012. Neither he nor his companion would likely have given a thought to anything awry occurring on their expedition. Their boat was extremely shipworthy and they trusted that they would have no difficulty reaching their destination, most obviously; else why ship out?
Theirs was an eight-metre fibreglass vessel equipped with propeller-less engines, a craft capable of circumnavigating the globe. And if that was indeed their intention they might have planned to succeed in such a venture. But their destination was far more modest. Despite which their boat drifted over 13,000 kilometres from Mexico. And they survived the sixteen months being adrift on the vast blue Pacific eating turtles, birds and fish caught with their very own hands.
Imagine after all that time together in isolation, trusting that their ingenuity would see them through, sharing a challenge to human survival they might never have imagined would occur to them, only to have one of them eventually dying of exposure and starvation, the other surviving, despairing at his loss of human companion, forcing himself to go on, to continue catching whatever living thing he could to survive, drinking rainwater, and substituting it for turtle blood when water was not available.
Jose Ivan was found washed up on Ebon Atoll (inset) which is part of the Marshall Islands
Islanders on the remote Pacific atoll of Ebon, a coral atoll of 22 islands where fewer than one thousand people live on a land mass of 2.2 square miles at an elevation of nine feet above sea level strung around a deep lagoon, were doubtless amazed to see the battered boat float onto their reef. To see an emaciated, bearded man, his hair long and unkempt, dressed in torn underpants alone, skin raw from sun and salt, speaking only Spanish, with a turtle for a companion.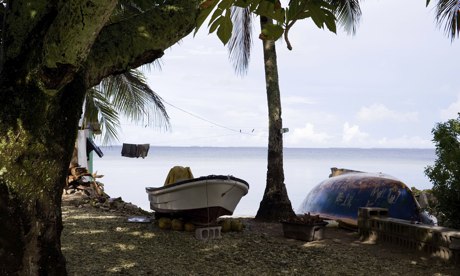 Ola Fjeldstad, a Norwegian anthropology student, happened to be present at the time on Ebon, conducting research at that southernmost outpost of the Marshall Islands, and it was she who spoke to the AFP news agency. After he was found, he was taken to the main island to meet the mayor who in turn contacted officials in Majuro, the Marshalls capital. They await the arrival of the sole plane capable of landing at Ebon, out of service for maintenance.
It's been difficult trying to communicate with him. I've gotten to know him through pictures he's drawing. He said he was on his way to El Salvador by boat when it started drifting. We've been feeding him nutritious island food and he's getting better,"
said mayor Ione deBrum.
"He has pain in both knees so he cannot stand up by himself. Otherwise, he's OK."
A basic health examination revealed Mr. Ivan to be suffering from low blood pressure. He is managing to walk slowly with the aid of island people. His ordeal does not appear on the surface to have done any kind of irreparable damage to his health. Yet another tale to be added to the annals of seemingly miraculous human survival against the odds of facing nature at her rawest.
Impossible to imagine the kind of courage it would take to face day after day of isolation and privation. Hope inspires human beings to endure the unendurable and ultimately survive.
Labels: Adventure, Heroism, Indigenous Peoples, Mexico, Particularities