The Entitlement of Fraud
The Ottawa charity that provides housing and education for developmentally handicapped adults is out almost a million dollars. Through no fault of their own -- on the other hand, through their own fault, perhaps, for not being sufficiently alert to the potential of fraud by the very individual who they trusted for over a decade to act as their finance director.
Total Communication Environment has seen its former finance director, fifty-year-old Yolande Knight, plead guilty to defrauding them over an eight-year period -- while in complete control of their finances -- of no less than $800,000, perhaps closer to $900,000. She was arrested in 2010. Her salary at that time was a rather rich $90,000 annually.
Obviously, though most people would be satisfied with that remuneration, Ms. Knight thought she could do better, and was entitled to vastly more. So she undertook to expense her corporate credit card with such items as:
$77,944 for home furnishings and new appliances;
$152,04 for Amway products;
$68,937 for groceries;
$50,742 for gas and car repairs;
$10,885 for spa treatments;
$19,839 for hairdressing;
$77,271 for Internet and telecom;
$12,175 for theatre and shows;
$36,088 for foreign travel and shopping;
$38,844 for domestic travel;
$33,147 at restaurants;
$3,871 at LCBO/Beer Store.
Clearly, Ms. Knight rated herself very highly for compensation on behalf of her efforts representing the needs of handicapped adults and the charity for which she had worked since 1997. Her qualifications must have been quite high for bookkeeping, but no one likely thought it a requirement to look into her moral standards and sense of selfhood as extremely deserving of a lavish lifestyle, courtesy of charity.
Yolanda Knight, shown here in 2006, accepted cheques for Total Communication Environment regularly. CTV News
She was, in fact, quite the charitable type of individual. She used her corporate credit card to purchase airline tickets for family and friends, and laptop computers and radios for her boyfriend in Haiti. She had sent over $60,000 of her entitled gains to Haiti, where her boyfriend, Rene St.Fort, was in the competition for president of the country. No doubt Mr. St.Fort was most helpful in mentoring Ms. Knight's venture into entitlement.
He had been himself sentenced to 18 months' imprisonment in 2002, having been found guilty of three counts of fraud over $5,000. He had been found guilty by a Haitian judge of defrauding three banks of $351,000; assisting two women to obtain mortgages with the use of false names and employment and credit information.
In the fall of 2009, a financial audit finally unearthed discrepancies in accounts, revealing the truth that the charity's trust in their financial director had been badly misplaced.
"Ms. Knight hid her fraudulent conduct by manipulating the general ledgers and reports to the board of directors of TCE"
the presiding judge stated without equivocation.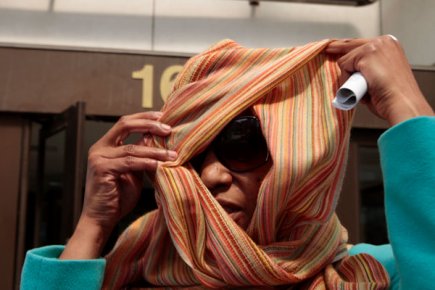 Yolande Knight covers her face as she leaves the Elgin Street Courthouse in this file photo/Ottawa Citizen