Culture of Violence and Death
"She knew that the questions would be about the insecurity and violence [in her native Honduras] because that is what the world knows about Honduras. Her goal was to explain that she wanted to contribute to a Honduras in which children could walk the streets without fear of being murdered."




Jose Eudaldo Diaz, philosophy professor, Santa Barbara, Honduras





"If she had been any other girl, if she hadn't been Miss Honduras, this would have been one more crime amid the impunity of Honduras."




"They would have said what they always do: that this was the settling of accounts between drug traffickers, and they wouldn't even have bothered to investigate."




This region is imbued with narco culture represented by the image of a man who moves in a big car, drinks, take drugs, walks around armed and is bad. The culture of violence and death."




Jose Luis Mejia, director, Technological University campus, Santa Barbara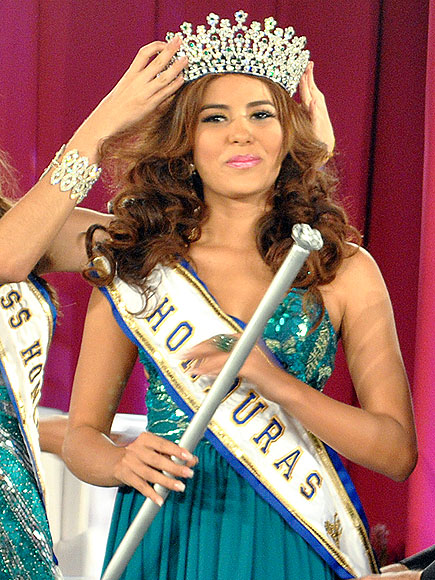 "A man is free, a woman not; a man may choose and a woman not. And along with this is the violence that begins at home from childhood and continues throughout life ... To call the murder of a woman by a man a crime of passion, to talk of jealousy, is to avoid the daily reality of violence against women."




"The worst machismo is the one in the head of women who think that a drug trafficker is a powerful man who gives her what she doesn't have, protects her and makes her look good in a society that values money and power."




Nusly Casana, Technological University student
Sofia Alvarado, a beautiful young woman of 23 had the misfortune in life to attach herself to the wrong kind of man. The first time it was to a married man who left his wife to live with Sofia. The school where she taught was closed down, but she had the comfort of her love, until in the violence-plagued Honduran city of Santa Barbara he was murdered. Then she chose a man with a reputation of ruthlessness and violence.
He chose her because of her great beauty, as a feared and dangerous man involved in drug trafficking and with a reputation to uphold, she looked good on him, another possession acquired for a man of distinction. Such men are jealous of their possessions and when Sofia Alvarado was briefly and naively distracted enough from protecting her future by dancing with another man, her lover was enraged enough to abduct her and murder her.
Beauty: Maria and sister Sofia were brutally murdered
And it was Sofia's younger sister Maria Jose Alvarado's bad luck that she was with her sister at that time. At 19 years of age, attending university and aspiring to be able to do something very important for her society, Maria Jose thought of helping somehow to turn Santa Barbara's violence culture around. At her young age, crowned a beauty queen and set to take part in the Miss World pageant to be held in London, she assiduously practised her English for the event.
She was being coached by Professor Diaz. Her unfortunate destiny was not to be going to the pageant, she would not have an opportunity to demonstrate her ease in expressing herself in English should she have been fortunate enough to have been crowned Miss World. She, along with her sister, was shot to death, the bodies discarded like trash. Honduras has become accustomed to violent death.
But most often those whom life abandons so violently are the criminal class; drug traffickers. Not to mention as well the deaths of police officers, both those who are corrupt and those who attempt to do justice to their positions. Taxi drivers, innocent passersby, journalists who write of the drug-related crimes, gangs, druglords, murders, abused women. In the drug-infested macho society that is Honduras deaths are plentiful, usually shrugged off as inevitable; fallout of a certain way of life.
The disappearance of the beauty queen, the rumours that circulated of foul play and the eventual discovery of the bodies of the two sisters which their murderer had sprinkled with lime to hasten their decomposition would not likely have attracted much attention but for the fact that the young university student wore a beauty crown, set to compete abroad for the global title.
Sofia had been forewarned by friends that she was making a grave error in her choice of boyfriend. She chose for her own reasons, to continue on that path. It is one that led to Plutarco Ruiz shooting first Sofia, then Marie Jose Alvarado as she turned to flee for her life.
"He felt so immune that he didn't flee because he trusted they [police] would never detain him"
, said Mayor Juan Alcarado.
Most of the town's 29,000 residents, said the mayor, know about everyone in town, what they do, what happens to them. It was believed that police had waited before interrogating the murderer of the two women to give him the opportunity to make himself scarce and unavailable for questioning, travelling elsewhere to place himself out of bounds; untouchable and free to carry on outside the town, as befits a man of reputation in Honduras.
It took a week after the disappearance of the two women, but once Ruiz was taken into custody, he led police to the bodies, and he and three accomplices were charged and arrested.
Labels: Crime, Honduras, Justice, Sexual Predation