Enjoying Life
"We won't start driving around all night to find out where the car is because [OnStar] they're involved."




"A needle in a haystack."




"OnStar called again. Should we file a harassment complaint against them?"




"I'm fed up with that nonsense ... I missed my supper hour .... This is the third time I deal with them for nonsense. I can't take it any more."




Surete du Quebec
Graham Hughes / Canadian Press
A Surete du Quebec police officer near a cruiser in this 2012 file photo.
"It's just so illogical. Six years after the crash, I still can't actually believe how the SQ [Quebec provincial police] behaved."




"I've got a prosthetic, but it's not even comparable [to what his physical life was before the accident]." "My anger toward the police, it will never pass."




Gilles Gargantiel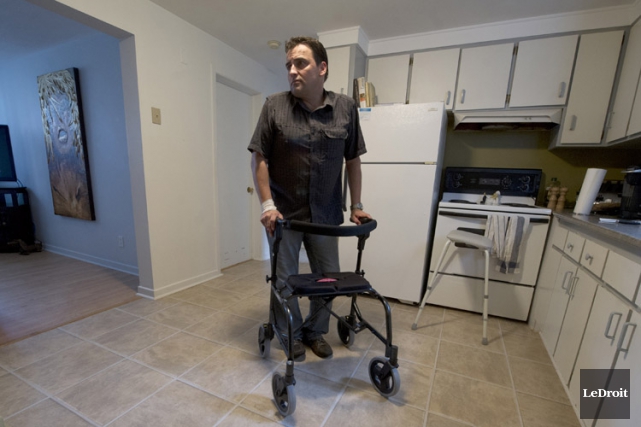 Gilles Gargantiel croit qu'il ne se serait pas fait amputer le pied si la SQ avait agi plus rapidement.
PHOTO Martin Roy, ARCHIVES LE DROIT
Gilles Gargantiel was an outdoor enthusiast, a tennis instructor, an avid skier, an active man. He is that no longer. He spent seven months in rehabilitation after his October accident on a rural road in 2009 when his new Pontiac G3, equipped with an OnStar system to send an automatic alert when airbags deployed went out of control and crashed into a ditch. Fifteen minutes after the crash an OnStar operator advised the Surete du Quebec of the accident.
They also provided precise GPS co-ordinates. Lucky man; involved in a one-car crash, no observers, no other vehicles, no one to witness his plight, but modern electronics to the rescue! Well, the OnStar system worked the way it was meant to, guaranteeing the user that should an accident occur authorities would be notified and help would be expedited. Only that's not what happened in Mr. Gargantiel's unfortunate experience.
Transcripts of communication between the SQ dispatcher and patrol officers who responded to the notice of accident made it clear that the officers had spotted nothing amiss, were irritated by the repeat calls from OnStar to respond, and decided to give up the search, secure in the intuition that the driver who occasioned the alert was in all likelihood trespassing on some farmer's property, getting himself good and drunk.
Mr. Gargantiel was actually face down on the ground about 30 metres from his car, with a fractured neck, six broken ribs and two broken vertebrae. He was in no condition to move on his own, and when the search for his whereabouts and welfare was abandoned by those who had been alerted to the need for a rescue, he spent 40 hours with no relief from his dreadful predicament.
Perhaps a little more diligent searching would have revealed his whereabouts. But two hours was all that the officers on patrol were willing to dedicate to that search, not believing there was an actual need for them to continue. Eventually, a train engineer saw a car in a ditch between the tracks and Highway 148 in the Outaouais region of Quebec. And there was Mr. Gargantiel.
He was dehydrated, suffering from hypothermia and frostbite. His condition necessitated that his right foot be amputated. Six years later he still suffers physical and psychological effects of his traumatic accident and injury. Feeling no better when he discovered last week that his suit against the province for negligence had been unsuccessful when the Quebec Court of Appeal ruled the amputation to be related to the car accident.
That being the case, he was found not entitled to additional compensation beyond what Quebec's no-fault insurance regime would allow. He had submitted medical evidence validating that the amputation was directly the effect of frostbite, in turn caused by police negligence in failing to make the effort to effect a rescue of the man injured in the car crash. The car crash itself needn't have resulted in the amputation had he been rescued in time.
But the three-judge Court of Appeal felt justified in concluding Quebec's Automobile Insurance Act, providing compensation to victims while also preventing them from suing for damages is sufficient to cover Mr. Gargantiel's amputation.
"In Quebec, the protection offered by the law is very ironclad. In the recent case law, I have never seen the law being softened"
, observed the lawyer who represented Mr. Gargantiel.
Mr. Gargantiel's case, held Leonard Kliger, Montreal lawyer, represented a
"clear break in the causal connection between the automobile accident and other injuries that result from a third party."
, And so, the devastated man received a lump-sum payment of $104,000 from the province's automobile-insurance board for loss of enjoyment of life and psychological and physical suffering with an additional $16,000 annually for lost income.
He'll now just have to lump it, and use that payment to continue enjoying life with his disability, and forget about psychological and physical suffering.
Labels: Justice, Quebec, Vehicle Accident