A New Era Dawns in Afghanistan
"I don't do politics. [I am] a counsellor ... a listening post."




"I seem to have answered a need that was there. I think previous first ladies were not accessible. And I am accessible."




"What I've said from the beginning is that I am going to try to help all the vulnerable populations in Afghanistan -- and to a certain extent that's the majority of Afghanistan."




"One of my roles is to tell the world that they are very strong women [Afghan women] indeed, living in very challenging conditions, showing a lot of resilience, a lot of resourcefulness, and that they need to be recognized for that, not for their weakness, their alleged weakness."




"The whole fight to reduce violence against women is within the fight of reducing (all) violence, period. It is within the process of trying to bring back peace to this country."




Rula Ghani, Afghan First Lady
Afghan presidential candidate Ashraf Ghani Ahmadzai, right and his wife Rula Ghani, left, attend a campaign rally for women on the occasion of the International Women's Day in Kabul, Afghanistan, Wednesday, March, 9, 2014. Ten Afghan presidential candidates are campaigning in the presidential election scheduled for April.
(AP Photo/Massoud Hossaini)
The wife of President Ashraf Ghani is not presenting herself within her country as would a typical Afghan woman, a quiet, unseen and unnecessarily modest woman never to be seen in public. Her husband, President Ghani took the unusual step of introducing his wife to the public, both internal and external, during his inaugural speech eight months ago. Since then Rula Ghani has attended public events beside her husband.
Although she steers clear of politics, leaving that to her husband, a man whom Afghans in a spirit of hope and renewal elected in a free democratic vote despite threats from the Taliban and grumbles from the Islamist orthodox, she speaks before audiences on topics relating to current issues. She also listens, carefully, to what people have to say. She receives them in a meeting room, enabling ordinary Afghans to air their grievances and problems, seeking her advice.
Her predecessor, wife of Hamid Karzai, was spoken of as the
"invisible first lady"
. Not that invisibility of 'first ladies' of Islamic presidents is unusual. Zinat Quraishi Karzai once spoke her belief in a rare interview that the time had not yet arrived in Afghanistan when its people were prepared to accept the presence of a first lady alongside her presidential husband.
In this Monday, May 25 photo, Afghan first lady Rula Ghani speaks during an interview with The Associated Press at the presidential palace in Kabul.
(AP)
Political antagonists of her husband's presidency claimed that neither Rula Ghani nor her children were Afghan or Muslim and as such unacceptable to the people of Afghanistan. She had been quoted as expressing her approval of France's ban on the burqa or the niqab in public. That occasioned a ferocious backlash from both conservative Islamists and religious figures in the country.
Lebanese by birth, but Afghan by ethnic heritage, she speaks fluent English, French, Arabic and Dari. She was brought up in a Christian family, meeting her future husband at a university in Beirut. Upon marriage, they moved to the United States and lived there for 30 years where she studied journalism at Columbia University and had two children. Their daughter is an artist in Brooklyn, their son an economist living in the U.S.
They are Afghans, but they are also cosmopolitan in their nature, experience and outlook, a combination that the backward country badly needs to help in the process of bringing it into the 21st Century. In the aftermath of 30 years of war, the society that was primitive in many ways had also become brutalized. And in such societies women are the most vulnerable among the population.
The
"horrible, barbaric tragedy"
of Farkhunda, a young Islamic scholar who was beaten to death at a Kabul shrine by a mob of men after being accused of burning a Koran, horrified her. Four defendants were sentenced to death and eight of them to 16 years in prison over that atrocity. Eleven police were charged with dereliction of duty for not intervening to prevent the death of the young woman, their sentence one year in jail.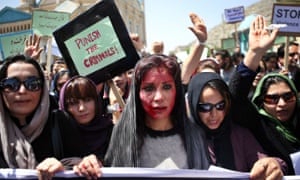 The case, said Rula Ghani has
"shaken the nation"
. Its barbarism, and the fact that among the crowd of hundreds of men no one intervened to stop the mutilation and murder of a defenceless young woman on a rumour of having defiled the Islamic holy book
"really opened up the eyes of people ... we don't want to live in a society in which violence is the rule"
, she said in her calm way.
Labels: Afghanistan, Gender Inequality, Islam, Political Realities, Social Welfare