No Newfie Joke This One
"I had to stop him, one way or another. I don't know how he stayed on the road."




"I blowed me horn and I jumped out and I ran towards him. I said, 'Hey buddy"! Hey buddy! You got no roof on your car.' That's the words I said. And he stopped. ...He was buried in blood. He was horrible to look at. Terrible mess."




"Then I realized, it's Steve Bromley from Conche ... I used to buy my codfish from him."




"He was saying things that didn't really make sense. I said, 'What happened?' and he said, 'I can't remember a thing. I must have felled asleep."

(Newfoundland vernacular)


Tom Canning, Newfoundland
Photo: Jonathan Bromley
Stephen Bromley drove this tattered vehicle for 18 kilometres after hitting a moose. He has no recollection of the accident or his harrowing drive afterward.
"To tell you the truth, I didn't even know I hit [the moose]. I drove 18 kilometres with the window bit out of her. I thought the air conditioning was left on with the cold air."




"It's strange."




Steve Bromley, northern Newfoundland
"[Post-traumatic amnesia]. What that means is they're not really laying down memories. The brain isn't able to create a stable memory for the events, even though they can act and carry out action sequences, like, for example driving."




Dr. Brian Levine, neuropsychologist, Baycrest Hospital, Toronto
The 49-year-old Stephen Bromley was driving home to Conche on Monday. And as happens all too often on Newfoundland highways, a moose appeared and there was a collision; an event that Mr. Bromley has no memory whatever of having occurred. A moose is a very large, heavy animal; an encounter between a moose and a vehicle in a head-on collision would leave both animal and car in a parlous state. Often the poor animal might drag itself off into the woods to die.
Mr. Bromley, on the other hand, went into a state of shock and just kept driving, seemingly completely unaware of the state of his vehicle --
that he was now sharing it with a moose carcase --
much less his own state, both physical and psychological; he was oblivious and was operating on overdrive. While he was driving, he passed Tom Canning, himself on his way to a spot where he meant to fish for salmon. When Mr. Canning saw the car passing him, he viewed it with disbelief.
The windshield was smashed, the roof was mostly ripped asunder, but the driver was cruising along in the vehicle at 100 km/h. Mr. Canning's swift visual inspection as the car passed him was the impression that whoever was driving the car had no head, a gruesomely grotesque conclusion which didn't stop him, however, from turning around and chasing the smashed blue Toyota that was swerving in and out of traffic.
Following for two kilometres, speeding to try to catch up, he winced instinctively as he saw a tractor-trailer driving toward them and thought it was game over as the car in front wandered over the yellow dividing line directly into the path of the truck. At the very last moment the car driven by Mr. Bromley returned to the right lane, then stopped to await the truck passing with the intention of making a left turn onto a gravel road.
Finally Mr. Canning approached the car as it paused, and he realized that the head was there all right, lavishly smeared with blood and moose manure, so it was a puzzle the driver could even see ahead of him. Moose organs lay in the car and a moose hide large enough to cover a good-sized area was also in the car. Mr. Bromley was treated in hospital for cuts on his head and a concussion. He can recall being pulled out of his car by Mr. Canning, but not much else.
As the local RCMP tells it, this kind of situation is not all that uncommon; for motorists suffering a head injury to pass into a state of disassociative trance and continue driving to reach their original destination. Which is precisely what Mr. Bromley meant to do, and did in fact do, though he was intercepted by Mr. Canning, fearful that this was an accident waiting to happen, when in fact an accident had occurred and another fended off.
Newfoundland's problem with an expanding moose population thus illustrated in the saga of Mr. Bromley and his unfortunate encounter. Moose were not native to Newfoundland; they were introduced from elsewhere in Canada and finding the environment to their liking, being reproducing. In the process representing such a problem that Newfoundland found itself encouraging a hunting program to diminish their numbers.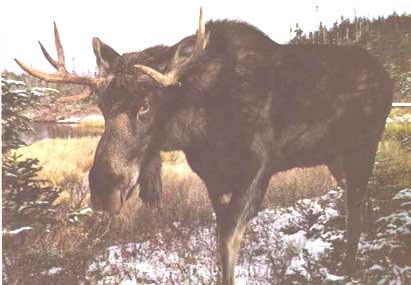 Bull Moose (Alces alces)c. W. Montevecchi
Labels: Environment, Nature, Newfoundland