Why?
"It accelerated, and it just plowed through the group of people, and we were in shock. Then it kind of hopped off the curb, and there was a lady that was stuck under the car, and when it hopped back on the curb, she was laying between the curb and the street, and she wasn't moving at all."




"There was another guy who was right next to her passenger window, banging on the door to get it to stop, and then the car accelerated again, and that guy flew off the car. Then it made a right onto Flamingo road, and that was the last we saw of the car."




Witness,

Los Angeles resident Michal Jackson
Only someone in the venomous throes of dementia or a pathologically twisted mind could possibly deliberately place the lives of people -- men, women and children -- in danger, and nominate themselves to become the weapon that with malice aforethought would kill a human being, giving that human being no opportunity to react to save herself, then reprising the act once again, then yet again, maiming innocent people as a punishment for being in the right place at the wrong time.
A woman? A woman in her early twenties? A woman with a three-year-old child in the vehicle she was using as a weapon of mass destruction? Yes, to each of those questions.
And in the week leading to the season of joy and goodwill with Christmas on the cusp of thrilling young children who have enjoyed the preliminaries to the arrival of December 25: coloured lights and the music of the holiday, there is now one eleven-year-old boy in critical condition in hospital. Fully 36 people were injured, some of them critically, while one person is dead.
The woman who wrought such an mind-boggling atrocity was living a life of hopelessness. Living, as it happens, far from her home in Oregon, in the very car she used to destroy the lives of others. Perhaps when people find themselves in such a mentally precarious state, the bitterness that may overwhelm them places no value on anything, and in fact extends the vitriol of that bitterness to strangers.
Compelling the mentally deranged to cause boundless grief, suffering and pain to others. The ripple effect of one woman dead, 36 people injured, some of whom may not completely recover their former bodily functions will reach out to others around them who care for their welfare and who will despair with them that they just happened to be on the alluring, vibrant, colourfull Las Vegas Strip on December 20, 2015.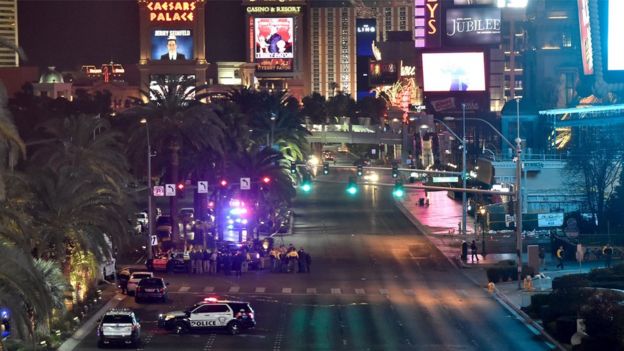 Labels: Atrocity, Crime, Social Dysfunction, United States