Dire Needs Opposing National Law
"They come to my office and ask, 'Is there a chance for my baby to have microcephaly?' We need to inform them there is."




"Later, both patients [who had tested positive for Zika] told me they had abortions."




Dr. Artur Timerman, Sao Paulo





"Some children with severe-appearing brain malformations seem to be relatively unaffected. Yet others with relatively minor structural problems may have profound disabilities."




Dr. Hanna M. Tully, neurologist, Seattle Children's Hospital





"[With any child whose head measures] three or four standard deviations below the mean, then it's very unlikely that you will be dealing with normal intelligence."




Dr. Constantine A. Stratakis, pediatric geneticist, National Institute of Child Health and Human Development, Maryland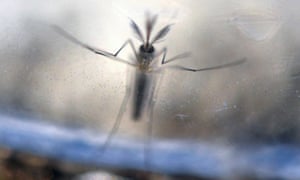 Mosquitoes will be sterilised with gamma rays and then released to disrupt the breeding cycle as part of Brazil's fight against the Zika virus.
Photograph: Marvin Recinos/AFP/Getty Images
"We have an epidemic, an emergency, and the public health sector is not properly caring for women's rights."




"We have constitutional rights at risk, the right to health care and human dignity."




Debora Diniz, anthropologist/researcher, Brazil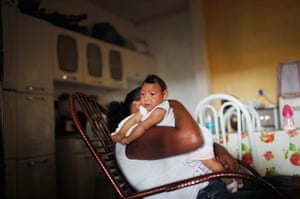 Three-month-old Alice Vitoria, who has microcephaly, is held by her mother, Nadja Cristina, at their home in Recife
Photograph: Mario Tama/Getty Images
In Brazil, a woman seeking medical attention at a hospital because of a botched abortion, was handcuffed to a hospital bed and arrested. Scholars in Brazil estimate that up to 850,000 abortions are illegally performed annually in their country. The sturdily Roman Catholic country does not permit abortions with singular exceptions; in the case of rape or anencephaly where parts of the brain or skull are absent, or when the mother's life may be in danger.
Even so, conservatives are attempting to impose greater strictures on abortion to bring them in line with El Salvador which disallows abortion under any circumstances.
A complication arises with requests for abortion related to fears of microcephaly; while absolute scientific evidence of Zika causing the dread malformation in babies is yet absent, even though scientists are convinced that link is there, microcephaly is detectable through ultrasound scans around the end of the second trimester. At 24 weeks, raising objections from supporters of the existing abortion laws in Brazil who argue that late term abortions are forbidden, by church and by state.
And those women who have undergone testing to determine whether they have been infected by Zika, and who are pregnant, may not by law, seek abortions based on their fear that their child will be born disabled. Unless they are wealthy and have the means to obtain illegal abortions or go abroad for that purpose. In Recife, microcephaly-central in Brazil, abortion rights activists are battling the move to make abortion even more restricted in the country.
On their side, is a judge in central Brazil, Jesseir Coelho de Alcantara, who has publicly announced his intention to permit women to pursue legal abortions if they have been infected by Zika, and fear microcephaly will be the painful outcome. And in Brasilia, legal scholars are working to present a case before the country's highest court promoting permission for pregnant woman to have access to abortions once their foetuses are confirmed with abnormally small heads.
Another complexity in this more than-sufficiently complex challenge for women is the issue that about ten percent of babies with microcephaly appear abnormal but have no mental deficits.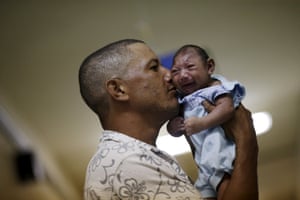 Geovane Silva with his son Gustavo Henrique, who has microcephaly, at the Oswaldo Cruz hospital, Recife
Photograph: Ueslei Marcelino/Reuters
The situation is an alarming one, not only for Latin America where the Zika virus has spread to other countries, and seems destined not to find barriers to its spread in North America and elsewhere, pharmaceutical companies now see a challenge.
"It's easy to do a few quick experiments and demonstrate some very promising kind of diagnostics or even something that might look like a vaccine. But to actually take that and really move it forward takes a huge amount of infrastructure and expertise and money"
, explained Richard Kuhn, head of biological sciences at Purdue University.
Yet the reality is that fifteen pharmaceutical companies around the world are looking into research for the development of a vaccine, even though it would take years to undergo the rigorous clinical tests to confirm efficacy, once such a vaccine is created. The disease and its transmission by the Aedes mosquito has gone from the forests of Uganda and Tanzania to Asia, across South America, Central America and the Caribbean. Concerned governments are offering incentives to researchers.
President Obama is prepared to request $1.8-billion in emergency funding of the U.S. Congress.
"Nobody was prepared for this. No one has worked on growing the virus, characterizing the virus, or developing an animal model. It takes a few years to get to that point if you start today
", said Farshad Guirakhoo, senior vice-president of research and development at GeoVax of Smyrna, Georgia, currently working on a vaccine in collaboration with the University of Georgia.
"Virology is a very difficult field. There are companies that never really deal with a virus. They can't make good tests"
, said Sudhir Bhatia, founder of Genekam Biotechnology AG of Germany which has developed a diagnostic kit to detect Zika. Canada's Biocan Diagnostics Inc., Altona Diagnostics of Germany and GenArraytion Inc. of Rockville Maryland are also devoting room in their research laboratories for diagnostic tools and vaccines. Much depends on the outcome.
Labels: Brazil, Child Welfare, Disease