Culture and Cultivation
"She had few friends. She never married. She came to a strange country and did us the honour in that all her progeny were named after our early explorers. Her descendants are her Canadian Explorer roses."




"She was born in Vienna and that imprints a person, doesn't it? The Viennese manners, the Germanic culture -- she fit it to a T. She suffered no fools. To her friends she was extremely loyal. She was invariably polite, but the average person meeting her wouldn't find her warm."




"Canada has lost a national treasure. She is valued highly all around the circumpolar countries, a ring right around the Earth. When she started, she admitted that she knew nothing about roses. That's a good place to start. She had to learn without any preconceptions of what roses were all about. She started observing: which ones could withstand cold; which ones could withstand black spot. The Department of Agriculture suggested that she do something impossible. They wanted her to develop roses that would defy cold in Zone 2 -- this is cold -- but also to flower regularly through the summer."




"To defy cold you have to get your flower into being, pollinate it, make seed and curl up for winter. This means turning your leaves orange, then yellow, then drop them off and then take on Old Man Winter."




Harry McGee, (retired) National Research Council physicist





"Martin Frobisher takes a special place because it was the first rose. It was 1961 and it was already fall. I knew nothing about roses, but I loved them."




"Of the first batch of seedlings -- 2,000 in all -- two fitted the bill with a long flowering period and produced enough flowers to be showy."




Felicitas Svejda (former) researcher, rosarian, Department of Agricultur

e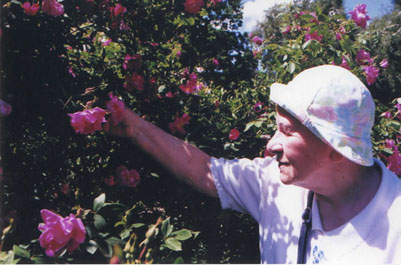 Born in Vienna in 1920, Felicitas Svejda is the creator of the Explorer roses
and of many hardy ornamental shrubs cultivated
in private and public Canadian gardens -- Montreal Botanical Garden Library
Tributes to this pioneer in hybridizing rose stock to withstand extreme cold have been pouring in since her death on January 19 in Ottawa, aged 95. Acknowledgement of her exalted place in the world of ornamental plant genetics have arrived from Russia, Iceland, the United Kingdom, Germany, Austria, Finland and Poland; every geographic place on the planet where rose lovers are now able to indulge in planting cold-hardy roses that will give them pleasure in beautiful blossoms throughout the garden growing season.
When Felicitas Svejda arrived in Ottawa in the early 1950s she came to an unsophisticated backwater compared to Vienna, the culture capital of Europe. Of course at that time in the historical fairly recent past, the Second World War had just concluded five years earlier and European cities were heavily damaged, their economies in dire straits, and guilt hung heavy over many Europeans for having hosted however unchosen, the charnel factories whose chimneys blasted the dry-waste effluvient of human remains during the Holocaust.
To choose to emigrate from Austria, a country aligned with fascist Germany and other Axis powers, to make her future in Canada, one of the Allied countries whose troops fought against those of the perpetrators of that mass conflict and genocidal extermination of Jews, must have represented a deliberate spurning of the dread social atmosphere in which fascism had thrived, in favour of finding her destiny in breeding living things of surpassing grace and beauty.
She was originally tasked with researching cereal grains, as an employee of the Department of Agriculture. Within a decade she had transferred her professionalism and interest to ornamental plants, focusing on rose bushes she had seen in the gardens of the Experimental Farm, the huge tract of treasured farmland set aside within the City of Ottawa as an untouchable preserve for experimentation in a country where the fundamentals of agriculture and animal breeding are taken seriously.
She learned the exacting science of hybridization, taking meticulous records of her observations, displaying the patience required to succeed. Patience is an obvious and fundamental requirement, since it can take a decade to determine whether a new variation will be successful. She sent her hybrid-bred roses around the world to be tested in the most inclement of climates, for example halfway up New Zealand's Mount Cook.
"She taught herself a lot. She talked to other people. As a scientist, she read the literature. Then she started to work crossing. If she wanted these results she'd cross a rose that showed [desired characteristics] with a rose that showed another kind of performance. She worked her way through it. And she was not too proud to admit that there were a lot of people on the Prairies who had gone before her with quite good results"
, explained Harry McGee, himself a renowned rosarian and author, as well as life-long friend of Felicitas Svejda.
Ms. Svejda's initial success came with a soft pink rose whose seed parent was a German-bred Schneezwerb shrub, developed from the hardy rosa rugosa native to northern Japan, and which she named after Martin Frobisher, the Arctic explorer. It wasn't only roses that this genetic engineer focused on, though they were her primary concern. She also bred mock oranges, forsythias and 'dancing' weigelas.
Once she retired, the program was given over to the Agriculture Canada laboratory in L'Assomption Quebec, eventually finding its way to the private sector. But the Svejda Explorer Roses are a hardy and lovely staple of nurseries. They appear in public gardens throughout Canada. And in private gardens where gardeners take pride in their hardy beauty. Like my own which over the years have hosted a number of the Explorer Series of Ms. Svejda's wonderful shrub and climbing roses.
Labels: Botany, Gardens, In Memoriam