Ordeal of Fear
"We have relived the details of that night for each of the 1,200 days and nights since. [It was the] most outrageous nightmare that one could ever inflict on a family."




"[We] waited together helplessly in fear. I've never been so desperate and lost."




"Who might be next on his list? I constantly worry Mr. Lutczyk will continue to exact revenge when he's released from prison."




Maureen Potts, Oshawa, Ontario
Tyler Anderson/National Post
David and Maureen Potts in front of the court house in Oshawa, Ont., Thursday Feb. 4, 2016. Former Oshawa city councillor Robert Lutczyk is on trial, accused of kidnapping Potts in 2012
"I do truly apologize. I don't ever want you to think, Maureen, that this would ever happen again, that I stew in hatred, because I don't."




"I don't want her to feel that I'm a threat to her, or David, or their family, or their four children. I want her to know this. I am very sorry, Maureen, what happened. I am very sorry, David, what happened."




Robert Lutczyk, former Oshawa city councillor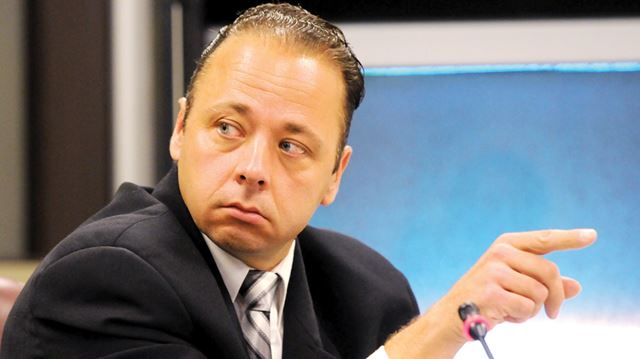 Ron Pietroniro / Metroland file photo
OSHAWA -- Robert Lutczyk, the former Oshawa councillor, is facing kidnapping and weapons charges
What happened was indeed something to be sorry for. It was an event that the victim, David Potts, solicitor for the City of Oshawa, will always be sorry that he was targeted for. An excruciating three hours of his life at the mercy of a man whose psychotic state was evident and he was the target. It was a miserable kidnapping that left his wife Maureen and his four children in the grip of fear, feeling they might never see their husband and father alive again.
On an 2012 night in October, Mr. Potts had returned home only to be confronted in his driveway by Mr. Lutczyk holding a gun. His wrists were chained, and he was taken to an isolated industrial compound and in a garage there given the order to be seated on a stool. In the garage was an assortment of weapons; over 2,000 rounds of ammunition, prohibited firearms, a Kalashnikov variant and a Russian anti-tank rifle with a three-kilometre range.
There were propane tanks, an uncompleted pipe bomb, and parked within there was a cube ban fitted with armoured metal plates. Not the kind of armoury anyone might expect to find secreted in a garage in a middling-sized Ontario city. But perhaps representing the measure of the man who had kidnapped the town solicitor. Whom his abductor blamed for business dealings that had gone awry through a municipal prosecution that Mr. Potts had approved a decade earlier.
And on this occasion it was obvious that Mr. Lutczyk had decided it was time to take his revenge. Then a strange thing happened, when Mr. Potts found his emotional situation undergo a change; his fear dissipated and instead he became angry, refusing to become a victim. He became instead someone with moral authority who had decided to leave fear behind and inform his abductor that he was forgiven his trespass.
Had his abductor decided to kill his victim in revenge for his role in a bylaw dispute where legal advice given by Mr. Potts resulted in Mr. Lutczyk's wages being garnisheed along with a dispute over property owned by his father, he appeared to have a change of mind. Instead, when Mr. Potts asked to be given something to eat, they drove together to a take-out establishment where Mr. Potts managed to signal to a passing police car that there was trouble.
A police chase ensued, and the pair returned to the industrial compound where Mr. Lutczyk grappled with Mr. Potts attempting to haul him back into the garage using him as a shield, but failed. While Mr. Potts was then left safe in police custody, his abductor managed to hold police off for another day before being arrested and placed in custody. A later trial found him guilty of kidnapping with a firearm and guilt in two charges of possession of prohibited weapons.
At the subsequent sentencing hearing, the Crown argued for a ten year sentence, with the defence counsel holding out for time served [giving their client double credit for pre-conviction time], leaving him four years left to serve. This is a man who, while fending off police for a 26-hour-period, confounded police officers searching for an end to the impasse, deciding to fly in a psychiatric expert, and call in Lutczyk's daughter to entice him to surrender.
Negotiators, tactical units and regular officers all desperately attempting to manage a man equipped with dangerous weapons, posing a danger to the public. When, eventually, he emerged from the garage in the industrial complex where he had held Mr Potts, he was wearing body armour. While in incarceration later, he had been held for the most part in segregation, an isolation that he had himself requested, in a state of perpetual paranoia.
Labels: Crime, Ontario, Social Dysfunction