The Youth of the Nation
"This study is about life, the universe and everything for teenagers. We look at everything from whether they are eating their vegetables to getting enough sleep and risk-taking behaviour."




"Young people that have positive relationships with adults and that feel connected at school are far less likely to use cannabis or participate in risky drinking."




Elizabeth Saewyc, professor, University of British Columbia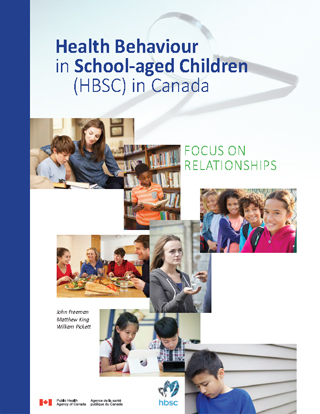 The most recent survey of almost 30,000 children in 377 schools across the nation has been released by the World Health Organization and the Public Health Agency of Canada. The survey, named the
2014 Health Behaviour in School-aged Children
, takes place every four years, and is conducted in 44 countries for statistics focusing on the mental and physical health of children in the ages 11 to 15 groups attending grades six through ten.
In Canada, a positive picture resulted of the state of mental and social health among the youth of the country. Heretofore Canada has been known as a country where a large proportion of young people experiment with cannabis. The use of that drug is now seen to be at its lowest ebb since 2002 when fifty percent of boys said they had smoked pot, and 1998, when forty percent of girls had done so. Now, in contrast, roughly 23 percent of boys and girls aged 15 and 16 report having tried marijuana.
On the negative side of the equation, only one in five children the survey took note of participates in moderate to vigorous physical activity on a sufficiently frequent basis for good health outcomes.That represents a stagnant number dating from 2002 to the present. In Grade 10, 22 percent of boys and a mere ten percent of girls energetically engage in physical activity for a minimum of 60 minutes each day.
Over fifty percent of boys and forty percent of girls sit before a television for over two hours daily, while an almost like number spend over two hours daily playing video games. Social bullying has been rising since 2006, with one in four children having reported being a bullying target at least twice weekly. On the other hand, the number of children who own having victimized others has dropped by half over the same period.
Self-incrimination in a socially disapproved type of aggression is questionable however, given the amount of publicity surrounding bullying and its clear status as a disagreeable activity, where schools engage in anti-bullying programs, so how many children would be willing to admit that they are guilty of bullying? If the numbers of those admitting bullying activity do not correlate with the numbers who claim to have been bullied, something needs to be adjusted.
Two thirds of girls of all age groups report having been bullied indirectly, through for example being excluded from groups, or by malicious slander. By the time they reach Grade 10, 40 percent of older teens claim that they have been sexually harassed. Grade 9 and 10 girls were found by researchers to be most at risk for depression, while 50 percent reported feeling sad at times, an emotion that prevents them from taking part in activities.
Consumption of candy and soft drinks has seen a decline since 2002 among school-age children, yet 40 percent spurn fruits or vegetables throughout the course of the day, with only 40 percent eating both fruits and vegetables at least once daily or more frequently. And the saddest statistic possibly to have been gleaned is that one in three boys and one in four girls are overweight or obese, which explains a lot of the foregoing.
And then there's the case of a 17-year-old boy appearing before a judge in Kingston, Ontario who upbraided him for sociopathic behaviour and criminality. Under the Youth Criminal Justice Act the boy cannot be named, but he is destined to serve 15 months in secure custody and then 7-1/2 months of community supervision.
"I can't remember a report on a youth this alarming. If this is you, you're going to kill someone. If that's you, we'll just lock you up forever or very close to that within the boundaries of the law"
, remarked Justice Allan Letourneau.
"This stuff is rich and dense for the psychiatrist who will perform the Hare Psychopathy Check List"
, noted Gerard Laarhuis, the assistant Crown attorney who had informed the judge the psychological assessment prepared on the youth was more
"negative and disturbing"
than anything he had previously come across.
"If he continues to take pride in his anti-social and criminal activities, he will find himself in prison with serious criminals"
, added Mr. Laarhuis. For his part, the unnamed teenager informed the judge that the Crown prosecutor is wrong about him; he is not completely without empathy for others, he does regret how what he has done has negatively impacted others, and he plans to change his behaviour.
His own defence lawyer spoke of his client's misconduct that began in Grade 1 and that
"clearly my client has issues dealing with anger management and frustration"
. But the youth, said the lawyer, is intelligent has a love of music and he intends to complete his education by going on to college. Yet he is a long way to attaining the credits he requires to graduate from high school and Justice Letourneau predicted by the time he does graduate based on his current efforts he may be 40.
The boy was living in a youth home from which he escaped and proceeded to steal a vehicle, leading police through the city on a joyride. He was charged with four probation violations and with stealing a car. His actions with that car led to other charges, including dangerous driving. A mere four days after his arrest a charge of assault was laid as well reflecting his assault on another youth at a youth centre where he punched the other for sitting in "his" chair.
At the time of the psychiatric assessment that took place in 2015 to which the boy's lawyer alluded, he had amassed 21 convictions. He informed the psychologist that he was primarily interested in three things in specific; working out, selling drugs, and committing crimes. This may have been said for its bravado-laden shock effect, but on the record of the boy's behaviour, it seems a fairly accurate self-accounting.
Labels: Canada, Child Welfare, Human Relations, Human Rights, Sociopathy