Freshly Sainted
"[I] thus spent several hours in a closed hearing room with a priest, a deacon, and a monsigneur, no doubt making their day as I told off, as from a rosary, the frightful faults and crimes of the departed fanatic."




Christopher Hitchens, critic, author (deceased)





"Mother Teresa would have said, 'I'm not called to be successful but faithful. And if not for what we do there'd be more suffering and misery'."




"She was not working to eradicate the structures of poverty. Her concern was to bring immediate and effective health to the people who needed help and shelter."




Father Brian Kolodiejchuk, designated principal promoting sainthood for Mother Teresa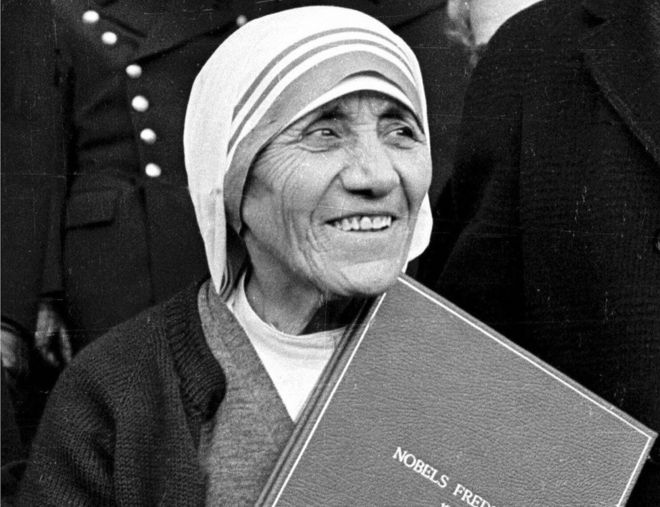 During her lifetime, Mother Teresa was a controversial figure. A woman of stern but humble mien, a disciple of the worship of Christ through her work with the Catholic Church, this diminutive woman was dispatched to India by her church to work in the field of education in the ways of Christianity. She was born in 1910 in Albania, as Agnes Bojaxhiu, and she dedicated her entire life to supporting the well-being of the humanly deprived.
She had a host of admirers who viewed her self-abnegation and total commitment to easing the passage from miserable life to the release of death for the world's marginalized and forgotten, people who lived on the street in India, foraging for sustenance, beset by the outcomes of dreadful diseases, not the least of which was old age, hastened by ill fortune.
She moved most people to examine the lack of their own compassion for the underdogs of this Earth. Her admirers included world leaders, both political and religious. Celebrities wanted to have their photographs taken alongside that of this woman who elicited strong emotions of both authentic admiration and virulent hostility; admittedly the latter category a small contingent of individuals, while the former constituted legions.
For through the force of her personality and her dedication to her vision of goodness and decency she demonstrated that one person could somehow manage to move mountains. Whatever her detractors said and felt about her, her more manifold supporters applauded her devotion to the welfare of human beings deprived of any hope, status or future in society.
Father Kolodiejchuk, Winnipeg-born, knew Mother Teresa for 20 years as a priest with the Missionaries of Charity, in Toronto. Appointed her postulator striving toward her canonization, 35,000 pages of documents and testimony was compiled by him for presentation to the Congregation for the Causes of Saints. Two verifiable miracles attributable to Mother Teresa's intervention with God were also presented.
In 1998 an Indian woman's cure from cancer was deemed to have resulted from praying to Mother Teresa, and ten years later a Brazilian engineer dying from multiple brain abscesses went into remission, again attributed to the intervention of Mother Teresa. The Congregation interviewed individuals who gave their opinion as to her outstanding qualities for which she should be anointed a saint, or that designation rejected.
The late acid-tongued intellectual Christopher Hitchens, a convinced atheist, found her qualities to be emphasized beyond their actual value, and that she was wanting in areas where she should have striven to excel. Critics like himself felt she relied upon poverty to enable her to make her mark in life, prepared to aid those whom privation struck, but not to campaign to end the poverty that assailed them.
Her traditional Catholic opposition to contraception and birth control, and her devotion in the belief suffering must be interpreted as a gift from God to make us better human beings failed to convince Mr. Hitchens and his supporters that she was the magnificent soul she was purported to represent. As Christ suffered on the cross, so too must others experience first-hand what it is to suffer to be whole, and united with their Saviour.
Her legacy is undeniable. At her death in 1997, the Missionaries that she founded working in the unforgiving slums of Calcutta numbered among them four thousand members, and an order of allied priests. At the present time, five thousand members have dedicated themselves to service to humanity in over 567 homes worldwide.
Her own relationship with the deity she revered was a troubling one.
"As for myself, I just have the joy of having nothing -- not even the reality of the Presence of God"
, she wrote painfully.
"No prayer, no love, no faith -- nothing but continual pain of longing for God"
, she wrote in personal reflections, the
Dark Night of the Soul
.
Labels: Catholic Church, Charity, Human Relations, Mother Teresa, Poverty