Canine Residents of Sochi
They feel that they have as much entitlement to roam about wherever they will as anyone else. It is their place. This semi-tropical area on the Black Sea in Russia is perfect for the perpetuation of their species, even if they are abandoned, and feral, but albeit extremely well socialized in their environment. They feed on whatever they can manage and they manage to survive. And they breed and they multiply.
Presumably, most citizens of Sochi barely notice them. Like the abundance of feral cats in Tokyo, as an example. They're simply there, and they've learned to look after themselves, to be cautious and aware; the cats in Tokyo, that is. As for the stray street dogs of Sochi, the local authority ordered that they be rounded up, lest Russia and Sochi be embarrassed by their presence.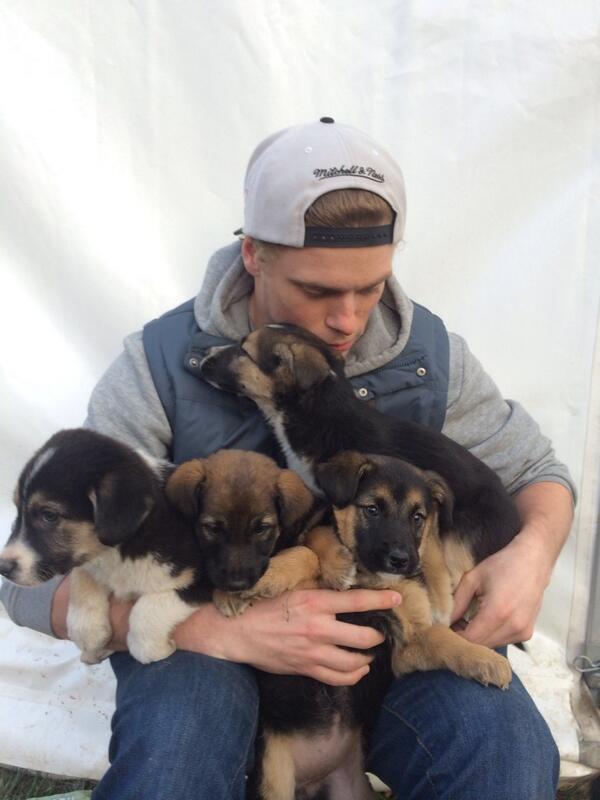 American skier Gus Kenworthy
Local authorities, responding to criticism about the plan not only to round them up but to exterminate the dogs, claim that this is the responsible thing to do, since as they see it, the dogs represent a potential threat to people. As in biting children. One child at one time or another was claimed to have been bitten by a stray dog. When people expressed outrage over the extermination order, it was claimed they were being sent to an animal reserve somewhere far away. Dog heaven, no doubt.
People visiting Sochi to take in the Winter Olympics have been struck by the social friendliness of the dogs. And many visitors are hoping to be able to adopt some of the pups, to remove them from Russia and somehow arrange to fly them back home to wherever they come from. Some of the Olympic athletes have stated their intention to do so, as well.
A local group has invested energy in collecting hundreds of strays, to pen them safely in a shelter, hoping that they will be adopted eventually. There is no lack of people willing to do just that, in Russia as well as outside Russia -- as many as 314 requests have already been received. During the construction phase of the Olympic sites construction workers fed the dogs and they thrived.
The homeless dogs have shown up in the most unlikely of places, to the consternation of authorities and the amusement of onlookers. One was seen watching the opening ceremony a short distance from the high-cost prime seats to the extravaganza. Some posts on Twitter claim the dog was planted there as an embarrassment to the Games organizers.
"We are really surprised that this issue has attracted so much attention"
, a spokeswoman for PovoDog, the name of the shelter in a village nearby the Olympics sites. Aeroflot has offered free of charge to fly the homeless dogs across the Atlantic:
"I imagine those Canadians who are adopting these dogs will arrange to get them to Canada once they have landed in Washington"
, their spokeswoman said.
Postmedia News
"These dogs are not dangerous, but they are street dogs, so some of them have health issues that are being cured before they are adopted"
, said the shelter spokeswoman.
"People really love these dogs because they are very friendly. The Olympics have provided a great chance to find homes for them."
Labels: Animal Welfare, Russia, Sochi Olympics