Is This A Demented World?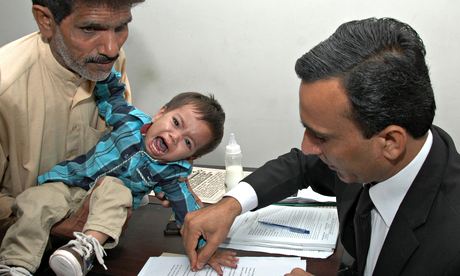 This is not a photograph of a fearful child receiving a life-saving inoculation against polio in Pakistan. This is a photograph of a nine-month-old child not yet able to walk, charged with attempted murder. Set to stand trial in a court of law. Held by his grandfather for the process of fingerprinting to take place, since the baby is not yet able to scrawl his signature. Shortly after the photograph was taken the baby became a fugitive from justice.
Sent into hiding by his family, to prevent any further indignities to occur to the tyke, unaware that he was born into a country where inoculation against poliomyelitis is considered a crime against Islam in some tribal areas, and where health workers attempting to administer protective serum are murdered for their humanitarian efforts. This is a country where the crime of apostasy can result in a death sentence. A country where blasphemy against the Prophet Mohammed can result in death.
It is a country so absurd that Mohammed "Musa" Khan from Lahore in Punjab province has been formally accused of attempting to kill gas company officials.
"The child has been charged with attempted murder, with stoning the team, and injuring them"
, the baby's lawyer, Irfan Tarar explained.
"He does not even know how to pick up his milk bottle properly, how can he stone the police?"
, asked the baby's grandfather Muhammad Yasin.
No matter, the official charge is an attempt
"to murder with intention or knowledge"
. And the infant could face a maximum of ten years in prison with stricter penalties should a judge determine that the crime had taken place in
"the name or on the pretext of honour"
, if he is convicted as charged.
"Everyone in the court was saying, 'How can such a small child be implicated in any case? What kind of police do we have?'"
the child's grandfather said to
Agence France-Presse
from the court.
The incident began when Pakistan's Sui Southern Gas Co. dispatched gas company representatives who were accompanied by a police escort, to enter the Ahata Thanedaran neighbourhood to investigate claims of natural gas theft. The police
"First Information Report"
stated the child, then all of seven months, together with a gang of 35 other people, attacked the officials with rocks.
Shahbaz Sharif, Punjab's chief minister,
"in a bid to avoid further shame"
suspended the officer responsible for the report, ordering the convening of an
"inquiry committee"
to investigate the matter, according to the country's largest English-language newspaper. The Pakistani Penal Code has a provision, Section 82 that states:
"nothing is an offence which is done by a child under seven years of age".
Meanwhile the child has been spirited away for safety where he will not be found, after a judge released him on bail. And his grandfather believes the charge to be a fabrication in an attempt to have the family evicted from their land. It is what, after all, happens in Pakistan to Christians, falsely charged by Muslim clerics, even if they are little girls, of insulting Islam, happy to inflict the punishment of a jail term in an expression of contempt for religions other than Islam.
Oh, wait a moment ... I did mention that took place in Pakistan, a backward country, didn't I? How about a thirteen-year-old New Jersey boy suspended from school for twirling a pencil about in math class? Ethan Chaplin, in grade 7 at Glen Meadow Middle School in Vernon Township, New Jersey was playing with his pencil when another student shouted
"He's making gun motions, send him to juvie!"
Well, thank heavens for a civilized, civil, mutually respectful society that boasts its way of life is a beacon of light unto the world. The school suspended Ethan, ordering him to undergo a physical and psychological evaluation. The boy was stripped and forced to give blood and urine samples for drug testing. A school superintendent affirmed that school policy requires an investigation should anyone in the school feel uncomfortable or threatened by another student.
"I'm absolutely livid. I think it's gross misconduct at its finest. They took something so minimal and took it so far over the edge."
Right, no denying that ... and speaking of taking something minimal over the edge, we go from infancy to childhood to the elderly years, and this time for a little visit to the State of New York. Far, far away from Pakistan, to a democratic country that represents itself as a beacon of hope for the oppressed, but cannot represent itself as proudly boasting an intelligent citizenry, for people, it seems are cookie-cutter similar anywhere one ventures in this great, wide world.
The son of one resident of a New York state nursing home is suing the East Neck Nursing Centre in West Babylon, Long Island. Who can blame the man? His mother, he states was
"violated"
, his highly religious mother. In an effort to bring some entertainment into the lives of their elderly residents, strippers were hired to cheer them up. The mother of the outraged Franklin Youngblood set to sue, was so entertained she stuffed dollar bills into a dancer's briefs.
Yahoo news
She, at least, among her peers, found relief from the boredom of being surrounded by others awaiting release from life, no long able to enjoy it. And if her son has anything to say about it, she will no longer be exposed to such outrageous events. "Bernice Youngblood has lived 85 years as a traditional Baptist, hard-working lady and now she has been defiled. We will be seeking at least a million dollars", stated family lawyer John Ray.
Does Bernice Youngblood know about this conspiracy to defend her religious honour and commitment to die bored and unentertained?
Labels: Crime, Justice, Pakistan, Social-Cultural Deviations, United States