Parental Discretion in Child Welfare
"Christine was so kind, she thought she'd take the pit bull for a week or so to help out the owner's family."




Beatrice Mushanga, Ottawa resident
Facebook
Cali Leclair was rushed to the Children's Hospital of Eastern Ontario in serious but stable condition Sunday morning after being attacked by a pit bull in the family home. Here Cali is shown with her mother Christine Leclair.
A woman with a good heart, and obviously an animal lover, Christine Leclair, mother of a 14-month-old toddler, and owner two large family dogs that were familiar with the child, thought she would do a good turn. She would relieve a neighbour of the concern of having a volatile-tempered dog of a breed known to becoming dangerously out of control under certain circumstances, around his own small child whom that same dog that already once bitten.
No doubt the dog owner, who resisted surrendering the dog to a rescue or rehabilitation group, was feeling much relieved; his problem was temporarily shelved, and might be resolved with some space while he did a little bit of introspection, to decide which he valued more; his vulnerable young child or the dog obviously in need of some stern, professional guidance.
Christine Leclair must have thought that her good heart was as likely a tonic for an aggressive dog as someone schooled in the handling of such an animal. After all, she already had two large complacently well-behaved dogs, didn't she? The Province of Ontario had instituted a ban on pitbull type dogs, back in 2005.
It is now illegal to own, import or breed an American pit bull terrier, American Staffordshire terrier, Staffordshire bull terrier or similar breed canines. Those who were already in ownership of pit bulls before the ban came into effect were permitted to retain their companion pets, but knew that they had to be neutered or spayed, and muzzled and leashed in public.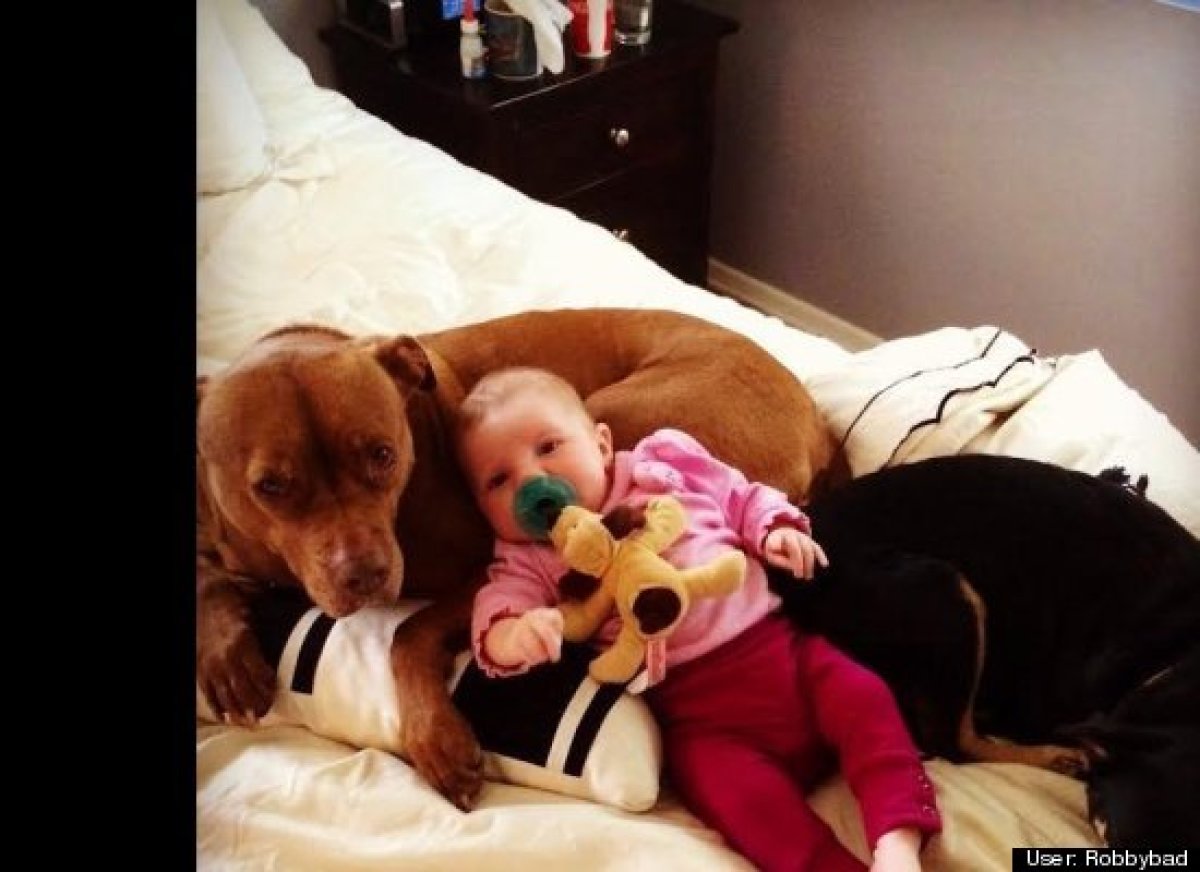 Trust
There has long been a public backlash against the ban. Those who love all dogs, believe that even though these breeds that have been cultured for aggressiveness and have an inborn tendency to attack -- and with their genetic endowment of a strong, clenching jaw are potentially dangerous in the training hands of the wrong type of individual; a sociopath for example, intent on transforming a pet into a canine terrorist -- can be taught to be gentle.
The family had taken in the dog named Boss, on Saturday. And the first day seemed to go very well. It was the following day, Sunday, when the little girl, Cali Leclair, moved toward the pit bull terrier to pat it.
"The baby went to pet the dog -- the dog was laying down -- and the dog snapped; it bit her right on the face"
, explained a neighbour, and a close friend of the child's mother.
When the mother was unable to pry the dog's jaws off and away from her child, she called her husband in desperation, and the husband was finally able to perform the task. Paramedics rushed the little girl to the Children's Hospital of Eastern Ontario in serious, but stable condition that morning. The pit bull had torn the little girl's nose from her face, inflicting deep puncture wounds exposing bone.
The dog was taken into custody and its fate is fore-ordained.
Labels: Animal Welfare, Child Welfare, Family, Tragedy