That Adventurous Spirit
"When we departed on this journey more than a year ago, we were then and remain today confident that we prepared as well as any sailing crew could."




Eric Kaufman, U.S. Coast Guard-licensed captain, parent-adventurer





"People are going to criticize anybody's parenting of their children."




"Charlotte and Eric raise their children how they see fit. They are very concerned about child safety. That's their number one concern and they did not do this blindly. They are responsible, good parents."




Sariah English, sister of Charlotte Kaufman





"The rescuers have to risk their own lives to help people who do these kinds of stupid things on purpose, and I don't think that's right."




"They'll probably go on the

Today

show to talk about this, and write a book about it, do a mini-series and get 15 minutes of fame because that's how our country tends to reward people who choose recklessly to put themselves and their children in danger."




Margaret Dilloway, San Diego mother and novelist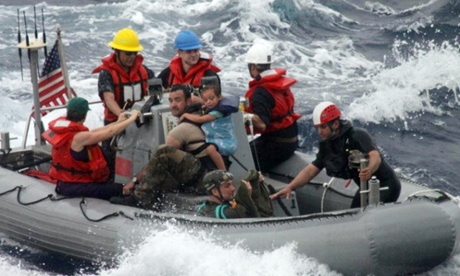 The diversity and complexity of human nature makes it a certainty that life in general is never boring, at least impersonally reading about the choices that people make. The timid and uncertain do not usually look for answers to life's puzzles. Nor do they tend to seek adventure to challenge their capacity to fend for themselves. It is from among the boldly assertive, the confident and the adventurous that surely human advances have been made in discoveries benefiting humankind, in their quest for answers to the puzzles of existence.
That said, it is from among the pool of the curious and the adventurous that an intrinsic drive to self-destruction also exists. A desire to push the bounds of endurance against all that nature has in her quiver of swift-as-an-arrow surprises of adversity. Benevolent at times, terrorizing at others.
Which doesn't stop a[n admittedly rare] breed of teens so convinced of their exceptionalist ability to fend for themselves under all circumstances, that they will insist, for example, on setting out solo on an ocean voyage. Their drive is explicable to a degree, since the young are impetuous by nature and don't tend to think beyond their dreams to the consequences that might accrue.
It is the tender acquiescence of parents so bedazzled by their offspring they permit them to challenge fate, that is perhaps less understandable. But then, it is parents agreeing to what their children wish to accomplish; parents who have confidence in their children's unusual abilities to persevere and preserve their lives while accomplishing a goal of rare achievement.
What can we say of parents who decide, with their infants in tow, to risk life by embarking on a sea voyage, trusting to Dame Fortune smiling upon them to see them and their dependents through an adventure the parents seek and the children have no say in going along with? If such an adventure is a passion for the parents, does it excuse exposing such young children to extenuating circumstances of survival?
The disabled sailboat Rebel Heart drifts hundreds of miles off Cabo San Lucas, Mexico. An effort to help a sick baby aboard includes the Air National Guard, Coast Guard and Navy. (

California Air National Guard

/

April

5

, 2014

)
Take two young parents, Charlotte and Eric Kaufman and their sailboat, who set out on a two-week voyage around the world. Circumnavigating the world in two weeks? Their 11-metre sailboat lost steering and communications functionality 1,450 kilometres southwest of Cabo San Lucas Mexico
Sariah English/The Associated Press -- Eric and Charlotte Kaufman, shown pre-voyage, with Lyra 1, and Cora, 3
Their one-year-old child was ill with a fever, diarrhea and body-covering rash, vomiting and unresponsive to medication. Their three-year-old, presumably was well, merely in potential danger in their floundering sailboat, along with her sibling and two world-travelling parents.
AP Photo/Sariah English
- See more at: http://www.northjersey.com/news/navy-rescues-family-with-sick-baby-from-sailboat-off-mexican-coast-1.842709#sthash.cvMyAGL2.dpuf
In another age they wouldn't have been capable of sending out a satellite plea for rescue, but in this instance they were able to, and four California Air National Guard personnel parachuted into the water to reach them, stabilize the infant until the navy frigate the
USS Vandegrift
reached them early Sunday. The sailboat, "Rebel Heart" was in the process of sinking.
Should these parents be charged for the rescue cost, and charged with endangering the lives of vulnerably dependent children?
Why, not at all! Charlotte's sister, Sariah Kay English was skeptical at first:
"I thought it was nuts"
, but she came around, remarking the couple was always careful.
"They were not going into this blind. I knew they were doing this wisely"
, she said, sagely herself.
To those delusional bright lights who claim that such adventures involving children are enriching experiences, expanding children's horizons, it should be pointed out that this may be true for children old enough to be integrally involved in the adventure, physically and mentally; at ages one and three it is hugely doubtful that any child would have lasting memories for good or for ill of an event that took place at such a stage in their young lives.
Labels: Adventure, Child Welfare, Family, Health