Brother, Why Art Thou?
"The false and malicious statements had the intended effect of destroying not just the profitability of the [brothers'] medical practices and businesses, but their entire professional stature. Politi went out of his way to fulfill his threat to 'crush' the plaintiffs."




Ontario Superior Court Justice Ed Morgan





"They were horrified. People are putting their lives in [Uri's] hands and here was someone questioning his credentials."




Milton David, lawyer for plaintiffs Uri and Doron Sagman, Toronto





"While I am experiencing physical pain at the present time brought on by my illness, the [legal] action filed by Politi adds a new dimension of anguish. It represents a final gesture of ungratefulness by a son who has always been showered with generosity and second chances by myself and his family despite his never-ending acts of betrayal."




Sadok Sagman, family patriarch, 2007 legal affidavit
Before his death from pancreatic cancer in 2007, Sadok Sagman, a chartered accountant, economist, Montreal businessman, asked his oldest son Paul, who had taken on the name Paul Politi to place his Montreal real-estate holdings in a trust for the purpose of protecting the estate and the heirs of his estate. His son responded to his father's request by setting up what he named the "Belleville Trust" in such a manner that the valuable properties it held would benefit himself and his children only.
When the elder Mr. Sagman discovered what had occurred he transferred the real estate out of his son's trust account. And then what followed, while the terminally ill father was undergoing cancer treatment, was the oldest son's decision to sue his father. Lawyers acting for the son, Mr. Politi, questioned Sadok Sagman even as he was undergoing chemotherapy. In response, the father wrote a scathing denouncement of this son, the eldest of his five children.
He described his son as never having maintained a stable livelihood, focusing instead on quick-profit schemes and in the process inflicting financial and emotional harm
"without moral compunction"
, on others around him. The end result was that before he died, Mr. Sagman saw fit to cut his son out of an inheritance, stating him to be "unworthy" of being named in his will as an heir. Toxic family ties extraordinaire -- or perhaps not.
As testament to the fair-minded forgiveness of the four other children, two sons, two daughters, the family members managed to agree on the dispersal of the estate months after their father's death, with his apartment block, Place l'Acadie in Montreal, ending up in Mr. Politi's trust. The later sale of the apartment block netted Mr. Politi $6.8-million.
The two younger brothers were both doctors and successful business people. Uri Sagman is a pediatric oncologist and prominent in the nanotechnology industry. His brother Doron Sagman is a psychiatrist, and vice-president of of Eli Lilly Canada. Their older brother Paul Politi pursued his avocation as the family's
"black sheep"
, known to commit
"never-ending acts of betrayal"
.
Technion Canada
Dr. Uri Sagman
Paul Politi created websites accusing his physician brothers of fraud, theft and medical incompetence, in an obvious bid to destroy their reputations, their livelihoods and their satisfaction in their life endeavours. In turn his brothers sued for libel. This was not the first time that they had engaged in legal activity against one another.
Their father had left Uri Sagman his Montreal penthouse condominium in the city's Sanctuaire complex. Uri Sagman put the property up for sale for $1.1-million, when his brother offered him $100,000 over the agreed-upon sale price to someone prepared to purchase the property. The funding was to come from the proceeds of the Acadie building sale, so Uri cancelled the other transaction, and accepted his brother's offer.
He agreed in the process to list the purchase price on the deed as $1 to benefit his brother by limiting the property tax assessment. Which gave his brother the opportunity to refuse payment of the agreed-upon $1.2-million, claiming the condo was given him as a gift. But Dr. Sagman, aware of his brother's perfidious inclinations, had recorded a conversation proving the transaction was as he claimed it to be; a legitimately-agreed-upon sale between the two, no "gift".
In the court case that followed Justice Dionysia Zerbisias ruled that Mr. Politi had fraudulently taken the condominium, ordering it to be returned to his brother, and with it $282,000 in legal costs.
"He lacks credibility, lies with impunity and without any conscience. [Politi] ... is vengeful, manipulative and malicious"
, remarked the judge in his ruling, rejecting Paul Politi's insistence that the condominium was a gift, not a sale agreement.
Even as this situation unfolded, Mr. Politi launched two websites where he implied his brothers had falsified documents to enable them to get into the University of Alberta. He claimed they had been convicted of fraud and theft, and that they lied for the purpose of obtaining government grants. Although the allegations had no basis in truth, even once the sites were removed from the Internet, Justice Morgan noted, they affected the two brothers' lives deleteriously.
Justice Morgan ordered Mr. Politi to pay $350,000 in damages for defaming his brothers. The Black Sheep had also levelled accusations against one of his brothers in a complaint that he filed with the College of Physicians and Surgeons, found by the regulating body to be completely unfounded and dismissed.
In 2012 Mr. Politi had declared personal bankruptcy. Two years earlier he had applied to transform his 180-acre property north of Toronto into a "$75-million" solar-energy farm.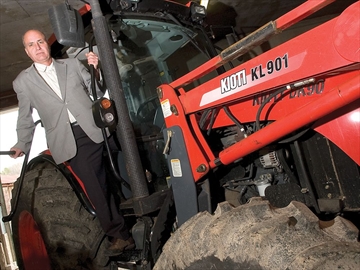 C

elia Klemenz /

Metroland

UXBRIDGE -- Posing with his tractor on October 26, Paul Politi, a landowner in Goodwood, was tipped off by a Times-Journal reader as to the whereabouts of his missing tractor. The tractor was found in the woods near Goodwood Kartways. October 26, 2010
Labels: Family, Social Dysfunction, Toronto