Proceeding With Caution
"It would be a perfect fit -- good training for future jobs, useful work for the community, and appealing to a lot of the penitentiary residents who like high adrenalin activities."




"Giving inmates nothing to do, no useful training and no opportunity to make a positive contribution to society is what jeopardizes public safety."




Mary Campbell, former director-general, corrections and criminal justice directorate, Public Safety Canada
There are currently 156 blazing wildfires in the Northwest Territories as hot and dry conditions have led to one of the worst forest fire seasons in years.Wildfires have been flaring up across British Columbia and Alberta as well as the Northwest Territories. Volunteer firefighters along with professional firefighters have been deployed in attempts to control the burns.
Recent days have seen the wildfire situation in western Canada and the north really get out of hand. Over 855,000 hectares have been burnt in the Northwest Territories, 53,000 hectares in British Columbia and 14,000 hectares have been razed in Alberta. Banff National Park included. Evacuation orders affecting over a thousand residents in northwestern B.C. have been issued, and a small number of residents in northwest Alberta were ordered as well to leave their homes.
Environment Canada has issued a high health-risk alert for Yellowknife, resulting from the heavy smoke smouldering the environment. Specialized personnel like fire behaviour specialists and incident managers are stressed to the limit and requests for additional help are beginning to take the notice of Dick Bon, duty officer with the Canadian Interagency Forest Fire Centre in Winnipeg whose purpose it is to allocate firefighting resources across the nation.
At times of need Canada can call upon its American counterparts for assistance, in a longstanding two-way agreement. Shortages in fire fighting personnel might be alleviated, claim some authorities, if prison inmates were called upon to volunteer their services to be trained and deployed in fire fighting, something that might very well appeal to a percentage of prisoners. A spokesman for Correctional Service of Canada stated that inmates have assisted with fire-fighting and flood-relief efforts in the past, but
"we are not currently involved in these kinds of initiatives."
"We will assess the situation to determine our ability to be involved, with the safety and security of the public being the highest priority"
, stated Jon Schofield with Correction Service of Canada. Mr. Bon with the Canadian Interagency Forest Fire Centre wonders if prison inmates' fitness levels could be relied upon, and whether adequate training would render volunteer inmates to present as viable assists in dire fire emergency situations such as are now occurring.
According to Richard Cordova, a captain with the California Department of Forestry and Fire Protection, inmates there undergo fitness evaluations and are expected to complete a 67-hour basic training course much as seasonal firefighters undergo. There are about 40 conservation camps across California where advanced training takes place. During the fire season, the trained prison inmates who volunteer work alongside the professional firefighters in a common purpose, to control the flames.
In California, inmates are used to help maintain parks and build hiking trails. They assist in sandbagging during floods and take part in search-and-rescue efforts.
"It's a big benefit for our department and a benefit for individual inmates because they come out with certain skills"
Mr. Cordova pointed out. Inmates signing up for the program are for the most part non-violent offenders.
"We don't take murderers, arsonists or child molesters. They like it there. They're treated a little bit better. They get to get out. So they make the best of it"
, explained Mr. Cordova. In his experience, violent outbreaks or escape are rare. Sounds like an accommodation that would be in the best interests of society at large, the institutions that hold convicted criminals, and the opportunities that some prison inmates take advantage of to help them integrate back into society with some confidence of additional learned skills and self-respect.
On the other hand, decades ago one could see work gangs in distinct prison uniforms working along roadsides in Georgia, performing some levels of construction, and the observer might think with a shock that he was witnessing a throwback to another, earlier and uglier era. Particularly when it was hard to overlook the fact that attending the work gangs were uniformed police holding their rifles at the ready for handy use, if required.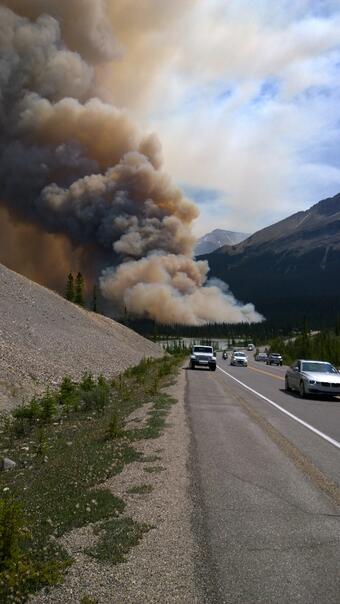 Photo credit: Jon Janssen
Labels: Canada, Crime, Environment, Human Relations, Social-Cultural Deviations, United States