Nature's Agenda
"It happened extremely quickly; within seconds, we were separated. Three people in our group were swept away [and] we tried to find them but there was about 20 metres of snow accumulated at the bottom of the avalanche. We fought for survival and we were lucky."




Sonia Levesque, Montreal lawyer





"I was sure I was going to die on the way to the pass because I lost my group, I lost all the people I was with and I could not see anything."




"One Nepalese guide who knows the way saw me and asked me to stay with him. And he dragged me, really dragged me to the tea shop. And everybody there was really frightened."




Linor Kajan, injured trekker from Israel





"We tried not to sleep. We tried not to get hypothermia. It was a very frightening and awful situation."




Yakov Megreli, Israeli survivor
To date, it is estimated that 39 trekkers died this week on Nepal's Annapurna mountain. Among the dead are people who came from Nepal itself, who were travelling familiar pathways during a season of religious festivities, when adverse weather conditions and avalanches struck. It was known even before that time that the chances of avalanches occurring were high, given unusual prevailing snow and weather conditions.
Among the others who died on the mountain were Japanese, Israeli, Canadian, Indian Slovakian, Vietnamese and Polish trekkers. Many of the dead have not yet been identified. All of whom were taking advantage of a seasonal window of opportunity, when experience has been that these are safest months of the fall season to undertake such treks.
Nepal is highly dependent on the tourism that the immense splendour of its mountains brings to help their modest and struggling economy. The disaster of four days earlier is unprecedented, in its broad sweep of victims. There have been rescue evacuations undertaken rescuing at last count 384 people from the Annapurna trail, accounting for 216 foreigners.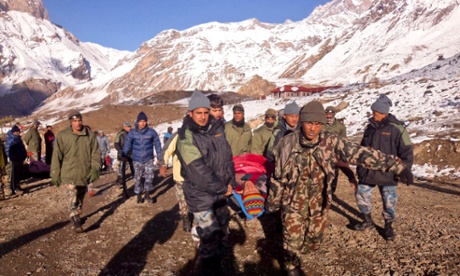 Many of those who have been rescued suffered frostbite severe enough that they will now face life-altering surgery, including the amputation of limbs. There are still known to be 22 hikers stranded at Thorung La pass, the high point of the Annapurna circuit, facing a shortage of food and water. And although Army helicopters have attempted a rescue, they were unable to land.
With their limited resources, most of the missing and dead are believed to be at the maximum heights that helicopters can reach. They were on a narrow trail, higher than people can imagine, about four thousand metres, seemingly close enough to touch the sky soaring above the mountain.
Two Canadian women also feared dead had been in Annapurna Sanctuary close to where the avalanche occurred. They watched as helicopters flew overhead, having themselves no direct knowledge of the avalanche and the blinding blizzard, and the disaster it brought to so many in a time and a place and a season where thousands were hiking on the mountain.
"We are trekking out of the avalanche danger zone and heading back down along the circuit. We are now in Manang on the lower side of the pass and hope to be in Pokhara in 3-4 days"
, wrote Virginia Schwartz of Quebec who along with her trekking partner Jane Van Criekingen posted a message on Facebook to give relief to their concerned families.
Roughly 70 people remain missing, according to Ganga Sagar Pant of the Trekking Agencies Association of Nepal, with the death toll expected to continue to rise. International hikers were trekking along the route, 160 kilometres northwest of Kathmandu during peak October season when the air is most often clear and cool. Local festivals brought out many Nepalese as well, on the trails.
Two trekkers from Hong Kong and a dozen Israelis were airlifted to Kathmandu, to be treated at a hospital there. The Israelis' survival was due to their being able to take refuge in a small tea shop along the path, during the blizzard that encompassed the area. They were more fortunate than many others desperate to take shelter but for whom there was no room with others already crowded within, leaving 50 out in the storm, hoping to be able to somehow survive their deadly exposure to the elements.
According to Nepali tourism officials, there remains uncertainty over how many trekkers might actually be missing, since many among them had evidently set off on their treacherous adventure on that fateful day without having obtained official permits. In Manang District 129 people were rescued and 31 in Mustang district.
An estimated 100 people yet remaining missing in Upper Dolpo in Western Nepal, an critical area which rescuers have not yet been able to reach. There were, according to the local newspaper
Kantipur
, 11 groups in the region, including about 40 Nepali cooks, guides and porters, and 60 foreign trekkers.
Labels: Adventure, Disaster, Environment, Himalaya, Nature