Risk-Taking in North Korea
"He is wise. He would not do anything unwise that would jeopardize the humanitarian mission. He would not say anything against the government, he wouldn't try to convert people. He's smarter than that."




"So, we thought, 'Let's not make it a huge issue'. The feeling now is, after the days have gone by, that this is a highly unusual situation."




"It's shorter to list the countries he hasn't been to [in his humanitarian work]."




"[With no news the congregation felt it had] nothing to worry about and nothing to not worry about [and proceeded to pray for good news]."




"He loves the people [of North Korea] and he wants to see the nation grow and develop."




Lisa Pak, staff member (pastor), Light Korean Presbyterian church, Toronto
Photo released by Light Presbyterian Church show Hyeon Soo Lim doing humanitarian work in North Korea
"There is no resident Canadian government office in the country. The ability of Canadian officials to provide consular assistance is extremely limited."




Nicolas Doire, spokesperson Foreign Affairs Canada





"It's not as though the [Democratic People's Republic of Korea] is making announcements about who they've detained. [If the preacher is in custody in North Korea] the next likely information relayed in this case would likely be to the Canadian government through the Swedish government [relaying consular information through their North Korean mission]."




"It's hard to get lost in North Korea. The North Koreans keep track of people pretty well. The unusual thing, I think, in this case, is because he's familiar and has been going back and forth. That's unsettling, because somebody with that level of experience going in and out -- basically he knows the rules."




Scott Snyder, senior fellow, Korea studies, Council on Foreign Relations
Well, knowing all the rules in diplomacy and acceptable behaviour, sticking strictly to them to ensure that he will not offend the sensibilities much less the suspicions of that paranoid, militant, secluded government, means also being aware of how those with whom you are familiar, in favour with the regime, are currently regarded. In Reverend Hyeon Soo Lim's case, he had groomed good relations with an uncle of Kim Jong-un.
This was an uncle by marriage to Mr. Kim's father's sister, his aunt. Who, together with her husband, the once-powerful Jang Song-Thaek, groomed the current dictator of North Korea for his ruling position on the death of his father. Unfortunately, Jang Song-Thaek fell out of favour with his nephew-by-marriage for leading a "dissolute and depraved" life; that, in any event was public disclosure held to be a handy accusation covering up a more discreetly-held charge against uncle.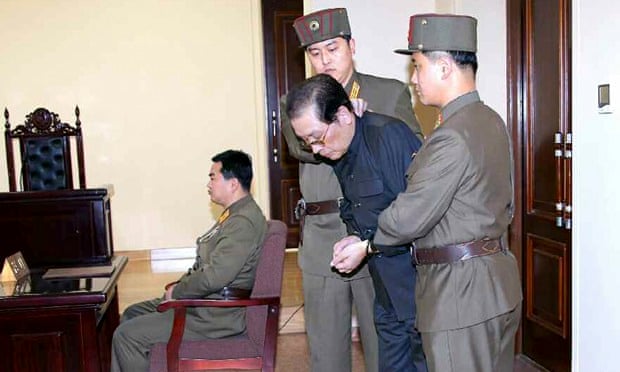 Whose 'trial' and 'sentence' was swift and final, his life summarily ended in December of 2013. So having the elite entree to the power system that is North Korea might have worked very well indeed for Reverend Heon Soo Lim for as long as his mentor was at the height of his powers, not so well in the wake of his fall from grace. His connection to uncle might be seen by the volatile and paranoid ruler to be evidence of the reverend's mission to proselytize, not offer humanitarian aid.
The 60-year-old pastor of the Mississauga-based church travelled to North Korea at the beginning of February, via China. A month has transpired with no word from him, which is most unusual. And which led members of his church to appeal to Canada's Department of Foreign Affairs to help find out what has become of the man. Foreign Affairs has a standard advisory warning Canadians to steer clear of North Korea. Unfortunately, Canada has no mission in North Korea, but does have an arrangement with Sweden to represent Canadian interests in the hermit kingdom.
This was not an unfamiliar first-time trip, but one of over one hundred the pastor has embarked upon since the 1990s. All of those trips taken with the approval of North Korean authorities. Religious missionaries hoping to travel and work in North Korea place themselves in direct peril. But Reverend Lim focused on humanitarian aid, which is of course a covert type of mission work. However, aid workers are considered as being
"agents of Western cultural imperialism"
, according to Richard Bush, senior fellow at the Washington-based Brookings Institution.
It was originally thought by his parishioners that Reverend Lim was in quarantine for the 21 days that North Korea insists upon, mandatory for all foreign visitors, as a guard against Ebola. Most foreigners detained in North Korea have been arrested on charges of failing to notify authorities about their visit, but that category would not include Reverend Lim. He immigrated to Canada from South Korea in 1986, and set up the Light Korean Presbyterian Church with an initial five-family membership, grown since then to 3,000 members.
He has led many worldwide mission for the church, including trips to Cambodia, Brazil, India and Kazakhstan, let alone North Korea. None of the other destinations pose as hazardous a destination potentially as does North Korea. In North Korea the pastor aided residents in the north to open noodle-producing factories, factories for tofu and yogurt production, and he carried in vitamins, medical supplies and winter coats. He was well aware of the risks involved in his travels to North Korea.
And now he is experiencing the results of those risks. And it is entirely possible that after several months of detention, appeals to the government will result in his release. Possible, but certainly not guaranteed.
Labels: Canada, Christianity, Human Relations, North Korea, Social-Cultural Deviations