Raising The Alarm
"The situation is quite critical."




"The water table is dropping all over the world. There's not an infinite supply of water."




"We need to get our heads together on how we manage groundwater, because we're running out of it."




Jay Famiglietti, senior water scientist, NASA Jet Propulsion Laboratory
U.S., on Wednesday, June 3, 2015. The Southern Nevada Water Authority is building a three-mile (five-kilometer), $817 million tunnel under Lake Mead to retain access to its Colorado River supply as the reservoir declines to 40 percent of capacity.
Photographer: David Paul
Morris/Bloomberg
Cracked ground along the shore of Lake Mead is seen in Boulder City, Nevada, another symptom of drought research shows is becoming a global problem.
There are some areas of the world in truly critical need of water. The situation in North America is nowhere near as desperate as some areas of the world, say for example, the North Caucasus Basin, the Arabian Aquifer System, the Ganges-Brahmaputra Basin. But in the country where the report from NASA emanates, of which Mr. Famiglietti was the senior author, water has always been wasted. In some areas of the country like the south-east there are few natural lakes, and the Army Corps of Engineers operates vast numbers of reservoirs.
In Florida, the Everglades are slowly being drained to irrigate vast sugar and beef plantations; how's that for inappropriate use of natural resources? And how about the new 'independence' in oil and gas that has favoured the United States with its growing exploitation of fossil fuel resources deep underground through fracking? Fracking requires an enormous amount of water in the process of breaking up rock formations deep underground to deeply hidden natural resources of fossil fuels.
Then take California, an enormous state with a population that alone matches that of Canada's in its entirety, its neighbour to the north which is blessed with a huge number of freshwater lakes and an abundance of rivers. California is a state that grows a heftily major proportion of the country's fresh fruits and vegetables, much of used domestically, but a large proportion exported abroad as well. Irrigation is required for the growth and export of nuts, fruits and vegetables that make the state so wealthy.
Californians live in a hot, dry atmosphere and so backyard swimming pools are a common commodity among home-owners. Americans are wedded to their smooth green lawns, and grass needs lots of water particularly in that climate, to thrive. The state has stumbled through one year after another of drought, just as drought has visited other areas of the country, mostly prairie states, requiring municipalities and states to pass bylaws restricting water use.
But it isn't only drought-stricken California that has been steadily draining its reservoirs of underground aquifers, the very same thing is occurring world-wide, according to two new studies recently released by American researchers. Who point out that twenty-one of the world's 37 largest aquifers, from India and China to France and the U.S., have gone well beyond sustainability tipping points. Translated, this means that more water is being taken from underground reservoirs than nature can replace.
It takes millennia, thousands of years for aquifers to build up their accumulation. They are gradually recharged with meltwater from seasonally melting snow and from rain events. A global scarcity of fresh water has led to the disastrous draining of underground reservoirs which supply 35 percent of water used by the worldwide community. And during times of drought more emergency drilling for water occurs, compounding the problem.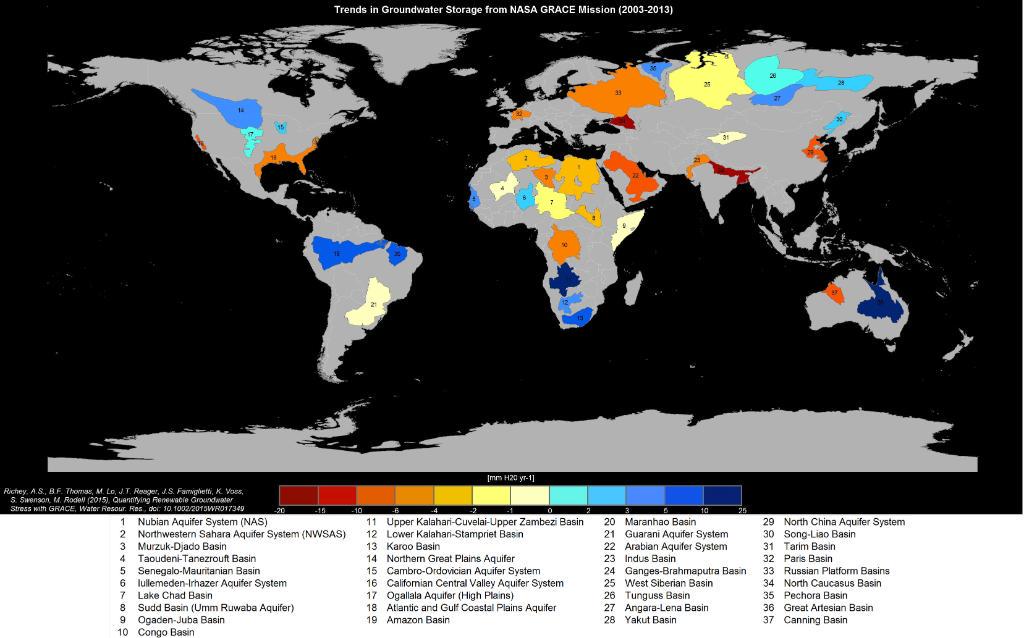 Take California's example; whereas it normally uses 40% of its groundwater reservoirs, it has been draining 60% for its water use latterly. Matters have spiralled to such a level of water scarcity that for the first time in its history water availability has been reduced for agricultural irrigation purposes. Flat, arable land that is warm and sunny is great for growing fruits and vegetables, but the required water component comprises a complication in the equation.
Unprecedentedly precise measures of groundwater reservoirs deep within the Earth were taken with the use of NASA's GRACE satellites to show subtle alterations in the gravitational influence of the earth's surface. The satellites flying overhead showed slight changes in aquifer water levels charged over the past ten years, from 2003 to 2013. The Canning Basin of Australia held the third-highest depletion rate in the world.
While to the east of it the Great Artesian Basin was found among the healthiest, attributable, it was found likely, to heavy mining near the Canning Basin; a water-intensive activity. California's Central Valley Aquifer is struggling, being drained for the irrigation of farm fields. A new state law was passed a year ago allowing for local control over groundwater, a law whose effects may take decades to discern.
In North Korea, said to be suffering its worst drought in a century, extensive damage to the production of rice and potatoes has been noted. Drought has caused about 30 percent of rice paddies to dry up. Threatening the hermit kingdom with another flirtation with famine, necessitating humanitarian aid to flow through to the country whose tyrant threatens military destabilization in the region and beyond.
Labels: Drought, Environment, Nature