Different Strokes for Different Folks
"Zoos routinely over-breed and kill lions and thousands of other animals deemed surplus to requirements."




"[Zoos have an ethical responsibility] to manage reproduction, prevent inbreeding [and] maintain genetically healthy populations."




Joanna Swabe, head, Humane Society International/Europe
For years, animals have been regularly dissected in Odense in order to teach children about nature.
Photograph: Julia Wäschenbach/DPA/Corbis
It was unspeakably ugly when in February of 2014 the Copenhagen Zoo killed a healthy giraffe that was surplus to its needs and staged a public event to feed the dissected carcase of the giraffe to lions. Presumably, a life lesson in real-time for the children who happened to be in the audience for the spectacular presentation. Concerned no doubt, with teaching children how much a part of the natural world we are, and that empathy for animals other than ourselves and their compassionate treatment is an imperative in an ever-shrinking world.
As though to outdo the event of 2014, another staged dissection took place more recently in Odense, Denmark. The year-old male lion together with its siblings, another male and a female, were designated surplus as well. The zoo, according to its explanation, had been unable to persuade other zoos to give these redundant species of large cats new homes. Two of the lion cubs were put to death out of public view, and frozen, their final disposition evidently not yet decided. But for the animal that was killed and dissected a few days ago, the event was considered a 'teaching moment'.
An employee of the zoo, Lotte Tranberg, explained the rationale behind killing the three lions; they were becoming sexually mature. The zoo was alert to the potential of sexual activity between the three and in the interests of avoid inbreeding decided it was time to dispatch the animals. Which, they also said, could have killed one another, as they were maintained in a single compound. Ms. Tranberg knowledgeably explained to the waiting audience, no doubt spellbound with anticipation, the life of the big cats.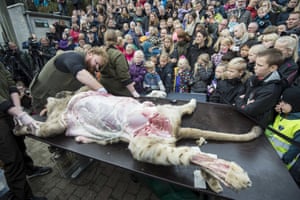 A zoo employee carries out the dissection.
Photograph: Scanpix Denmark/Reuters
In the city of Odense, 170 kilometres west of the capital of Copenhagen, the crowd of onlookers, thick with children in attendance for the educational aspect of a lecture that included a very hands-on performance of dissection, the removal of organs, held up for visual inspection as they and their functions were being described, had their lesson in death following hard on life. No lecture should conclude without a question-and-answer session and this one was no exception; the obligatory Q&A saw children asking, the zoo employee responding.
The performance, it would appear, was greatly applauded for its quality and directness.
"For all the kids living in towns, it's wonderful for them to see and it's only natural"
, Gitte Johanson, 28, an onlooker who grew up on a farm stated, waxing enthusiastic. A 54-year-old military officer, Ole Hanson, who carried his 5-year-old grandson Frej on his shoulders so he could watch the dissection explained:
"But he wanted to get down and have a closer look. So he ended up [at the] front, right before the lion."
Portraying such an event as perfectly natural stimulates the curiosity of children with a real-life version of life-and-death. Direct exposure and the relaxed attitude toward life and death as natural and inevitable perhaps explains why it is that a study published in 2003 reflected that 41% of deaths under medical supervision involved doctors taking "end-of-life" decisions to help ease their patients' suffering before death (about 1% of which were via prescription drugs) in Denmark.
Oddly enough, psychiatrists consider that children who indulge their curiosity by 'dissecting' animals often turn out to be psychotic killers. Evidently, only in North America.
On the Facebook page of the Odense Zoo, which just happens to be one of central Denmark's most popular tourist attractions, public dissections, it was revealed, have been carried out for decades. And Danes have defended these public dissection events. They have, evidently, become a show-and-tell tradition, a teaching moment directed toward children. An open-air museum in Odense slaughtered and dissected a pig the day before the lion's dissection. At the museum children were treated to an explanation about which parts of a pig are eaten.
Different culture, different traditions, different perspective on life and death. With that kind of direct exposure to animal slaughter clearly identified for human consumption as being quite ordinary and a part of life, taking place in North America, it's a fair bet that the number of committed vegetarians would swell to the point that the meat industry would campaign to have public displays of that ilk outlawed.
Labels: Child Abuse, Denmark, Education, Social-Cultural Deviations