Due Recognition of Outstanding Moral Courage
"Master Sgt.Roddie Edmonds seemed like an ordinary American soldiers, but he had an extraordinary sense of responsibility and dedication to his fellow human beings."




"The choices and actions of Master Sgt.Edmonds set an example for his fellow American soldiers as they stood united against the barbaric evil of the Nazis."




Avner Shalev, chairman, Yad Vashem Holocaust museum and memorial, Jerusalem
Sgt. Roddie Edmonds, who refused to designate Jewish soldiers in German POW camp --
"It's a matter of five minutes and that is it. When he tells the German, 'No,' that is something that can kill him. It is something very dangerous that is happening in one moment. ... But it is very heroic."
Irena Steinfeldt, director, Holocaust memorial's Righteous Among the Nations department
The Reverend Chris Edmonds had no idea that his father had been faced with a moral dilemma of immense proportions when he was a prisoner of war in late 1944, captured at the Battle of the Bulge conflict. His father left several diaries where he recorded his experiences during one hundred days of captivity by German soldiers in the gasping years of the Second World War. Curiosity led him to the Internet, and what he found there led him to discover his father's courage under extreme duress.
A newspaper article he read online about Richard Nixon during his search for a home in New York after his presidency connected some dots. Mr. Nixon had bought an upper East Side townhouse from a prominent New York lawyer. That lawyer, Lester Tanner, spoke to Mr. Nixon of his experience during the war, how his commanding officer had saved not only Mr. Tanner to live another day, but dozens of other Jewish American servicemen during the war.
When Reverend Edmonds was able to interview Mr. Tanner, he spoke as well with another Jewish prisoner of war, Paul Stern, both of whom informed the younger man what they had personally seen to occur on January 27, 1945 at Stalag IXA POW camp nearby Ziegenhain, Germany. The Wehrmacht, in line with the Third Reich's program of European Jewish extermination, sought to segregate Jewish POWs from their non-Jewish peers.
Captured Jewish soldiers in the Russian army on the eastern front were sent to extermination camps. When Master Sgt. Edmonds had been captured the most notorious of the Nazi death camps were no longer fully in operation. Jewish-American POWs were sequestered to be sent to slave labour camps where survival rates were abysmally low; those incarcerated there died of starvation, disease of physical breakdown, or worked to death if they weren't directly shot by their guards.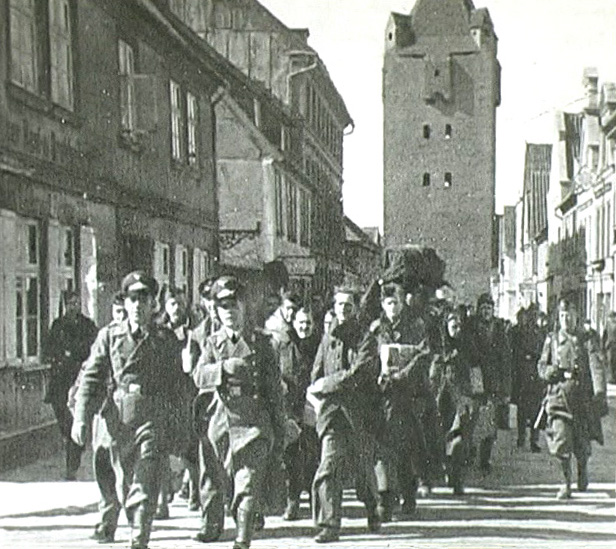 POWs are marched to Stalag Luft I from the railroad station through the town of Barth. En route they pass through the Dammtor Gate, as seen in the background of this photo. The gate was built in the middle of the 14th century and is 35m in height and has an entrance of 4m in width.

Photo courtesy of Roy Kilminster - RAF POW
It was well known among American soldiers that the Jewish fighters among them, if captured, would face existential danger; they were urged to destroy their dog tags along with any other evidence identifying them as Jewish. No one, needless to say, could destroy the results of circumcision. And if only Jewish servicemen destroyed identification, that alone would lead to their detection. When Master Sgt. Edmonds' group was assembled before the German camp commander, they were ordered to identify who among them was Jewish.
Master Sgt.Roddie Edmonds turned to his comrades to tell them:
"We are not doing that, we are all falling out".
They all stood forward, identifying themselves as Jews. Turning to Master Sgt. Edmonds the German commander stated:
"They cannot all be Jews"
. The response from Master Sgt.Edmonds was a firm:
"We are all Jews here"
. The Nazi officer put his pistol to Master Sgt. Edmonds's head for a last chance to amend his attitude.
Master Sgt.Edmonds spoke up at that point, giving his name, rank and serial number in compliance with the Geneva Conventions which did not require him to say anything more as a prisoner of war.
"And then my dad said: 'If you are going to shoot, you are going to have to shoot all of us because we know who you are and you'll be tried for war crimes when we win this war'."
He had been the highest ranking non-commissioned officer held at that camp and his order galvanized over one thousand American captives to take a moral stand declaring:
"We are all Jews here"
. Belatedly and posthumously, Master Sgt. Roddie Edmonds has been recognized with Israel's highest honour for non-Jews who dared to risk their lives in an effort to save Jewish lives during the Second World War, the first American serviceman to be so honoured.
Labels: Anti-Semitism, Conflict, Holocaust, Nazi Germany, United States, World War II