Hard Times for Pensioners in Russia
"I lived through the war, the evacuation, the hunger of 1946. So I look around myself and think, everything is normal."




"My pension is enough."




Lyubov Fabrichnaya, 84, Oryol, Russia





"Maybe I can allow myself chicken, but definitely not beef."




"The diseases are piling up."




"Don't get sick. If your treatment includes drugs, no pension is going to cover that."




"I ended up in a vacuum, alone. This place was my saviour. It's [aerobics for the brain] for old people who are getting close to Alzheimer's, and as not to end up further in there, we train our memories."




Tamara Kozyreva, 62, Magadan, Russian Far East





"[Pensions are enough] not to starve."




"As long as you just spend money on utilities and food, and forget about participating in public life or going to cafes."




Marina Krasilnikova, head researcher incomes and consumption, pollster Levada Center, Moscow





"Sure, by comparison to the war, today is heaven, but we see how pensioners are living in other countries."




"Pensioners in other countries go to restaurants! I can only dream of that."




Lyudmilla Zadernyuk, 61, Oryol, Russia





"It's not right, to my mind, when our government creates a national youth policy and no national elderly policy."




"Pretty much everyone in the summer is at the dacha planting. We've also trained some younger pensioners on computers, it helps them find work to supplement their income."




"But most of all, the people coming here are seeking companionship."




"Old age has a woman's face. No country has the same ratio of women to men in old age, and when the kids have moved away and their husband has passed on, they come here."




Tatyana Kononygina, 53, co-founder, University of the Golden Age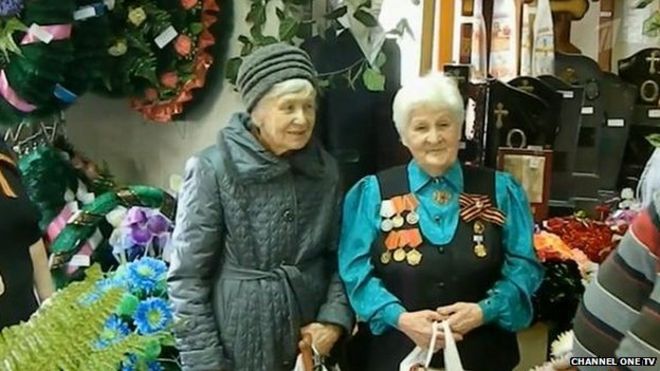 Pensioners who helped the Russian war effort against Nazi Germany have been treated to a party - at a funeral ome.
"Here" is a school room located on the fourth floor of a school which has been transformed for use as a gymnastics area where women in their 60s, 70s and 80s gather to perform their regular routines: salsa, box steps and breathing exercises. Women can retire at age 55 in Russia, and even younger pensioners are familiar with life upheavals, having experienced perestroika, the dissolution of the Soviet Union, the 1998 ruble devaluation wiping out savings.
The pensioners' club takes place in the old schoolroom, in Oryol, population 300,000 some 370 kilometres south of the Russian capital, Moscow. The plight of these elderly women living in tight economic situations is shared by an estimated 40 million other pensioners across that great country. Russia has fallen on hard economic times, with oil selling at a barely extraction-sustainable profit.
The sanctions that the UN, the EU, NATO countries and the US imposed as a result of Vladimir Putin's grab of the Ukraine's Crimean Peninsula further deepened the economic crisis leading the ruble to fall to less than half its value. The consumer price index steadily rises and state pension payouts have lagged. The average pension comes to roughly $270 monthly.
Now that inflation sits at 15 percent it has become a struggle to maintain themselves for these pensioners, dreaming about a better life, one that might enable them to pay for a few luxuries to get out of their homes, pay for entertainment of some sort, including eating out at a restaurant now and again. Several regions of the country saw pensions arriving late. The government has offered pensioners in lieu of indexing pensions a one-time payment of 5,000 rubles ($102).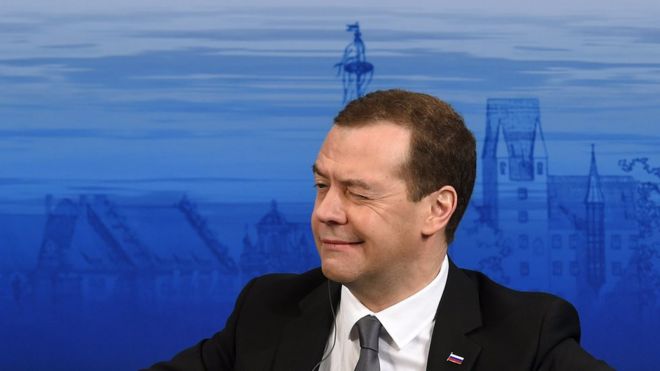 CHRISTOF STACHE/Getty


Dmitriy Medvedev's comments have once again caused much merriment on Russian social media.
Russia's Prime Minister Dmitri Medvedev cheerfully informed an elderly woman in annexed Crimea in the spring that the state had no disposable money to raise pensions.
"Hang in there"
, he said after that explanation, and
"have a nice day"
. President Vladimir Putin on the other hand, pledged to raise pensions to match the inflation rate, by February. Perhaps that will materialize by the time electioneering for the next presidential election in 2018 turns the corner.
A visit to the doctor can cost pensioners $100. If surgery is needed, the elderly turn for help to relatives, to hope to borrow the necessary funds to pay for surgery. Some turn to homeopathy, cheaper than antibiotics. It has been two years of tight economic difficulties. Their distress relieved by this initiative at social gathering, to support one another emotionally and be exposed to activities to help keep them fit.
Classes for the elderly take place at the DIY school for the elderly offer classes in gardening, computer literacy, chess and aerobics, as well as dance and other activities to appeal to people with financial insecurity in their older years. Galina Chuchukova recalls crawling through a minefield in 1944 in her search for berries. In the siege of Leningrad, seven of her relatives starved to death.
Compared to those memories, she feels she can continue to keep body and soul together in the current circumstances which bear no resemblance to the war years.
"We understand all too well how prices have risen in 2015, how prices are growing this year and how life became more expensive in general. It has affected everybody, especially those on low incomes and the older generation who live on their pensions, and it's especially hard now."




Russian Prime Minister Dmitri

Medvedev
The part of the federal budget that is so-called black -- authorized but not itemized -- has doubled since 2010 to 21 percent and now totals 3.2 trillion rubles ($60 billion), the Gaidar Institute, an independent think tank in Moscow, estimates.

Bloomberg News
Labels: Russia, Social Welfare