The Dreaded Superbug Infection
"There are times when as many as 80 percent of all beds in a facility are in exile because of an outbreak of methicillin-resistant Staphylococcus aureus [MRSA] or some other nasty bug that has become difficult, or impossible, to treat in humans."




"Unless solutions are found, run-of-the mill surgeries, such as knee or hip replacements, as well as organ transplants, will become too risky to undertake."




"[Cancer treatments will be] too dangerous to administer [and burn units] might as well shut their doors."




Dr. Andrew Morris, professor of medicine, University of Toronto/Bill Tholl, president, CEO, HealthCareCAN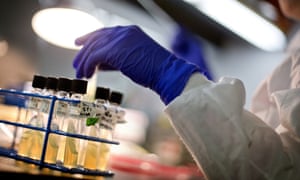 A microbiologist works with tubes of bacteria samples in a US antimicrobial resistance and characterization lab.
Photograph: David Goldman/AP
"It's very sobering as an ID [infectious disease] specialist to get a culture report showing resistance to all reported antibiotics."




Dr. Lynora Saxinger, University of Alberta





"We definitely see CRE [carbapenem-resistant enterobacteriaceae] in Canada, but not completely resistant ones -- typically they're still resistant to some of the other antibiotics we still have."




"The bacteria carry them [tiny circular plasmids] around like tool kits. It makes them ready to kill off any drug they come into contact with."




Dr. Lori Burrows, Michael G. DeGroote Institute for Infectious Disease Research, McMaster University, Hamilton, Ontario
India is a hugely popular destination for people determined to take advantage of lower costs in surgery who travel there as medical tourists so they can access cut-rate prices for surgical procedures and take an exotic vacation at the same time. Some patients return from their India trips post-surgery urgently requiring post-operative care in their own countries. And many return from their India sojourn with health conditions newly hosting an infection that will threaten their lives.
Outside India, the venue has been spoken of as a
"perfect petri dish"
for superbugs, resulting from poor attention to sanitation and the uncontrolled use of antibiotics. In one 2015 study researchers, swabbing airline toilets off 18 international flights arriving in Copenhagen from a number of cities in three world regions, discovered that flights from India registered the highest levels of drug-resistant bacteria.
An American woman has been reported to have died as a result of an infection that was completely immune to all the antibiotic types that doctors attempted to use. This incident was anticipated. It was thought to be only a matter of time before powerful superbugs would emerge against which all currently known and used antibiotics would be useless. These superbugs have the capacity of reacting to antibiotics by swift alterations in their genetic blueprint.
Scientists are working feverishly to develop other strains of antibiotics that would be capable of outsmarting these swiftly-changing superbugs, but none has yet been found. And this is what has caused a public health crisis of unprecedented proportions. The woman, in her 70s, was killed by septic shock from a superbug that proved to be resistant to 26 available antibiotics.
"I think this is the harbinger of future badness to come"
, commented Dr. James Johnson, professor of infectious diseases medicine, University of Minnesota.
The woman, from Nevada, had been hospitalized a number of times during her extended stay in India, as a result of fracturing her right femur. On her return to the United States, she was admitted to a hospital in Reno, Nevada suffering from widespread inflammation from her infected thigh and hip bone. Tests revealed that carbapenem-resistant enterobacteriaceae, called
"nightmare bacteria"
, lethal for 50 percent of those infected, had invaded her thigh and hip.
It was the bacteria Klebsiella pneumonia, able to cause a range of infections, that killed her, identified for the enzyme known as NDM-1; ND for New Delhi -- a bacteria that can defuse multiple drugs. The U.S. Centers for Disease Control issued guidelines for hospitals to enquire from patients whether they had undertaken travel outside the country and particularly whether they had experienced any exposures to foreign hospitals. The CDC went so far as to urge that hospitals consider screening for CRE. There are hospitals in Canada that do that.
According to CDC data, superbugs infect an estimated two million Americans yearly, killing 23,000. Annual worldwide deaths as a result of antibiotic-resistant bugs are estimated to reach ten million by 2050, representing more deaths than those resulting from diabetes and cancer combined. Government tracking in Canada of drug-resistant microbes estimate that 18,000 Canadians are infected annually, but critics emphasize that government should become more involved in ensuring that the microbes be contained to control their spread.
CRE organisms are known to produce an enzyme that destroys the drugs administered to counteract their morbid effects. The gene programming the enzyme is conveyed on tiny circular plasmids, self-replicating pieces of DNA which the bacteria exchange back and forth, in the process picking up other drug-resistant genes. And Canadian doctors are hugely disturbed over the report out of the United States of the Nevada woman's infection that was impervious to all the antibiotics tried in a desperate attempt to save her life.
"This is really a frightening situation and really one of the most serious infectious disease threats of our time. Antibiotic resistance and the rise of superbugs really [do] put modern medicine at risk."




"If you think about some of the main advances in medicine over the last number of decades, for example, cancer chemotherapy, organ transplantation, joint replacements, the success of all these innovations is really based on our ability to treat infections,"




"Some 47 million unnecessary antibiotic prescriptions are given [to patients] every year in the United States."




"Superbugs are always changing and the more they change and the more antibiotics we use, the more dangerous the situation is."




"In other parts of world, there are bacteria that are resistant to all known antibiotics."




Dr. Beth Bell, chief, emerging infectious disease programs, CDC
Labels: Canada, Health, Infection, Superbugs, United States