Investing in Brain Cancer Research
"We're incredibly excited and humbled by the opportunity [to advance with Farmington trials to respond to glioblastoma; brain cancer]. But to be honest, it's now a bit scary because we have to get the job done."




"We know there's a need for something drastically better [than current treatment], and we think this particular technology -- Farmington -- checks many of the boxes in terms of what we've been searching for."




"For us, that was an exciting proposition [search for viruses in fight against cancer]. We were really looking for viruses that were able to exist in the brain but do so in a safe way. We wanted something that would not damage normal brain cells."




Dr. David Stojdl, professor, University of Ottawa
Farmington is a virus which in 1969 was isolated from a wild bird captured in Connecticut at a time that scientists were on the search for evidence of the existence of an entirely different virus involved in outbreaks of encephalitis. Viruses are infectious agents capable of colonizing and destroying human cells. The properties of these highly involved infections are believed by scientists to make them suited to attacking malignant tumour cells whose genetic mutations make them susceptible to viruses.
Dr. Stojdl, a senior scientist with Children's Hospital of Eastern Ontario Research Institute, has been working with the Farmington virus for years. In that work he has custom-designed the virus, enabling it to search for and destroy brain-cancer cells, alongside triggering an immune response to fight the same type of tumour it has isolated and destroyed. Additionally, researchers anticipate the virus might also become a vaccine, offering patients relapse protection.
Brain tissue is sensitive and not amenable to regeneration. Dr. Stojdl sought a virus that could only infect and destroy cancer cells, without becoming a threat to the rest of the central nervous system. And Farmington just happened to be the outstanding mechanism that he recognized would fit his equation, with the properties to attack malignant cells, leaving normal ones intact.
Close to three thousand Canadians each year are diagnosed with brain cancer. Those tumours in the brain represent some of the most difficult of cancers to treat. The average survival rate for an adult diagnosed with glioblastoma is roughly a year, according to the Ontario Institute for Cancer Research. Conventional treatment consists of surgery, chemotherapy and radiation.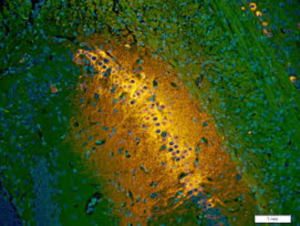 This image shows an oncolytic virus infecting and killing tumour cells. When the tumour cells become infected with virus, they glow green. When the tumour cells die, they glow red. Where you have a virus infecting (green) and killing (red) in the same tumour cell, these green and red colours merge into yellow.
Since glioblastomas can lodge themselves in sensitive brain areas, with swiftly-multiplying cells, they become extremely difficult to eliminate completely. Many drugs furthermore, are incapable of crossing the blood-brain barrier to act on a tumour. Additionally, there is a requirement to control inflammation as the brain has little room to swell, and each patient's brain tumour is genetically distinct.
With all of these complicating factors, it is hardly surprising that there are currently no effective long-term treatments. Dr. Stojdl and his research team are hoping to change all of this in the most treatment-positive way imaginable. The Farmington virus held Dr. Stojdl's confidence, since it exists in the brains of healthy birds.
Now, a clinical trial meant to test the efficaciousness and safety of the Farmington virus is set to launch in a year-and-half at Toronto's St. Michael's Hospital, with Dr. Stojdl in possession of a $2.2-million grant to manufacture and test his virus against the aggressive brain cancer. Clinical trial funding was made available through the Ontario Institute for Cancer Research.
Labels: Bioscience, Cancer, Research