Pregnancy Post-Cancer
"Having a family is one of the most important achievements in a person's life."




"[Newly-published results of a European study show that] pregnancy after breast cancer can be considered safe."




"Our findings confirm that pregnancy after breast cancer should not be discouraged, even for women with ER-positive cancer."




"However, when deciding how long to wait before becoming pregnant, patients and doctors should consider each woman's personal risk for recurrence, particularly for women who need adjuvant hormone therapy."




"It's possible that pregnancy could be a protective factor for patients with ER-negative breast cancer, through either immune system mechanisms or hormonal mechanisms, but we need more research into this."




Dr. Matteo Lambertini, lead study author, Jules Bordet Institute, Brussels, Belgium
Chief medical officer for the American Society of Clinical Oncology, Dr. Richard Schilsky concurred that the research results demonstrate "fairly convincingly" that there is no longer any need for women to be concerned about proceeding with a pregnancy in the wake of breast cancer surgery. The study conclusion was unequivocal; women who become pregnant after surviving breast cancer are no likelier to see a return of their cancer than women who avoid pregnancy, post-cancer.
This was the largest study to date concentrating on women whose cancers arose, fed by hormones which tend to rise in pregnancy and which incidence has theoretically been thought to lead to a cancer recurrence, inspiring dread in women wanting to leave their episode with cancer in the past, and to move on with their lives, as mothers.
In the United States, as elsewhere in the developed world, women are waiting to their later years before becoming pregnant, in an effort to establish themselves professionally in the workforce before committing to motherhood. Concurrently, greater numbers of women of child-bearing age are being diagnosed with breast cancer, with roughly 11 percent of new diagnoses of breast cancer for women under age 45, in the United States.
Over one thousand, two hundred breast cancer survivors were involved in this European study. Over half of the women presented with tumours fueled by rising estrogen levels. Post-treatment, on average 333 of the study subjects became pregnant some two and a half years following their cancer diagnosis. These women were compared by researchers to 874 other study participants who did not become pregnant, while matched for tumour type and related indices.
A dozen years following conception, rates of recurrence were seen to be similar in both groups taking part in the study, while abortion also had no impact on the rate of recurrence. A handful of study subjects reported they had no problems successfully breast-feeding their babies and the takeaway from that was that although not all survivors who became mothers breast fed, some women are able to, despite having undergone breast surgery.
Another, follow-up study has been launched to bring the research into a new albeit arena, with testing to determine whether it is safe for breast cancer survivors to temporarily suspend their medication after initial treatment, while trying to become pregnant.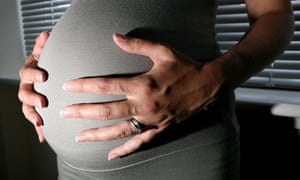 Until now doctors have thought that pregnancy can raise levels of oestrogen and thus cause the cancer to return.
Photograph: Katie Collins/PA
Labels: Cancer, Childbirth, Medicine, Research