So, You're Thinking, Yogurt: Healthy Protein Source...?

"Items labelled 'organic' are often thought of as the 'healthiest' option, but they may be an unrecognized source of added sugars in many peoples' diets."




"A lot of people don't actually realize how much added or free sugars are in yogurt. If you're watching your weight, sugar is sugar, no matter what."




"Parents need to realize that all yogurt is not exactly the same, and it's the natural yogurts which are healthier."




"People do look at organic products and think they're better for them -- if you ask consumers, their responses are that they think they are healthier."




Bernadette Moore, professor of obesity studies, University of Leeds' School of Food Science and Nutrition





"This is 'concerning', given the rise in childhood obesity and the prevalence of tooth decay among young children."




"While yogurt may be less of a concern than soft drinks and fruit juices, the chief sources of free sugars in both children and adults' diets, what is worrisome is that yogurt, as a perceived 'healthy food', may be an unrecognized source of free and added sugars in the diet."




Researchers' published paper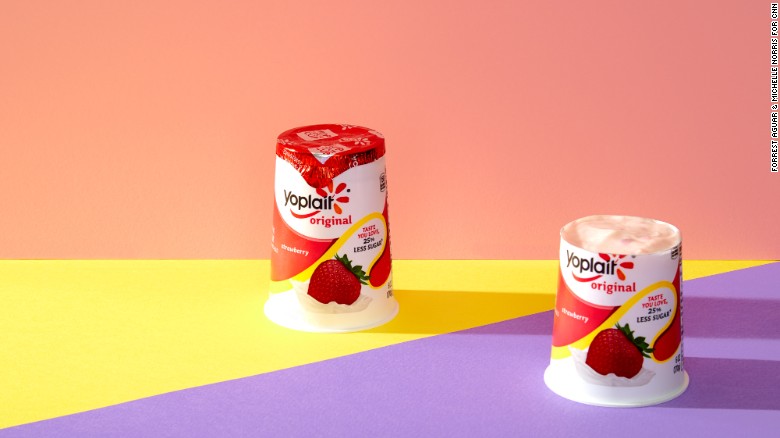 A standard 6 oz serving of Yoplait yogurt and one plus four-fifths of another equals 33 grams of sugar
According to the British National Health Service, over half an adult's recommended daily sugar intake -- 30 grams -- could be consumed by the unsuspecting in a single cup of yogurt, packed with more sugar than a cola drink. Published in the
British Medical Journal
, a recent study indicates that many supermarket yogurts generally considered by the consuming public to represent a
"healthy"
choice contains
"well above"
the recommended limit of sugar.
An analysis of some 900 yogurts ordinarily sold at grocery stories enabled researchers to conclude that organic varieties and products specifically designed to appeal to children to be packed into their lunch boxes, are most often the most sugar-laden of products. Researchers discovered that organic yogurts contained an average of 13.1 grams per 100 grams of total sugars while children's varieties held 10.8 grams, sweeter than 100 mL of Coca-Cola.
For the study analysis, yogurt samples were divided into eight groups comprised of children's, dairy alternatives
(soy for example)
, desserts, drinks, flavoured, fruit, natural/Greek and organic. Under EU regulations a product to be labelled low in sugar must adhere to five grams of total sugars per 100 grams, and a mere two of 101 children's products were proven to be low in sugar.
For children aged four to six, the daily sugar threshold should be no more than 19 grams
(as found in 5 cubes of sugar)
, and for those children between ages seven to ten, no more than 24 grams
(similar to six sugar cubes)
for optimum diet health, according to the National Health Service. Several major brands
"contain the equivalent of almost five sugar cubes"
, according to Public Health Liverpool's analysis.
Consuming one yogurt cup representing a snack could present as an entire day's-worth of sugar. Fewer than nine percent of the samples analyzed passed as low sugar products. Natural
(plain)
yogurts and Greek-style were the exception to the high-sugar load. They are higher in protein and commensurately lower in carbohydrates with the least amount of sugar contained, at five grams per 100 grams
(most of the sugar was naturally-occurring lactose)
.