Defenceless
"It's so hard that he could do that to someone where ... I mean, like I said, we came from [homelessness] there."




"We're not there now, but that's where we were. ... We got out of there."




Victor Prieto, father of two young defendants, Albuquerque, New Mexico





"I, personally, after reading that complaint, was sick to my stomach because of the nature of the violence and the age of the offenders."




Simon Drobik, Albuquerque police spokesman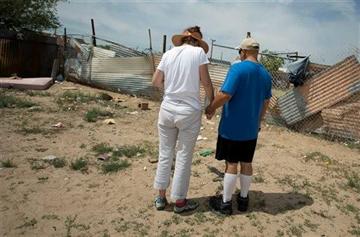 (AP Photo/Albuquerque Journal, Roberto E. Rosales).

Concerned citizens observe a moment of silence, Monday, July 21, 2014 in the field where two homeless men were bludgeoned to death by teenagers over the weekend near in Albuquerque, N.M.
"Everybody here seems to be pretty shocked. They seem to find it deplorable."




"Like I said, most people around here have the same opinion I do. They [the homeless] don't cause any trouble."




William Toyama, 29, neighbourhood homeowner
It is a neighbourhood where homeless transients are known to camp out at night, having nowhere else to go. People have become accustomed to their nightly presence. Mr. Toyama, whose house backs up to an empty lot, more or less a rough field, acknowledged that area homeless people slept behind his house, on the empty lot, and never has anyone complained they'd been bothered by their presence.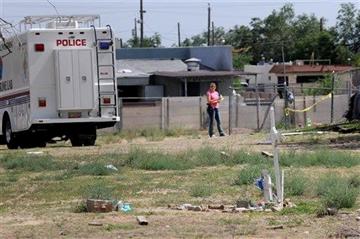 (AP Photo/Albuquerque Journal, Jim Thompson).

In a Saturday, July 19, 2014 photo, Albuquerque police work at the scene where two men were found dead in a open area just north of Central Avenue at 60th Street.
Those homeless people, however, are easy prey for others disposed to viewing them with the contempt for human flotsam that they represent to them. And as fodder for a way that they can release their violent aggression without fear of attacking those in good enough shape to fight back. Who can the homeless complain to? Who would take their complaints seriously?
In the neighbourhood, however, it must have been known there were young predators who preyed upon those unable to defend themselves. Spirits are low when one is homeless, hungry, a vagrant whom most ordinary homeowners would prefer not to observe too close to their properties for fear of contamination of some kind. Or feelings of guilt. It's an ordinary human reaction to failure.
Victor Prieto, the father of two boys, age 16 and 15, who in the company of an older teen, violently abused the homeless, had heard rumours his sons were violent. It seems he had no reaction to knowing this, because of his assumption that the violence was representative of normal interactions between boys proving their masculinity in tough neighbourhoods.
(AP Photo/Albuquerque Journal, Roberto E. Rosales)

18-year-old Alex Rios
Now, 18-year-old Alex Rios and the two younger teens have been arrested, accused of fatally beating two vagrants with cinder blocks, bricks and a metal fence pole. In fact, it has been revealed that the boys had been attacking homeless people over the space of a year. Beating them, not yet killing them. Until one of the boys, in a bad mood over a breakup with his girlfriend felt like going further.
All three were ordered held on a US$5-million bond each, at their initial court appearances Monday. They have been charged with murder, a result of their vicious attack in an Albuquerque empty lot used by transients as a resting place at night. The 15-year-old informed police that the attack took place over a period of at least an hour, the teens taking turns smashing cinder blocks into the faces of the men whom they had attacked while they were sleeping.
There was a third transient at the scene, fortunate enough to escape, who led police to the accused. He knew who they were; many people in his situation knew them, for their penchant for attacking homeless people. Around 8 a.m. on Saturday police received a 911 call reporting two bodies lying in a field. One victim was on a mattress, another on the ground. The homeless man who had escaped, Jerome Eskeets, was hospitalized for his injuries.
In his defence, 18-year-old Alex Rios claimed that he was only the lookout. It was the other, younger teens, who engaged in the violence. The other two boys contradicted his version of events stating that their older companion took part in the attacks as well. While the anguished father of the two younger boys cannot understand why or how his sons could do such things, he recalls that at one time in his life he too was homeless.
One of the boys informed police that the trio had attacked, he said, at least 50 homeless people over the last few months. It is worth thinking about, that young boys could be raised to a level of maturity yet utterly lacking compassion for other human beings. To be so void of empathy for others, to be so given to shared, violently psychotic episodes is beyond the understanding of most people.
Young men often do many things they look back upon in adult maturity with regret, with shame, with pain in the full realization that at one time in their young lives they fit the definition of psychopaths. This trio may do so from the confines of incarceration, over quite a long period of time. A tragedy of multiple dimensions.
Labels: Crime, Human Relations, Social Cultural Deviations, United States