Making Babies
"There was a lot of excitement, and many people were jealous."




"If I weren't this old, maybe I would have done it myself [offered herself as a surrogate birth mother]."




"This is a poor village. We make money by day and it's gone by evening."




Thongchan Inchan, 50, Pak Ok shopkeeper, Thailand





"This is a symbol of moral erosion. It's a symbol that people are concerned above all with money."




Kaysorn Vongmanee, Pak Ok public health department head





"There's nothing wrong with surrogacy -- you are helping people who can't have a baby."




"I understand the feeling of a mother who really, really wants a child."




Pakson Thongda, 42, Pak Ok resident
This house of a 26-year-old woman in Phetchabun's Ban Huai Chan Moo 14 that accommodates 10 members unveils part of her motive to become a surrogate mother for money.
(Photo by Pattarapong Chatpattarasill)
Pakson Thongda understands, in fact, the marketplace commodity of a young, healthy Thai woman wanting to make a windfall for herself by offering her strong body to carry a child to term for those wealthy enough and certainly willing to hire her so that they may have a child of their own, when their own bodies fail the test of fertility brought to closure. Her daughter sold eggs twice to a fertility clinic, and through this process earned $1,000 for each occasion.
This represents a lot of money for people living in this remote Thai village of about 12,000 people located a six-hour drive from the capital, Bangkok. According to local officials, around two dozen women out of the entire community have taken to contracting out as paid surrogate mothers. For at least a decade this kind of commercial enterprise has been available to people with the means to engage.
Thailand is one of a few countries where commercial surrogacy is legal and represents only one of two in Asia. It has become a prime destination for couples in the near geography coming from countries where this kind of commercial enterprise is banned. When the opportunity to contract as a surrogate mother first came to this village, neighbours took note of conspicuous home renovations and a new car.
As most residents of Pak Ok live in wooden houses, alongside tamarind groves and rice paddies, this incident gained great notice, and of course, envy. The womb rental business has great appeal for young women in this country where free enterprise of a sometimes sordid nature takes place, related to sex-tourism with those whose age would land the pedophiles and child-abusers in jail in their own countries.
The two issues are hardly to be compared, needless to say. One is a disgustingly horrendous practise, the other a practical means by which childless couples are able to attain parenthood with the assistance of someone glad to be paid to offer the service. The estimation is of several hundred surrogate births taking place in Thailand annually, not all that huge in terms of numbers, but huge in terms of opportunity and happiness for those engaged in the trade.
Thai surrogate mother Pattaramon Chanbua with her baby Gammy, born with Down Syndrome, at the Samitivej hospital in Sriracha district, in Thailand's Chonburi province on August 4, 2014
(AFP Photo/Nicolas Asfouri
Unless, like the couple from Australia who contracted through an agency with a young Thai mother to carry their egg-and-sperm to term, but chose to take with them the tiny girl, and leave behind her male twin who had Down Syndrome. Leaving the child with its surrogate mother who loves the baby and cares for it. After all, said the father David Farnell, as he disowned his own biological child,
"I don't think any parent wants a son with a disability".
Surrogacy clinics in Bangkok recently were raided by police who revealed that a 24-year-old Japanese man had fathered a dozen babies through surrogates whose births were weeks or months apart. This is rather embarrassing to Thailand which winces as it is at its reputation for casual prostitution with males and females of all ages. The man insisted he was not interested in selling the babies on the Asian black market, but in an entirely legal way wanted to 'have a large family'.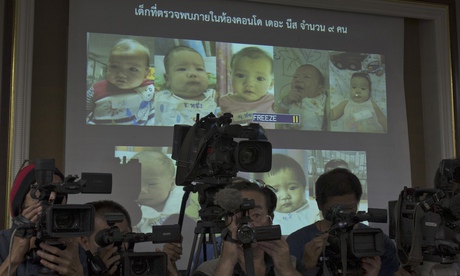 Surrogates, according to Thai officials, earn about $10,000 at the conclusion of a successful pregnancy, and greater amounts for twins. They also receive a monthly allowance of around $450 and live rent-ree in Bangkok, where women are given instructions to carry out their pregnancies. Commissioning parents are usually from Japan and other wealthy Asian nations, according to Mr. Vongmanee.
The village of Pak Ok has lately been the subject of the news media in Thailand, which saw throngs of reporters descend to write their stories with personal interviews relating to another national scandal. Villagers in Pak Ok are furious at the witch hunt by authorities, interfering with a legal practise undertaken by impoverished young women, eager to earn a living, however they can.
Labels: Controversy, Surrogacy, Thailand