Ubiquitously Unknown
"I refer to PKD [polycystic kidney disease] as the most common disease that people haven't heard of. Autosomal means it is not fixed to sex chromosomes. As a result, men and women are impacted equally. ADPKD is more prevalent than Huntingdon's disease, cystic fibrosis, sickle cell anemia, muscular dystrophy, Down syndrome and hemophilia combined."




"Over time, the kidneys become massively enlarged by the cysts which crowd out the healthy kidney tissue and lead to kidney failure. Sometimes each kidney is bigger than a two-litre pop bottle. People with PKD walk around with quite swollen abdomens."




"The same gene that gets mutated in the kidney is involved in the blood vessel wall. Weak spots in that wall can rupture causing bleeding in the brain leading to stroke, which can be fatal."




"[New treatment] ... blocks the hormone that stimulates cyst growth. It is cutting the rate of growth of the cysts and kidneys by half. A significant advance, and one that paves the way for more. In 2015, we understand better the actual mechanisms inside the cells and the pathways that contribute to the development and growth of the cysts We're in a much better position to make smart choices in terms of the types of interventions that might work and target these for more research."




Dr. Phil McFarlane, nephrologist, medical director, home dialysis, St.Michael's Hospital, Toronto





"My mother will be 92 in November and she has never had one day's problem [with PKD]. It's a very individual disease."




"When I was diagnosed almost 36 years ago, there was little information about PKD. Even the doctors didn't know much about it."




"I looked nine months pregnant [at the time of her first organ transplant]. People automatically assumed I was having a baby. I was thin everywhere else, but I had this tummy. The liver was so big, the cysts would break. I was so alone. I didn't know anyone with the disease."




Jan Robertson, Richmond Hill (Toronto), co-founder PKD Foundation of Canada





"We are trying to close the gap between the prevalence of the disease and lack of awareness. Our mandate is to educate, advocate and raise funds for PKD research in Canada."




My science projects since grade two were always about PKD and organ donation. I understood from a young age the importance of raising awareness."




"It was an unbelievable sense of relief [discovery that he and his sister were free of the PKD gene]. If I inherited it, I had a 50% risk of passing it on to my daughter. The fact that neither my sister nor I have it means it can no longer be passed on in our family. PKD does not skip a generation. It stopped with my mother."




Jeff Robertson, Jan Robertson's son, CEO, PKD Foundation of Canada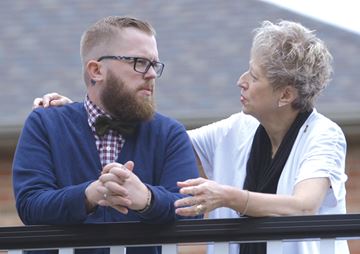 Contributed photo

Jeff Robertson has been executive director of the Polycystic Kidney Disease Foundation of Canada since 2008. His mother Jan was first diagnosed in 1979.
If one parent has the genes for PKD a 50/50 chance exists that the gene will be inherited by the next generation. The disease mutations are otherwise random within a population, with some individuals without a family history developing the disease, presenting as the first in their family to develop it. Diagnosis often results from an ultrasound for some medical reason which reveals the presence of PKD.
Polycystic kidney disease is a progressive, potentially life-threatening genetic disorder. Fluid-filled non-cancerous cysts develop and grow within and on the surface of the kidney, small at first but invariably growing in number and size. The kidney will become enlarged and eventually its ability to function will be destroyed. Other bodily organs can also be affected by cysts as a result of PKD.
Two types of PKD are recognized; autosomal dominant polycystic kidney disease (ADPKD) and autosomal recessive polycystic kidney disease (ARPKD), with the former representing the most common form, affecting roughly one in 500 men, women and children. The latter type represents a more severe form of the disease, impacting children exclusively, affecting one in 20,000.
Jan Robertson had her first pregnancy at age 25, giving birth to a healthy baby girl. Post-birth she developed a complication alerting the examining doctor to note a slightly enlarged liver, not unusual during pregnancy. She was sent for a routine ultrasound which resulted in a report to the doctor revealing that her kidneys and liver were covered in cysts, and no one could recognize what the condition was, at the time.
A laparoscopy undertaken a few months later determined that her condition was polycystic kidney disease and her type was PKD2, afflicting people with it severely, often with end-stage renal failure in their elderly years. Mild or severe mutations of either the PKD1 or PKD2 strain are alternately possible, but more commonly each type represents a potentially severe version of the disease.
Jan Robertson underwent two liver transplants. She discovered her mother had PKD a few years after her own diagnosis. Unlike her mother who had a mild form of the disease, her version was far more serious. The most common side-effect of PKD is pain resulting with the enlargement of the kidney leaning on the spine and abdomen, causing chronic or acute pain.
Those with PKD are at increased risk of developing high blood pressure, kidney stones, kidney infections, heart abnormalities and aneurysms in the arteries leading to the brain.
Jan Robertson had cysts on both her kidneys. While the cysts in PKD always occur in the kidneys, they have the capacity to grow as well in organs like the liver where massive enlargement leads to liver failure, and this is what occurred in Ms. Robertson's case. Although no treatment was available when she was first diagnosed, she received regular examinations monitoring the disease's progress. Her first organ transplant was occasioned by her liver weighing 37 pounds.
Her son now heads the patient support group that she co-founded in 1994, with its cross-Canada chapters. The family is fully immersed in the foundation they co-funded, committed to the welfare of PKD patients, to advancing research and attempting to educate the public about the disease.
And now, finally, a first-time treatment of PKD is available to patients. And the treatment has presented as the most promising for future treatment of patients suffering with the disease.
Data excerpted from PostMedia item, author Mary Terest Bitti
for the PKD Foundation of Canada
Labels: Health, Human Relations, Medicine, Social Welfare