Epidemic of Male Suicide
"Suicide in men has been described as a "silent epidemic": epidemic because of its high incidence and substantial contribution to men's mortality, and silent be­cause of a lack of public awareness, a paucity of explanatory research, and the reluctance of men to seek help for suicide-related concerns. A statistical overview demonstrates a shockingly high rate of death by suicide for men compared with women, and a need to focus attention on prevention, screening, treatment, and service delivery. Promising lines of research include identification of clinical indicators specifically predictive of male suicide and exploration of precipitating and predisposing factors that distinguish male suicide and account for the substantial gender disparity. Only by breaking the silence—building public awareness, refining explanatory frameworks, implementing preventive strategies, and undertaking research—will we overcome this epidemic."


Dan Bilsker, PhD, Jennifer White, EdD

BCMJ, Vol. 53, No. 10



"The Centers for Disease Control and Prevention (CDC) collects data about mortality in the U.S., including deaths by suicide. In 2013 (the most recent year for which full data are available), 41,149 suicides were reported, making suicide the 10th leading cause of death for Americans. In that year, someone in the country died by suicide every 12.8 minutes."


"In 2013, the highest suicide rate (19.1) was among people 45 to 64 years old. The second highest rate (18.6) occurred in those 85 years and older. Younger groups have had consistently lower suicide rates than middle-aged and older adults. In 2013, adolescents and young adults aged 15 to 24 had a suicide rate of 10.9."


"For many years, the suicide rate has been about 4 times higher among men than among women. In 2013, men had a suicide rate of 20.2, and women had a rate of 5.5. Of those who died by suicide in 2013, 77.9% were male and 22.1% were female."


American Foundation for Suicide Prevention
In Canada, fifty men every week die by suicide. Most of these occurrences relate to men between the ages of forty to sixty years of age. And most often mental disequilibrium is the cause. Although women too of course will commit suicide, of those that take place in Canada -- and there is ample evidence that this formula is true for other places of the world -- 75 percent of suicides are committed by men.
Professor Dan Bilsker of Simon Fraser University calls it a
"silent epidemic of male suicide"
. In fact, in Great Britain it has been noted that male suicides are on the rise, according to the Office for National Statistics there.
"Of the total number of suicides in the UK, 78 per cent were male and 22 per cent were female, the ONS said. Some 4,858 male suicides were recorded in 2013, compared to 1,375 female suicides.




The highest UK suicide rate was among men aged 45 to 59, with 25.1 deaths per 100,000 - the highest for that age group since 1981 and the first time that age group has recorded the highest rate."




The Telegraph
The factors in play relating to middle-aged men in modern society appear to be manifold; one of the reasons could be occupational stress which reflect men working in dangerous, dirty occupations that include mining, fishing, forestry, oil/gas, construction, law enforcement and the military, according to Robert Whitley, principal investigator of the Social Psychiatry Research and Interest Group at McGill University's Department of Psychiatry.
Mr. Whitley points out the links between cyclical, seasonal and economic nature of these occupations, shuttling between intense work periods interspersed by periods of unemployment, and with both, come stresses. In addition the jobs themselves by their very nature mean that workers are subjected to social isolation, separation from family, physical risk, injury and violence; in turn leading to higher disability rates, substance abuse and post-traumatic stress disorders; predictors of suicide.
Very intimate life events are also associated with depression and suicide, affecting middle-aged men. Divorce is one such event when men stand to lose the focal points of their emotional investment in life. All that they worked for, acquiring a home for their family, close contact with their children, descend toward becoming an object of public discussion in a deleterious conclusion while losing a major portion of their earnings and their pension.
The experiences that court proceedings through the family justice system that men go through has them despairing of the institutional sexist atmosphere that prevails, with rulings that disfavour their interests, leaving men desperate, distraught and disempowered. Fathers' rights to remain in close contact with their children are rarely supported by the court, while the concern centres on extracting as much as possible of acquired material resources to further an assured future for any children resulting from a failed marriage.
Men are traditionally expected to be stoic, to gird themselves to face all adversity and to make an heroic effort to hide their pain from the outside world. They rarely discuss their emotional turmoil, far less than women tend to, in airing their unhappiness and finding solace in the compassion and aid that others proffer. Women are likelier to seek the help of medical professionals than men and this proclivity aids women to counteract emotional stress, while men tend to bypass those options.
The 'masculine' personality is one that is self-sufficient, capable of fending for himself, and finding his own solutions to his overwhelming problems. Only, all too often that is an idealized version of reality, with men opting to suffer in silence without emotional or practical support that could conceivably help them bridge the wide gap between normalcy and a descent into emotional despair.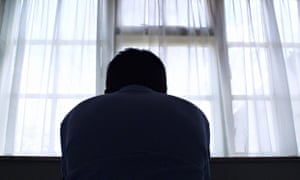 Suicides accounted for 19 males deaths per 100,000 people in the UK in 2013, compared with 5.1 female deaths.
Photograph: Alamy
Labels: Britain, Canada, Health, Human Relations, United States