The Most Despicable Bachelor in the World?
Martin Shkreli, CEO, Turing Pharmaceuticals
He considers himself a cool, hip, genius entrepreneur, bold and authentic, his skills honed to increase capital at an astounding rate. At the tender age of 32 his clever manipulations have allowed him to stand out in an era of hedge fund investment riches, with his aura of unstoppable success. He hasn't been averse to applauding his talents and his persona on Twitter, promoting himself as
"the world's most eligible bachelor".
Obviously, he has never heard that old adage that pride goeth before a fall, and if he had by chance, he would never, clearly make the connection with his particular type of hubris and the rare possibility that he might fail in any enterprise he undertook to be involved in. But then, there's the little matter of going afoul of the law, and while arousing anger in a public averse to outstanding examples of preying on the helpless is one thing, illicit enterprise is another altogether, calling on the law to bite.
The world's most eligible bachelor who also happens coincidentally to be a contemptible figure of greed, has pleaded not guilty to charges involving illegal activities at pharmaceutical company Retrophin Inc. where he was the chief operating officer until a year ago. He is accused of running a
"Ponzi-like scheme"
, losing investors' money through a series of bad trades, compensating by raiding the company to the tune of $11-million in cash and stock, thus paying back his clients.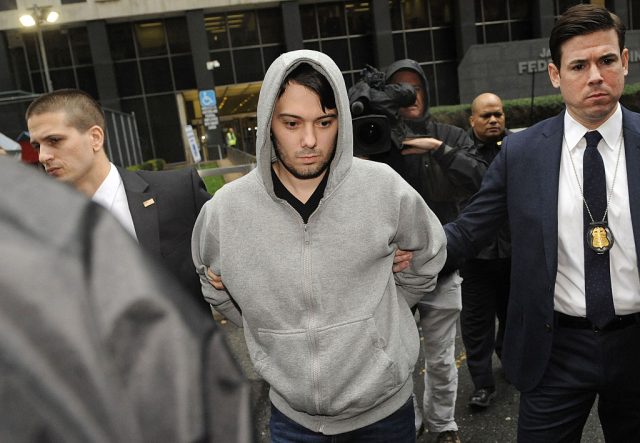 Martin Shkreli, chief executive officer of Turing Pharmaceuticals LLC, exits federal court in New York, US, on Thursday, December 17, 2015. Shkreli was arrested on alleged securities fraud related to Retrophin Inc., a biotech firm he founded in 2011.
Louis Lanzano/Bloomberg via Getty Images
Hubris goeth before bail set at $5-million. No problem, readily accessible. Validating, however, his exalted status.
Charged with securities fraud and conspiracy, he is accused of having
"engaged in multiple schemes to ensnare investors through a web of lies and deceit"
, a statement by U.S. attorney Robert Capers stated. He has a partner in this crime, charged with conspiracy, who also pleaded not guilty. Each of these sterling members of elite corporate society could face up to twenty years in prison. But they're not likely to.
Wealth and connections equal leverage.
What has left a foul odour in the nostrils of people who follow this man's investment adventuring is a drug price hike that left the medical community gasping in disbelief, and which made him a subject of grim humour as a heartless money-grubber. Ridicule and threats came his way in equal measure. There are just some cold-hearted choices people make that turn observers' stomachs, and this man certainly made his share of enemies.
Several months back people were outraged to learn that his company had acquired the rights to a drug that has been around for over half a century. That drug, Daraprim, has proven to be the most successful treatment for a fairly rare parasitic infection, toxoplasmosis. Those with compromised immune systems, such as AIDS patients, rely on the drug whose modest cost was $13.50 a dose.
And then As CEO of Turing Pharmaceuticals, with the rights to produce the drug, he decided to raise its price to $750 each pill, representing an increase stratospherically of 5000%, making it virtually unaffordable for the only people who require its use. Those people? Pregnant women, cancer and AIDS patients. He argued that the original price did nothing to account for production costs for a highly specialized drug.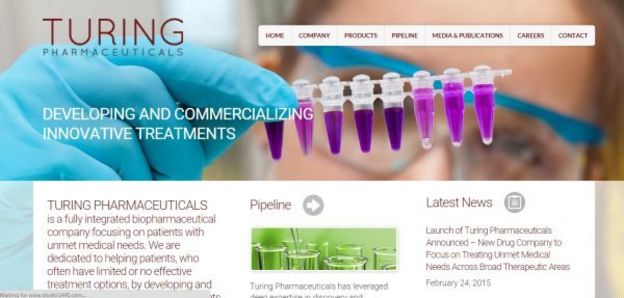 After a public outcry and pressure from politicians who condemned the decision on Daraprim, and after his explanations for his reasons to raise the price of the drug had failed to still the outrage, Mr. Shkreli backtracked, assuring his critics that the company was prepared to cut the price of Daraprim. What he did do is reduce the price charged to hospitals by up to fifty percent, which still left the drug unaffordable.
Named as chairman and CEO of KaloBios Pharmaceuticals, a cancer drug developer, that pharmaceutical's stock fell by over half before trading in the already-struggling company was suspended on news of criminal fraud charges and his arrest.
How now for the most eligible bachelor in the world?
Labels: Drugs, Health, Medicine, United States