Oceanic Biodiversity
"The entire reef is covered with a red-brown fuzz. It is otherworldly. It is algae that has grown over dead coral."




"It was devastating."




"The worst has happened. This shows how climate change and temperature stresses are affecting these reefs over the long haul. This reef may not ever be the same."




Kim Cobb, Marine scientist, Georgia Institute of Technology





"We are currently experiencing the longest global coral bleaching event ever observed."




"We are going to lose a lot of the world's reefs during this event."




"A lot of bleaching happened due to climate change, before the El Nino had even kicked in."




C. Mark Eakin, Coral Reef Watch coordinator, National Oceanic and Atmospheric Administration, Maryland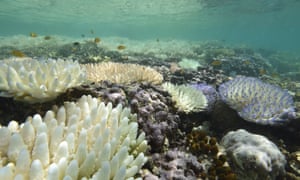 Corals bleaching at Loomis Reef, Lizard Island, during mass coral bleaching of 2016 Photograph:
CoralWatch
In 2015 the most powerful El Nino climate cycle in a century blasted torrid heat through the tropical and southern Pacific. Reefs from Kiritamati to Indonesia, and from the Indian Ocean to Reunion and Tanzania on Africa's east cost were bleached. Centuries of reef formation destroyed in a matter of weeks. Marine scientists are in the dark over the duration of the ongoing bleaching let alone when the next such episode will arise.
What they do know from observation and the fallout of those catastrophic events is that they are occurring with greater frequency and ferocity. Bleachings that took place in 2010 and 1998, although destructive and worrisome, were not nearly as extensive or as prolonged as the current one. Around 15 percent of the world's coral was destroyed in 1998.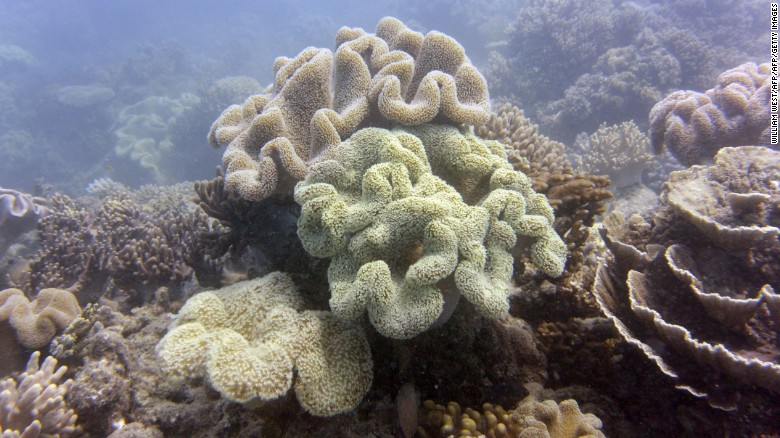 Australia's Great Barrier Reef
Then in 2014 reefs in the Florida Keys and the Caribbean, suffering from previous bleaching events were unable to regenerate before another thermal stress from El Nino last year devastated them. The health of reefs worldwide hangs in the balance since El Nino warms the equatorial waters around Kiritimati Island to a greater extent than anywhere else on the globe. It is a harbinger of what is to come worldwide.
The Kiritimati Island reefs are washed by a nearly constant 24-degree ocean temperature, but the upwelling of deep, cold water usually expected, failed to arise, leaving water in the atoll 6.5 degrees warmer than normal, not cool enough to allow the damaged coral to recover. Global bleaching has resulted from a rare confluence of events raising water temperatures which have been already compromised through climate change.
In the northeastern Pacific an underwater heat wave stretched along the west coast of North America from Baja California to the Bering Sea. This wave was two degrees Celsius warmer than the waters surrounding it and it has caused hungry sea lions to be beached, and tropical skipjack tuna to be sighted off Alaska. A strong high-pressure cell had blocked normal southward flow of polar air in 2013 from the North Atlantic, causing the underwater heat wave, named the "Blob".
The Great Barrier Reef off Australia was discovered by Australia's National Coral Bleaching Task force to have been struck with almost a thousand kilometres of reef bleaching. Half of the coral in a survey of 520 individual reefs making up the northern section of the Great Barrier Reef have died.
Kill the reefs and you kill the incubators of the oceanic ecosystem that provides food and shelter to 25 percent of all marine species.
In turn fish stocks that feed over a billion people are supported by the ecosystem and creatures that thrive in healthy reefs. Countless millions of tiny animals, polyps, form symbiotic relations with algae, capturing sunlight and carbon dioxide to produce sugars that feed the polyps. Small-scale fishermen and women estimated to be around 30 million in number are hugely dependent on reefs' productivity.
"This is a huge, looming planetary crisis and we are sticking our heads in the sand about it"
, commented Justin Marshall of Coral Watch at Australia's University of Queensland, of the metabolism of the algae bleaching when high heat and bright sunlight begin creating toxins, killing the polyps.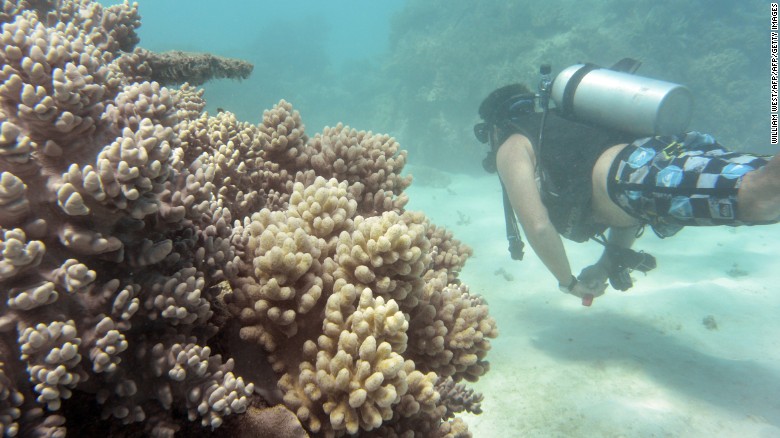 Australia's Great Barrier Reef
Labels: Bioscience, Climate Change, Environment, Nature, Oceans