One-Industry Town Producing Light-Magic
"It's a magical, marvellous town. We are a people of artisans, musicians, pyrotechnics. It's a form of expression, of art, of making people happy."




"There are a lot of people who criticize this art, but we see it differently. It's our daily life."




Jose Guadalupe Solono Sanchez "Doc Pyrotecnia", Tultepec, Mexico





"It's incredible to see the work that people do here. It's what moves the town."




"[She heard the sound of fireworks; a whistle, a pop and a crack] Then, it was no longer normal [when a loud blast shook the ground]."




Mary Rubio, resident of Tultepec, Mexico





"You couldn't see anything [through the flames and the smoke]."




"I've never felt something this sad [devastating loss of lives, destruction of the open-air fireworks market]."




"It's what sustained the municipality [its pyrotechnic industry]."




Solano Sanchez, Tultepec resident, Mexico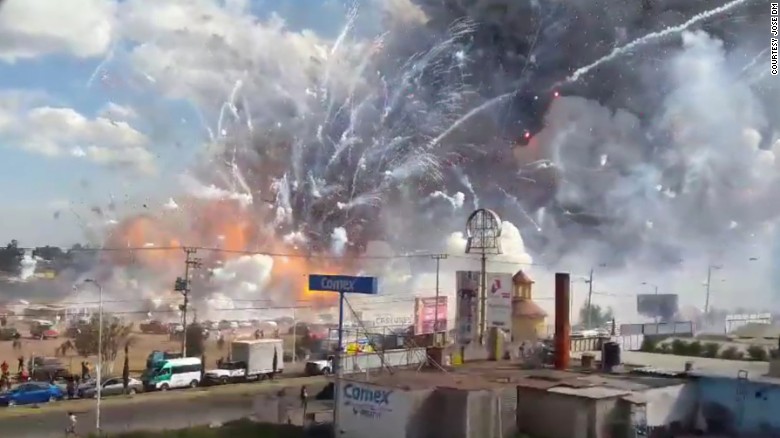 Fireworks explode from the San Pablito market in Tultepec, Mexico, on Tuesday, December 20. Authorities say dozens were killed in blasts at the market, which was especially busy with people buying fireworks for the holidays.
CNN
"I came back and I helped her [his 83-year-old mother]. We were halfway the distance we had to cover to get out when I got hit by a large piece of brick and broke my hand and my hand was like hanging."




"I thought she was dead but no, thank God, no she wasn't. At that moment one of my nephews came in with other people and they carried us out, risking their lives because shrapnel was flying all over the place."

"Yes, we're going to keep on working. It's our livelihood,"




Miguel Urban Bojas, 49, injured fireworks vendor
Mr. Bojas the fireworks vendor was injured, along with his elderly mother, and both hospitalized. When they recover they will return to the livelihood they have been engaged in for all of their lives. Generation after generation in this Mexican town of 150,000 people located north of Mexico City, have been employed in the pyrotechnics industry, producing fireworks. The town is known for its spectacular fireworks displays that take place regularly in celebration of all manner of special occasions.
Those who produce the fireworks are master at the trade and take pride in their unique handicraft. These artisans consider themselves to be experts at the tradecraft they take such care with in imaginative and traditional design, supported by the town, and supporting the town. And the community in which they live cannot imagine themselves bereft of their fabulous, popular pyrotechnics events which can bring in tourists from all over Mexico and from abroad to witness for themselves the spectacular displays of colourful explosives.
Fireworks 'castles' waiting to be set off for a competition.
Photo: Alejandro Linares Garcia
Mr. Bojas and his mother, though unfortunate victims of a fireworks display gone awry, were fortunate in that they came away with their lives intact. The death toll from that run-amok pyrotechnical event was 35, with many more others in the crowded market wounded from burns, from shrapnel, from smoke inhalation. There were eleven people reported as missing, somewhere in the remains of that conflagration waiting to be discovered.
The ear-splitting, multicoloured violence of the blast provided its own show, one that people of the town had experienced before in the relatively recent past when magic turned to tragic. The firestorm was the result of a powerful chain-reaction in the open-air fireworks market which also destroyed over 80 percent of the 300 stalls in the San Pablito fireworks market. The booths packed with firework merchandise on display and for sale, provided additional fuel for the run-amok fire to feed upon.
Tuesday's massively destructive explosion was the third such calamity to have occurred at this market since 2005. In the Gulf Coast city of Veracruz at a similar market, 29 people died in a 2002 explosion. An explosion of illegally stored fireworks destroyed part of the city of Celaya in 1999 when 63 people died. Another 58 people died in 1988 when a fireworks explosion at the La Merced market in Mexico City occurred.
It has been over two centuries that the people of Tultepec have specialized in the artisanal production of fireworks, skills handed down from generation to generation. The fireworks season lasts from August through to December and in that period of time the vendors of the town's fireworks expect they will sell 100 tonnes of fireworks. During fireworks festivals, music is matched to the pyrotechnical displays.
Elaborate "castle" contests take place where towers constructed of wood, reed and paper are festooned with fireworks that are set off, illuminating the towers and the atmosphere above in a spectacular display of fairyland showers of brilliant colour and scintillating light. Solano Sanchez's mother, father and grandparents all work in the production of fireworks. He is himself a specialized musician promoting the industry of the town's dedication to fireworks production.
Visiting survivors of the catastrophe that destroyed the market, burning it to the ground, and with it also damaging nearby houses, Mexican President Pena Nieto declared:
"We made a commitment to support everyone, the 300 stall owners of that market to recover and support them so that they can continue their activities next year normally".
Labels: Crisis Management, Fireworks Wildfires, Heritage, Mexico, Tradition