"But You Never Forget and You Shouldn't Forget"
"I found humanity in Newfoundland. People were so kind to me. People helped me, people kept me in boarding houses, wouldn't charge me a penny. "They fed me."




"And I'm very happy I came to Newfoundland."




Philip Riteman, Holocaust survivor
Seventy years ago this man was in his early teens. He lived with his family in a Polish shtetl, Shershev, until 1941, when Nazi Germany invaded, driving his family along with other Jewish villagers out of the town they had always lived in generation after generation, herded to live in ghettos, those infamous collecting points from whence they eventually were shipped in cattle cars to work and death camps.
Philip Riteman's family was sent to Auschwitz. There his parents, five brothers and two sisters as well as his grandparents, aunts, uncles and cousins were put to death.
"I'm the only survivor. Many times I wish I didn't survive -- why me?"
he queried in a classical survivor's reminiscence and sorrow.
"I think about Newfoundland all the time. People ask me where I'm from, I say, I'm a Newfie boy"
, he has also stated,with pride.
At age 17, weighing 75 pounds, he was liberated in May of 1945. At that time he was convinced he was without family or friends, that there was nowhere he could go to, to resume life and normalcy. But the Americans who liberated the prisoners at Auschwitz discovered through some compassionate sleuthing that he had relatives in Canada as well as in the dominion of Newfoundland, not yet a part of Canada.
While the government of Prime Minister Mackenzie King refused entry to Canada for this refugee child, Newfoundland welcomed him, and he was united with an aunt who lived there. In recognition of his having made a success of himself through his business acumen, despite the horrible tribulations he had suffered as a child, he is slated to receive the Order of Newfoundland and Labrador at Government House in St.John's.
His is one such story, and there are countless others. No Jews, under threat of extermination by Nazi Germany, were welcomed by the-then government of Canada under Prime Minister MacKenzie King whose principal adviser on the "alien" refugee file assured King that
"none was too many"
to save from certain death and in the process defile Canada with their living presence.
Ana Maria Gordon was another such Jew who with her family attempted to escape the dreadful fate that the Axis Powers under Nazi Germany meted out to Europe's Jews. Her family lived in Kosice, Slovakia and her father assembled enough money to buy passage on a ship along with visas to enable them to enter Cuba and find haven there. She was four years old at the time that her family boarded the SS St.Louis, leaving Hamburg on May 13, 1939.
The luxury liner co-opted temporarily for a rescue mission to take desperate Jews out of Germany four months before war was declared, was bound for Havana, where the government of the day had agreed to absorb those Jews who paid for special visas. The German Captain Gustav Schroeder, happily was a decent and honourable man (later memorialized at Yad Vashem), determined to treat his passengers with respect.
"He was a wonderful man, a wonderful man. He was a real captain who said 'my passengers come first'. [However during the passage] people heard things and started getting nervous, you felt the atmosphere was changing. They [Cuban authorities] didn't let us off the ship"
, said now-82-year-old Ana Gordon. The Cuban authorities held up disembarkation for greater sums to be forthcoming from the passengers. But German law hadn't permitted Jews to take money or property with them, and there was no more to be had.
In desperation the passengers turned for help to the United States, which responded by refusing them entry. And then it was Canada's turn to deny entry to the Jewish passengers knowing that if they were forced to return to Germany their lives would be fraught with danger. Washington and Ottawa knew full well what awaited the returning passengers to Germany. So the captain had little option but to return to Europe with his 907 remaining passengers.
Captain Schroeder, however, had different ideas than to return his passengers to Germany, and so he helped to negotiate asylum for them in Britain, Belgium, France and the Netherlands. The Jews on that fated voyage were disappointed in the failure of their attempt to find haven in Cuba, the U.S. or Canada, but satisfied that they would be safe where they finally ended up. Until, of course, the troops of the Third Reich marched into Belgium, France and the Netherlands, and the nightmare resumed.
While 250 of the passengers died in the ensuing years of deliberate genocide, others managed to survive. Ana Gordon and her family ended up in Buchenwald and Ravensbruck. Her uncle, married to a non-Jewish German, was given the choice of sterilization or camp internment, and he chose sterilization. The Gordon family survived, miraculously, were liberated by Soviet forces and eventually re-united.
Buchenwald corpses piled high --
Holocaust Education and Research Team
Ana Gordon was eight years of age by the time she and her mother were released from the notorious Ravensbruck camp for women, north of Berlin.
"What do remember? Too much. I was there close to two years. It was awful, just awful. At this stage after so many years, you know"
, she says from her home in Toronto, she cannot find it in her to harbour resentment against the Canada that shunned entry to her and the other shipload of Jews, shrugging.
"But you never forget and you shouldn't forget. These things happen . . . and I'm afraid that they can happen [again]."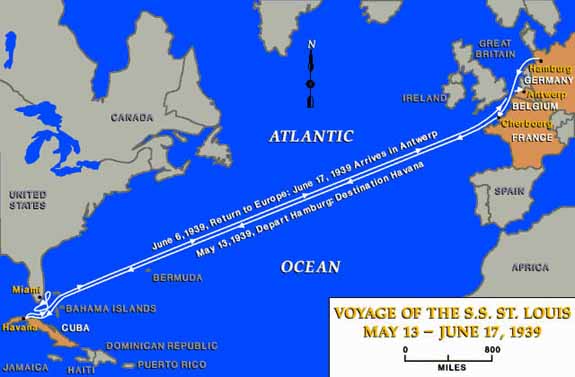 Labels: Canada, Cuba, Germany, Holocaust, United States, WWII