Occupational Disease Claims for Compensation
"I didn't know what to do or say. I was stunned. Literally sick, mentally and physically sick, because of the answer [Ontario Workplace Safety and Insurance Board refusing benefits based on workplace-inspired illness]."




"The system has failed us all [General Electric Peterborough employees]. And one [report] saying everything is fine has defeated everyone who got sick or died. It's gut wrenching."




"What we say doesn't carry any weight."




Roger Fowler, cancer survivor, former GE employee





"I didn't know it was asbestos, but I mean when Roger would come home, he'd go right downstairs and strip his clothes off and throw them in the washing machine."




"You could see the fibres too."




Gladys Fowler, Peterborough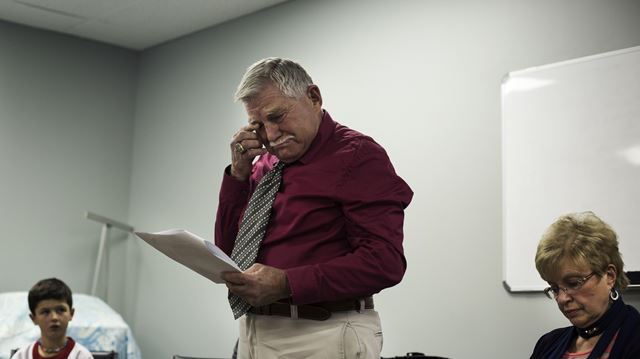 Roger Fowler wipes away his tears while reading one of his poems during the Celebration of Life, which is an annual event organized by former GE employees to honour those who have passed from cancer.
"There's a systematic barrier to actually looking at what's happening to these blue-collar workers behind factory walls."




"If compensation boards recognize these cases, then the onus is on the government to go do something about them. We're caught in this vicious cycle."




Dr. Jim Brophy, occupational disease expert





"It is no longer accepted that you do published science when you're being paid by one side and the outcome of that science reflects on the future of your boss."




Dr. Noel Kerin, representing Occupational Health Clinics for Ontario Workers
In the past decade over half of the 660 occupational disease claims registered for a range of conditions including brain, bowel and lung cancer brought against General Electric Peterborough by former employees were refused or withdrawn citing insufficient evidence. Of that total, 280 were accepted. One scientist describes what those workers were regularly exposed to as a
"toxic soup"
of chemicals. That toxic soup has impacted their lives causing dreadful disease onset and early death.
Roger Fowler, at age 46 had his rectum removed as a result of colorectal cancer and now depends on a permanent colostomy bag. Two years later, from so many surgeries he had undergone, he was forced to deal with huge hernias applying pressure on his bladder. By the time he reached 56 he was free of all symptoms of colorectal cancer, caused, he is clear, by his work under asbestos-wrapped pipes that scattered chunks of that toxic material over him.
He and all the other former GE employees cast blame on a system which expects a rigid standard of proof before compensation is won. A GE report issued in 2002 that pointed out that
"no significant excesses"
of cancers resulted from work at its facility, appears to have been accepted as fact, belying the anecdotal and medical reports supporting the workers' absolute belief that it was the quality of their employment that led to their disease onset.
The GE study analyzed the link between eight of the carcinogens commonly in use at the plant and the episodes of cancer deaths, to find excesses of some types of cancer such as lung cancer mortality up to 57 percent higher than the general population occurring among GE male employees. But a study that followed claimed that the cancer excesses identified in the first study, when controlling for factors such as age and smoking, were significantly diminished.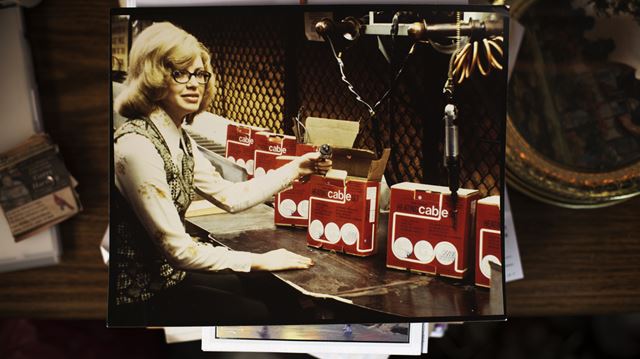 photo by Melissa Renwick

Marilyn Harding worked at General Electric for almost 40 years and has survived bladder and breast cancer. A photo taken a few months after her daughter's birth shows her assembling lead heating cables, beside an asbestos machine, which she says contaminated the entire work station.
The study was supervised by GE's staff industrial hygienist, Dr. Roland Hosein, who held the position of vice-president of environment, health and safety for General Electric, eventually becoming a member of the Workplace Safety and Insurance Board Research Advisory Council. Dr. Hosein is also an adjunct occupational health professor at University of Toronto. A spokesman for GE stated that allegations of conflict of interest in the matter were unfounded, a statement that Dr. Kerin who studied the workers at GE with cancer in 2004, categorically rejects.
The Peterborough plant, furthermore, has a long history of environmental disturbances resulting from its operation. A chemical reaction to a 2,000-gallon resin tank at the GE plant in 1972 was responsible for a plume of gas rising across the city. Firefighters dispatched to the factory developed recurring illnesses like lung diseases and heart problems; whether they were ever compensated is not generally known.
Yet again, in 1982, the plant was responsible for dumping 20 gallons of poisonous cyanide solution through a leaking pipe into the sewer system in Peterborough. And in 1994 the company was unable to sell land it held, to the city of Peterborough for a new arena since the soil was discovered to be contaminated with polychlorinated biphenyls (PCBs), a cancer-causing substance almost impossible to flush out of soil and sediment.
A Ministry of Environment 2015 report stated that the plant's storm sewers failed to meet
"site criteria"
for PCBs. Those sewers drain directly into the Otonabee River which runs through Peterborough and on into Rice Lake. GE halted the use of PCBs, now banned province-wide, in the 1970s, but the soil around the plant remains saturated with them, next to impossible to dislodge from the environment.
At the GE plant, work placed those who were employed there exposed to an array of carcinogens decades ago, causing dire disease onset. Proof of the absolute evidence that the compensation board calls for is difficult to gather. The risks to health documented at the plant make it clear that workers making their claims for compensation should be offered the benefit of the doubt, and the plant not be given a free pass on its use of those chemicals with the resulting exposure.
"The whole question is, what do you do in the face of scientific uncertainty? And that's no longer a scientific question. It's a question of values and whether you value human life or you don't"
, said Bob Matteo, former director of health and safety with the Ontario Public Service Employees Union.
General Electric plant in Peterborough |
Photo by Melissa Renwick
Labels: Compensation, Disease, Ontario, Workers