That Amazing Mediterranean Diet
Cancer

| Five red flags to never ignore
Any sudden weight loss when not dieting.
Blood in your faeces or urine.
Coughing up blood.
A lump in the breast, groin, testes, side of the neck or armpit.
 Severe, unexplained pains or aches.
"This important study showed that following a dietary pattern like the Mediterranean diet could help reduce breast cancer risk -- particularly the sub-type with a poorer prognosis."




Panagiota Mitrou, director, research funding, World Cancer Research Fund





"[These new findings are] intriguing."




"This study adds to evidence that a healthy diet, full of 'good' low-saturated fats, plays a part in lowering risk of the disease [breast cancer]."




"However, it's important to remember while lifestyle choices like eating a well-balanced diet and taking regular exercise can help reduce the risk of cancer, they don't guarantee prevention. So it's crucial women know the signs and symptoms of breast cancer, and contact their GP with any concerns."




Emma Pennery, clinical director, Breast Cancer Care, Britain





"Whether lifestyle factors can improve survival after diagnosis is an important question for women diagnosed with this more aggressive type of breast cancer."




"Our findings suggest that survival may be better in patients with a higher consumption of isoflavones."




Esther John, Cancer Prevention Institute of California
Led by Dr. John, the newly-published study tracked over 60,000 women over a period of two decades. Researchers found that women whose diets contained a rich assortment of fruits, vegetables, fish, nuts, whole grains and olive oil gained much in health, since that diet, identified with the Mediterranean diet, endowed them with a much lower opportunity of developing a particularly aggressive form of breast cancer.
Research determined that the Mediterranean diet reduced the risk by 40 percent of acquiring estrogen-receptor-negative breast cancer. Roughly one in three diagnoses of breast cancer falls into this deadly category representing the cancer with the highest risk of morbidity. In Canada yearly, some 25,000 people are given the diagnosis of breast cancer, the most common type of cancer for women.
The newly reported study was backed by the World Cancer Research Fund, to track women between the ages of 55 and 69. Those who most closely followed a Mediterranean-type diet were seen to have a 40 percent reduction of the very deadly breast cancer of which one in three cases fit that category of estrogen-receptor-negative breast cancer, equalling the highest death risk.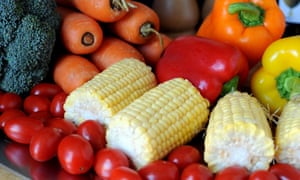 The Mediterranean diet is rich in olive oil, fish, fruit, nuts, vegetables and wholegrains.
Photograph: Nick Ansell/PA
The typical Mediterranean diet focuses on plant-based proteins such as nuts, lentils and beans, whole grains, fish and mono-unsaturated fats -- identified as 'good fats' -- as for example, olive oil. The diet bypasses refined grains like white rice or white bread, red meat and pastries. Moderate alcohol consumption is another pillar of the traditional Mediterranean diet, but for this study alcohol was not taken into consideration, known to be a risk factor for breast cancer.
In fact, alcohol consumption has been linked to 12,000 annual cases of breast cancer, while 40 percent of all cancers have links to lifestyle. Obesity, poor diet, alcohol and smoking are all recognized lifestyle choices that heighten the risk of acquiring breast cancer.
American research has discovered that women in treatment for estrogen-receptor-negative breast cancer could see their survival improve by up to a fifth through consuming a diet rich in soy.The active ingredient in soy is isoflavones, found as well in tofu, soy sauce, miso soup, soy milk and edamame beans.
Labels: Bioscience, Cancer, Diet, Health, Lifestyle, Research