Family, Home and Hearth
"After a discussion with your Mother, we have decided that you must leave this house immediately. You have 14 days to vacate. You will not be allowed to return. We will take whatever actions are necessary to enforce this decision."
"Michael Joseph Rotondo, You are hereby evicted from 408 Weatheridge Drive, Camillus, New York effective immediately. You have heretofore been our guest and there is no lease or agreement that gives you any right to stay here without our consent."
"A legal enforcement procedure will be instituted immediately if you do not leave by 15 March 2018."
Michael, here is $1,100 from us to you so you can find a place to stay."
"There are jobs available even for those with a poor work history like you. Get one -- you have to work! If you want help finding a place your Mother has offered to help."


Mark Rotondo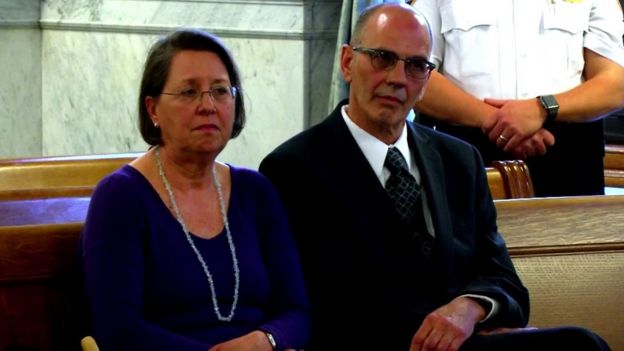 "I am just so outraged."




"[I had] never been expected to contribute to household expenses, or assist with chores and the maintenance of the premises."




"I don't see why they can't just, you know, wait a little bit for me to leave the house. [Six months is] a reasonable amount of time for someone who has been depending on persons for support."




Michael Rotondo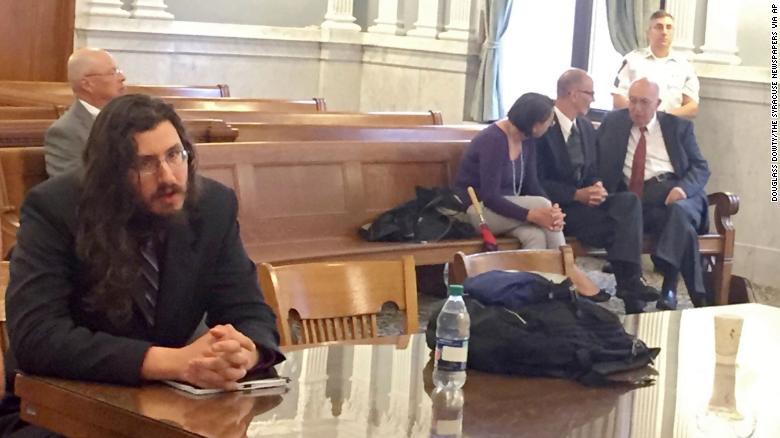 Michael Rotondo (left) at his eviction proceeding in Syracuse, New York. His parents, Mark and Christina, confer with their lawyer in the court gallery behind. Douglas Dowty,
The Syracuse Newspapers via AP
Upstate New York State Supreme Court Justice Donald Greenwood informed Mark and Christina Rotondo that their lawyer would be instructed to draft an eviction order giving their son Michael reasonable time to vacate the home they no longer wished to share with him. They had, in fact, been resentful of their 30-year-old, unemployed son living with them for quite some time.
A situation not made any easier by the fact that he would not speak with them, nor do anything remotely useful around the house; much less that he paid no rent for his accommodation.
The couple's request for an eviction order was granted by the judge who also indicated that adult protective services would be engaged to check on matters in the home that appeared to him to be rather concerning. As for their son, Michael Rotondo informed the judge he was well aware his parents wished him to leave their home, arguing that as a member of the family he felt entitled to six months additional time to make alternative arrangements for himself.
When Michael Rotondo spoke to the media he pointed out that he did his own laundry and provided for his own food. His exasperated parents, feeling it was beyond time their adult son became an adult rather than a recluse who felt no urge to find employment and to be responsible for himself, preferring to live in a bedroom in their split-level ranch home, gave him an initial note requesting he leave in March, repeated it in February, and then again when their son made no move to honour their request.
They felt finally driven to taking legal means when he ignored all their requests, including that he remove his Volkswagen from outside their home, despite offering financial assistance to have it repaired to working order. The eviction order was their last desperate attempt to force their son to take steps toward overdue responsibility for himself. In view of a gaggle of curious reporters, the Rotondo son engaged the judge in a 30-minute verbal sparring, when the judge suggested he address his parents directly, and he refused.
"It really seems kind of outrageous that someone in this day and age could be in someone else's home for six months"
before they agree to leave, when requested to do so, remarked the judge.
"I want you out of that household."
At the hearing's conclusion, the son invited television camera crews to meet him outside the court where he responded to questions and stated baldly that he is not prepared to leave home where he occupies a bedroom, will not speak to his parents and has a business.
Refusing to respond when asked what the business was other than to state tersely
"My business is my business"
.
According to a recent study, an estimated 22.5 percent -- 12 million -- Americans between 24 and 36 years of age live at home with their parents, a notable increase from the 14 percent that did so in 2005.
They all, obviously, believe wholeheartedly in the old adage that
"There's no place like home"
, unwilling to make one of their very own.
Labels: Discipline, Employment, Family, Human Relations, Independence