Correcting Lifestyle Choices to Optimize Health
"When we started our research in the early 1990s in this area [physical activity and cancer], there was quite a lot of skepticism in the oncology community about how exercise could even be used with cancer patients. The general feeling was these people are already very tired and we can't ask them to exercise during their treatment or post-treatment."




"Now we've gotten to the point where groups like the American Cancer Society and Canadian Cancer Society ... are actually starting to come up with guidelines, kind of like exercise prescriptions."




Dr. Christine Friedenreich, cancer epidemiologist, Alberta Health Services
Fat cells produce hormones which can increase cancer risk, e.g., the production of estrogen which increases the risk of breast and endometrial cancer.

Obese individuals have increased levels of insulin and insulin-like growth factor which may promote carcinogenesis.

Obese individuals often have chronic, subacute inflammation which has been associated with greater cancer risk.

Fat cells produce hormones that may stimulate or inhibit cancer cell growth.

Evidence is also growing regarding the role of obesity in cancer recurrence and cancer-related mortality. Obesity is a known risk factor for the development of other comorbid illnesses which are prevalent in cancer survivors, such as diabetes and heart disease.

National Library of Medicine, National Institutes of Health, U.S.A.
"We have an obesogenic society. And by that I mean we have ready access to cheap high-calorie food and we have a culture that is based around eating [those foods]."




"The link between smoking and cancer was a 12-fold elevation ... so strong nobody can deny it. With obesity and cancer it's a weaker link."




"Obesity is a contributing factor rather than the major causal factor for breast cancer and for all the obesity-associated cancers."




"Smoking is the major causal factor for lung cancer ... and the other smoking-related cancers."




"The factors that have led to obesity increasing at the rate that it has in both of our countries [Canada and the United States], are really kind of woven into the societal fabric."




Dr. Pamela Goodwin, head, Mount Sinai Hospital breast cancer program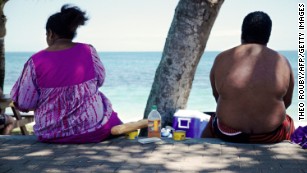 The U.S. National Health and Nutrition Examination Survey showed that obesity rates had plateaued among young people in 2014 and 2015 in comparison to a sampling undertaken in 2007-08. According to the survey's figures, 18.5 percent of Americans between the ages of two to 18 were obese, a number identical to those reported in the earlier study. The percentage of obese adults, unfortunately had risen on the other hand, to more than six percentile points from 33.7 percent in the 2007-08 study.
Researchers involved in the Breast Cancer Weight Loss study meant to track 3,100 patients in both the U.S. and Canada over a decade, although acknowledging parallels between smoking and cancer, and obesity and cancer, hold out little hope that the kind of public reaction on learning the direct link between tobacco and cancer will ever mirror the public's response to learning the close-enough link established between obesity and cancer. Pointing out there could be no question about the former's links, while doubts will linger about the latter's.
Statistics Canada Graph
Dr. Friedenreich focuses her research on the effects that physical activity has on cancer. Since 400 studies have been conducted on that very topic, to conclude that exercise is effective in reducing risks for many forms of cancer, her confidence in her original theory is unshakeable and her commitment to promulgating the findings is absolute. She spent 27 years on making exercise and cancer her specialty concern, a pioneer in the field.
She points out that trial following trial served to unmistakably prove the benefits to cancer patients of exercising. Patients, she emphasized, felt better with the results of how they felt after exercising during chemotherapy and allied treatments, but what was even more convincing of the helpfulness of coupling cancer treatments with exercise, was that patients had improved outcomes, linking the two for their effectiveness.
The guidelines she refers to that both cancer societies in both countries are working toward finalizing set out to define matters such as exercise intensity and treatment intervals for different cancer types and their symptoms. The ultimate goal is to find ways to reverse or prevent weight-caused cancer. A critical approach and aspiration given the wide global grip of the obesity epidemic.
Labels: Bioscience, Cancer, Health, Obesity, Research