Destiny's Child
"I didn't see how we were going to get out of it alive [1996 Mount Everest blizzard]. The cold was so painful, I didn't think I could endure it anymore. I just curled up in a ball and hoped death would come quickly."




"You've gone so far up the mountain, you've come so far from home, and you spent six months preparing for this goal … . There's no way you're going to turn around unless things are really going south."




"I thought, 'Well, old girl, it's been a good ride. No regrets'."




Charlotte Fox, American mountaineer





"Charlotte had survived so much up high."




"It was stunning and profoundly sad that she died that evening of May 24 in a household accident."


Alison Osius, Rock and Ice magazine



"Finding her body was a very shocking and difficult thing. There was something profound about [the experience of] Fox's death."




"She gave me a gift when I arrived [evening before her death]. She recently had a birthday and she told me, 'I'm happy to be 61'."




"Those words, 'I'm happy,' might have gone right in and out of my ears if this hadn't happened. … To be the last person with her, with my hands on her heart, and to remember those last words she said to me, I have to look at it as a privilege rather than a horror. … I got to send her off, with love."




Kim Reynolds, friend
Charlotte Fox, a survivor of the 1996 Mount Everest expedition, died last week after an apparent fall.
(AP)
Some people are driven to prove themselves to themselves; that they have the endurance, stamina, strength and agility let alone the determination to forge ahead where most others would hesitate and then decide that the odds were not in their favour of survival. She was one of those rare creatures who did forge on, did reach the impossibly-heighted summits of the world's tallest, most environmentally hostile mountain ranges. The imposing heights, the mind-boggling geological features, the constant threats posed by frighteningly inclement weather did not appear to faze her.
This women whose search for challenge and adventure seemed inexhaustible appeared not to permit age to slow her down, continuing to climb and trek two 8,000-meter mountains in the two years preceding her death. This was a woman who broke records, as the first female summitteer to climb three mountains
"at altitudes of 8,000 meters or higher"
following her success in summitting Mount Everest, and despite the dreadful toll that summit had taken in eight lives forfeited, while she herself endured such misery that she felt she would welcome death.
On Everest her supplemental oxygen had run out at a height where hypoxia was a constant threat, and at a time when wind, cold and snow imprisoned her in her tent post-summit, with feet frostbitten, unable to do anything to preserve body heat other than assume a fetal position alongside her climbing companions, awaiting their miserable end. Jon Krakauer's account of that dreadful night and its death toll repeated her memorable account of circumstances that had overtaken climbing groups competing for their opportunity to summit, encountering a jam at the critical Hillary Step.
Delays, confusion, crowding, all contributed to a late descent just as a dreadful howling storm descended on the mountain and visibility was eliminated as climbers and their guides found themselves in an impossible situation, anxious to find their way down to their final camp before that day's ascent to the top.
"Into Thin Air"
recounted a tense and desperate time of exhaustion, mental depletion, determination to survive, and heroic self-sacrifice on the part of one climber, Anatoli Boukreev, to rescue as many desperate people descending as the last of his strength could manage.
Charlotte Fox's childhood was in North Carolina; she was fascinated by high altitudes and for thirty years was a ski patroller in Colorado. She was the first American women to climb three mountains at altitudes of about 26,246 feet (8,000 meters) or higher, the first to summit Pakistan's 8,000-meter Gasherbrum II which she felt was her greatest accomplishment, and then in 1995 summitted Cho Oyu in the Himalaya. At age 59 her last climb was 7,129-meter Baruntse.
In 1993 her boyfriend died in an avalanche, and she lost her husband to a paragliding accident in 2004. She was no stranger to the tragedies that visit those rare souls who push limits that would make others blanch with horror. Death had touched her intimately when it claimed those dearest to her as they challenged nature's geological and atmospheric boundaries and their own instinct for self-preservation, failing to survive the threats their own natures demanded of them.
In the end it was a pedestrian household accident that claimed her life. A woman who had thought nothing of challenging the geological giants that nature had designed, survived each and every demanding physical effort and the impediments that chance offered to stop her from success in her bold ventures, but she was incapable in the final analysis of forestalling death that came to visit as she descended a steep wood staircase at her own home when, it would seem, she stumbled and fell at age 61.
Life 'went south' for Charlotte Fox on May 24, 2018, at her four-and-a-half-story home perched on a steep mountainside overlooking Telluride, Colorado.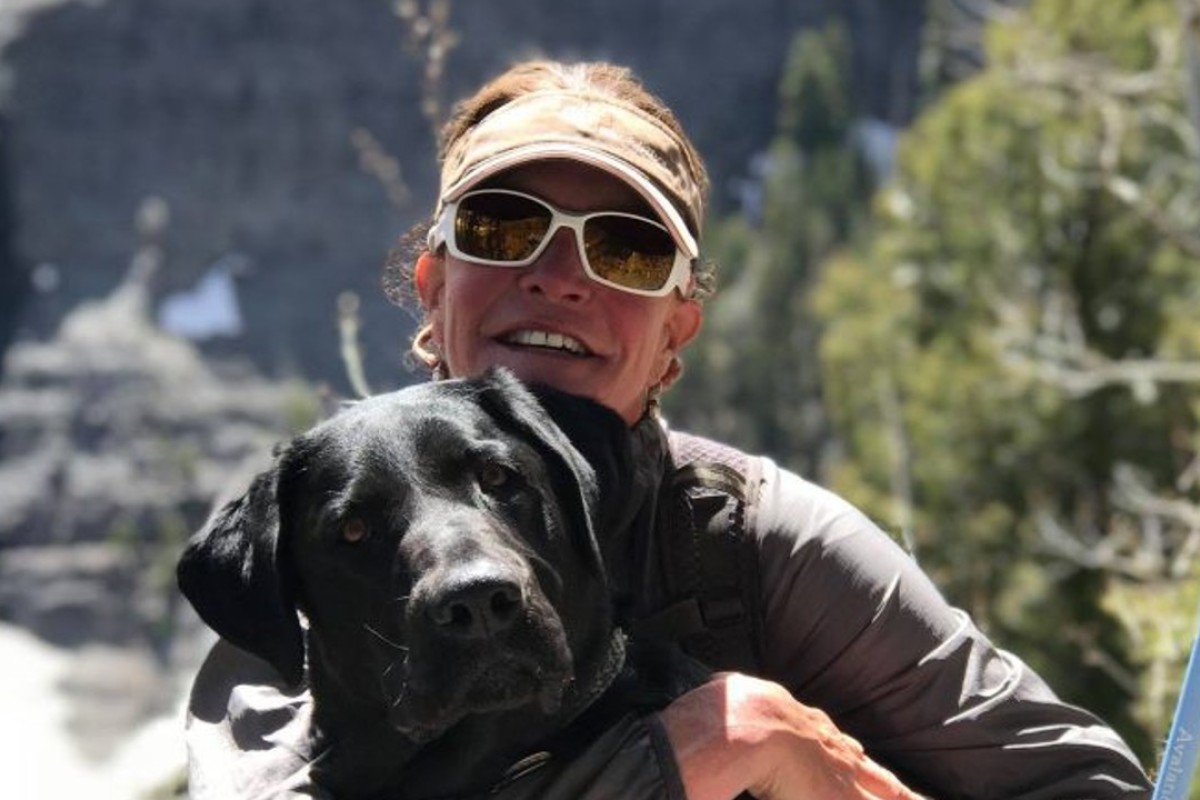 Photo: Amy Denicke Charlotte Fox and her dog Gus
Labels: Accident In Memoriam, Death, Everest, Summiteers