Causing a Disturbance
"[Sorry] for causing a disturbance."




"At the time, the current was very strong, the temperature of the ocean water was cold, and I thought that if people left the ferry without (proper) judgement, if they were not wearing a life-jacket, and even if they were, they would drift away and face many other difficulties."




Lee Joon-seok, captain, Sewol ferry, South Korea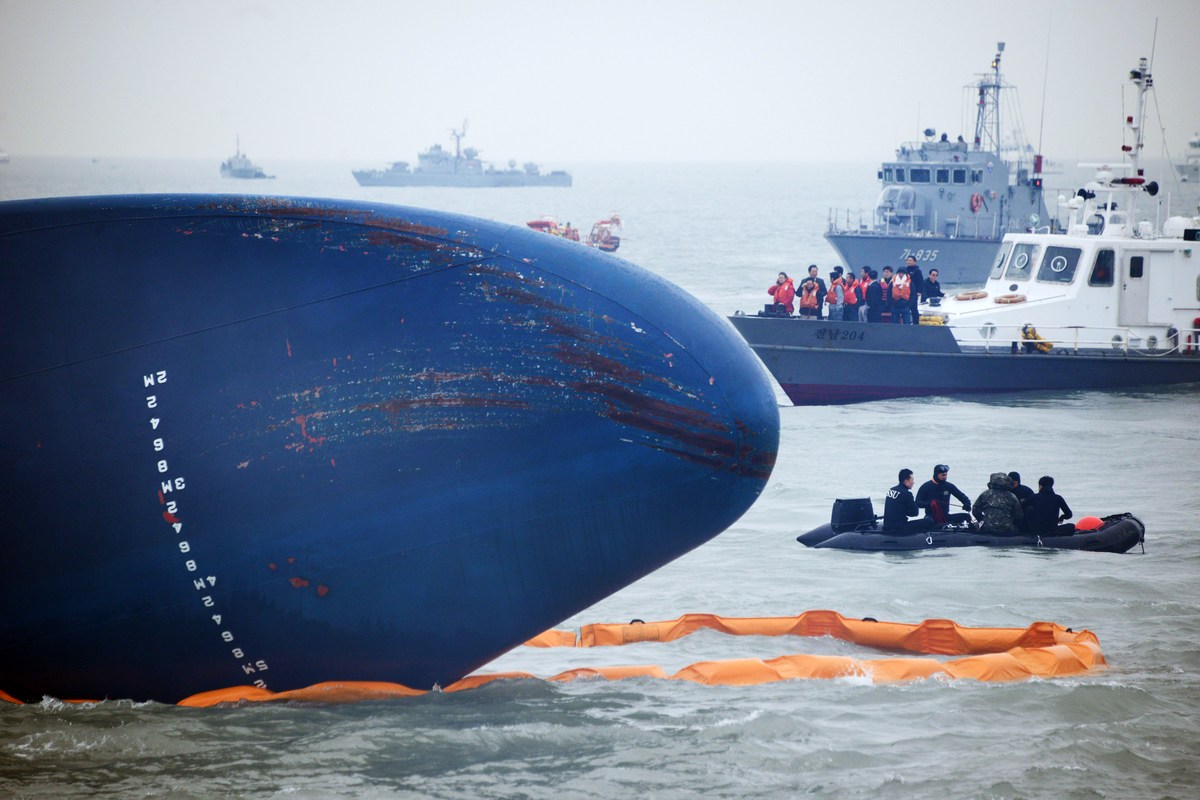 Coast guard members search for passengers near a South Korean ferry that capsized on its way to Jeju island from Incheon, at sea some 20 kilometers off the island of Byungpoong in Jindo on April 17, 2014. (ED JONES/AFP/Getty Images)
"What the captain and part of the crew did is unfathomable from the viewpoint of common sense. Unforgivable, murderous behaviour."




"[Instead of following a maritime traffic controller's instructions to] make the passengers escape [the captain and some crew] told the passengers to stay put while they themselves became the first to escape. Legally and ethically, this is an unimaginable act."




President Park Geun-hye, South Korea





"At first, I was just very sad, but now it's like an endless wait. It's been too long already ... The parents' only wish right now is to find the bodies before they are badly decomposed."




Woo Dong-suk, missing student family member
The bodies of the recovered students are indeed in the initial state of decomposition. Even so, parents refuse to believe that their children are dead, gone from them forever. For the time being, bodies are receiving visual identification. That is, after they've been taken to Jindo island and rescuers notify families, where they wait endlessly at the port or at a gymnasium serving as a shelter.
If identifying items are not discovered on the body, notes are taken on clothing, on specific physical marks, and additional notes are taken on the condition of the body. Those details are given to the waiting families in lieu of definite recovered ID. Once at the dock, bodies are taken into a white tent where they are again inspected and a coroner tidies the bodies for viewing, mostly by wiping oil and dirt away, straightening limbs.
One distraught father, seeing his 15-year-old son's recovered body shouted
"Don't touch my son! He's still alive!"
, then turning to the boy he begged
"Stop sleeping! Why are you sleeping so much? Daddy will save you!"
Whereupon the man began applying CPR, and blowing into his son's mouth in a desperate effort to resuscitate the boy; soon understanding he would not, could not, nothing would work:
"...I could only smell a rotting stench".
The captain explained he was had been waiting with caution before issuing an evacuation order because of the strong current, the cold water and his concern that the passengers could drift off before help arrived. Maritime experts experts roundly disagree, saying passengers could have been ordered to the deck, and there might have experienced a greater opportunity for survival where they could be reached, as they could not be, below deck.
The third mate, Park Han-Kyul, who was steering in the absence of the captain on the bridge, had no prior experience of the area and she informed investigators just why she had made that sharp turn, which, it is speculated, caused the ferry to tilt, though her explanation has not been divulged publicly yet. Fifty-nine bodies were recovered, leaving about 240 people still missing and the death toll will rise of a certainty.
Thirty minutes after the tilt began, a crew member asked a marine traffic controller whether passengers would be rescued if they abandoned ship. A radio transcript recorded that conversation between the crew member and an unidentified official at Jindo Vessel Traffic Services Centre on Wednesday, 29 minutes after the ferry had reported encountering problems:
Marine Traffic Centre

: "Even if it's impossible to broadcast, please go out and let the passengers wear life jackets and put on more clothing."




Sewol crewman

: "If this ferry evacuates passengers, will you be able to rescue them?"




MTC

: "At least make them wear life rings and make them escape!"




SC

: "If this ferry evacuates passengers, will they be rescued right away?"




MTC: "Don't let them go bare -- at least make them wear life rings and make them escape! The rescue of human lives from the Sewol ferry ... the captain should make his own decision and evacuate them. We don't know the situation very well. The captain should make the final decision and decide whether you're going to evacuate passengers or not."




SC

: "I'm not talking about that. I asked, if they evacuate now, can they be rescued right away?"
The traffic official assured at that point that patrol boats would arrive in ten minutes. Another ship was nearby and had informed controllers it meant to rescue anyone who was overboard. The ferry had 476 people aboard when it sank, the majority of them students from a South Korean high school. Over 170 people survived the Sewol sinking. Over the weekend divers were finally able to find a way to the interior of the sunken vessel and began discovering bodies.
The South Korean government has not exactly covered itself in glory in its response to the dreadful sinking of the ferry. Common sense appears to be in short supply. When a high ranking official in the Ministry of Security and Public Administration, chief of the Regional Development Policy Bureau thought it a good idea to take a photograph of the situation room in Jindo where briefings to relatives take place, he earned the fury of the grieving families.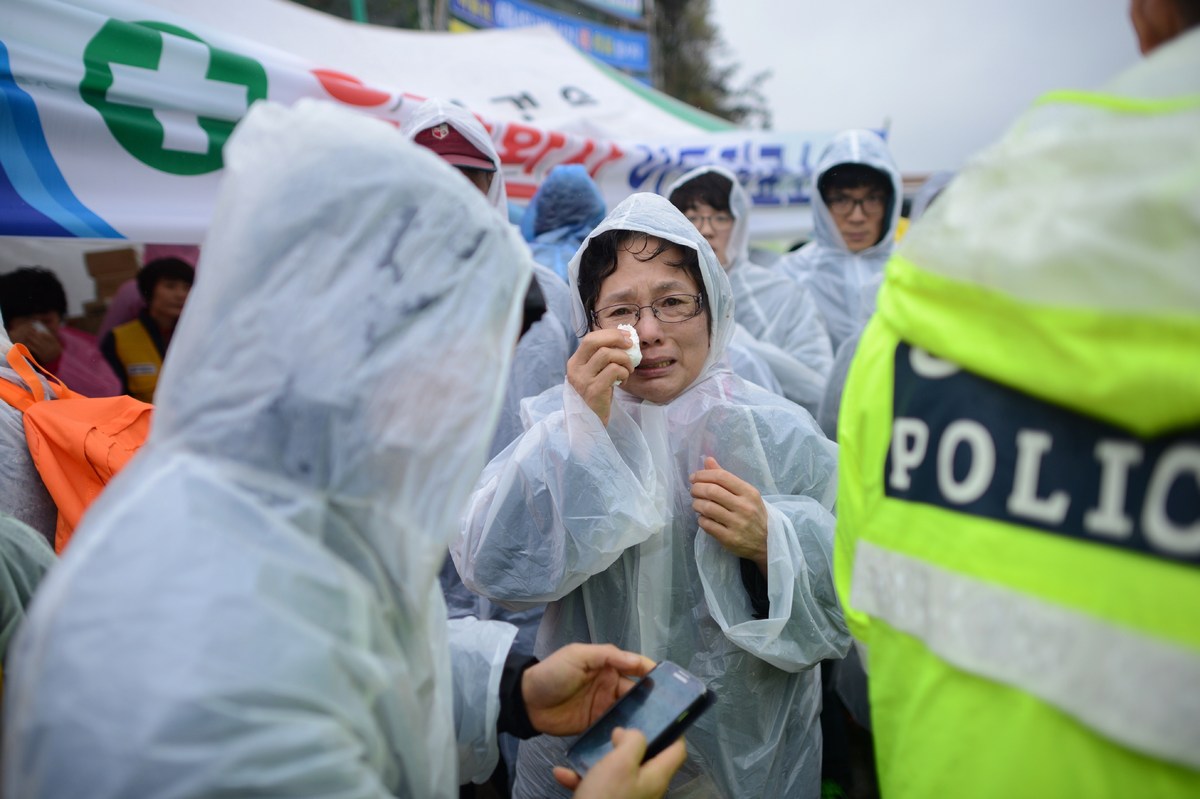 A relative of missing passengers from a sinking South Korea ferry waits in a makeshift tent along a dockside in Jindo, April 17, 2014. (ED JONES/AFP/Getty Images)
When Song Young-chur resigned in disgrace, a spokesman for the government affirmed his resignation was accepted
"as a warning to others, as he has raised public resentment by trying to take commemorative photos without understanding the feeling of the families of the victims and lost persons."
On site was over 200 rescue boats, 35 aircraft, 13 fishing boats and 641 personnel representing the South Korean coast guard and navy.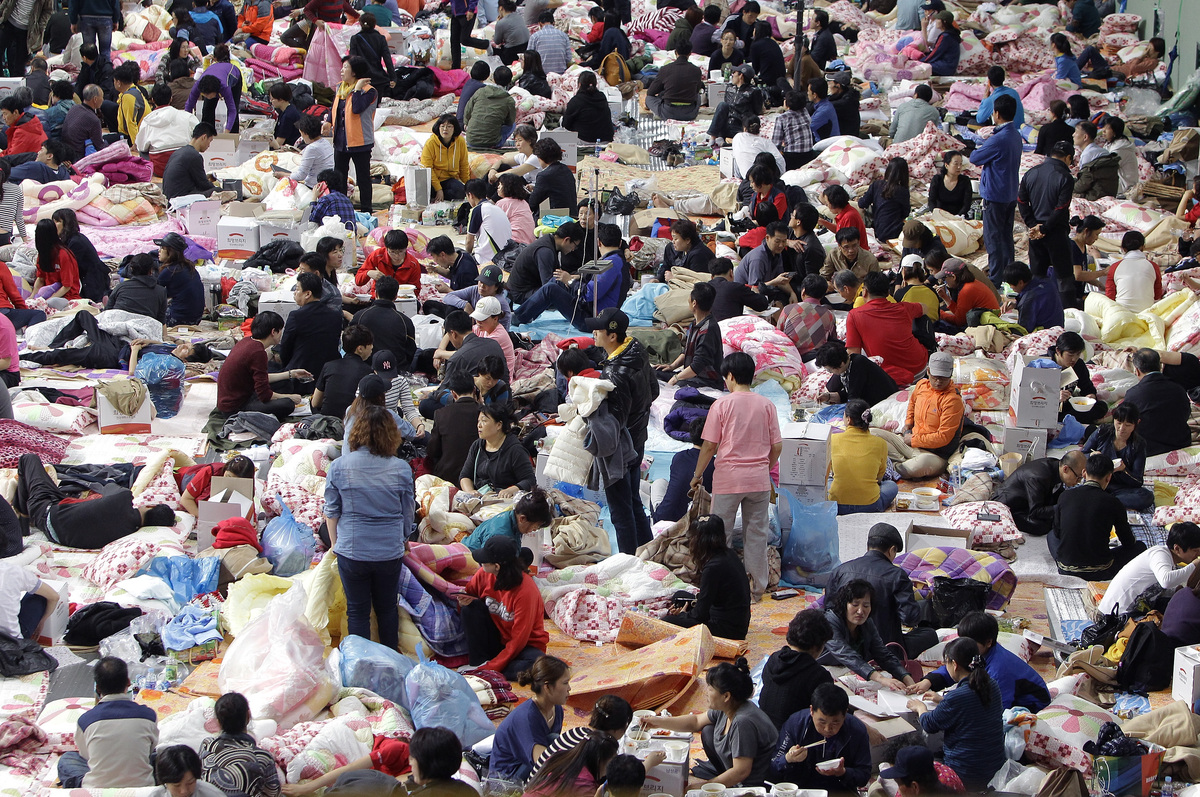 Relatives wait for missing passengers of a sunken ferry at Jindo gymnasium on April 17, 2014 in Jindo-gun, South Korea. (Chung Sung-Jun/Getty Images)
But this is no rescue mission. It is a recovery exercise, to bring the anguish of closure to hundreds of bereaved parents whose children perished because they trusted authority. The public is expending their anger in a fury of condemnation against the captain and the crew of the ferry, some of whom, principally the captain, have been placed under arrest and will stand trial for various offences against the maritime code of ethics.
But there were, among the 29 crew members at least seven who are missing or dead. A few of the others who survived to give witness to the catastrophe had remained on or near the ship helping passengers. Some of those crew members handed their own lifejackets to passengers. And one who refused to leave while shepherding students off the ship was later found among the dead.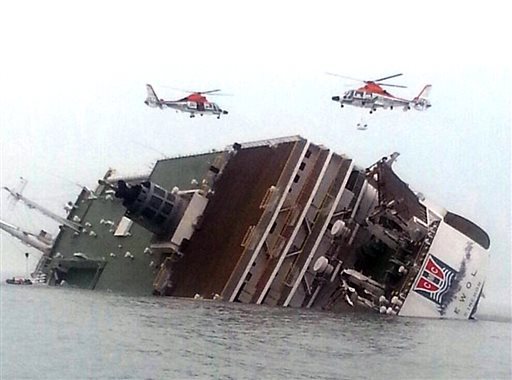 Rescue helicopters fly over a sinking South Korean passenger ferry that was carrying more than 450 passengers, mostly high school students, Wednesday, April 16, 2014, off South Korea's southern coast. Hundreds of people are missing despite a frantic, hours-long rescue by dozens of ships and helicopters.
Others made strenuous efforts from rescue boats to break windows on the ferry's cabins and pull people to safety. Their morality and heroic efforts in a demonstration of decency and responsibility remains on the back burner as the public's fury over the inexplicable loss of life of so many young people wraps the nation in a black fug of mourning.
Labels: Catastrophe, Human Relations, Social Welfare, Social-Cultural Deviations, South Korea