An Odiously Heinous Crime
"We have no idea what he's doing or where he is, all we know is that he's in the Gravenhurst [Ontario] area."




"We're fighting like hell to keep this guy incarcerated. We honestly feel that our family's lives are in danger; we also feel that other Canadian citizens' lives are in danger."




"[His family] has lost complete faith in the Canadian justice system. Reading this statement, standing before you, fighting for the victims of violence rights, it is as if our family committed the heinous crime."




Don Edwards, victims' rights campaigner
And it was a heinous crime by any standard of measurement, one that might have people asking themselves why not reinstate the death penalty as state punishment for crimes of this atrocious calibre? We're speaking of the pitiless slaughter of two people, an older man and his wife, who had attempted fruitlessly to protect themselves from the murderous rage of a man whom their daughter had spurned, and who had vowed he would exact revenge.
And he most certainly did. In 1990 Michele Edwards, the sister of Don Edwards, had a six-month intimate relationship with a man whose name is George Harding Lovie
[and isn't it ironic that we are so often mocked by surnames that represent the complete reverse of the surname-holder's character?]
. She was uncomfortable with his pathological need to control, his possessive nature, and so she informed him that she was unwilling to continue the relationship.
He began stalking her, until on February 18, 1991, he broke into her home carrying with him a knife and a gun and he confined her by force in her home for six hours of pure hell. During that period of endless time he repeatedly raped her and threatened that if she informed authorities of what had taken place he would kill her and kill her family. In response to his threats, she reported what had taken place, to Hamilton Wentworth Regional Police.
George Lovie was arrested. And then released after two days. And he waited for four weeks before he embarked on his threat. He had bought a rifle, and he accosted Michele Edwards near her parents' home, shooting at her as she ran within for protection from the armed predator. He then shot Donna Edwards, Michele's mother, as she tried to barricade the doors, killing her. Michele's father Arnold rushed to confront the intruder to his home, and for his efforts was stabbed multiple times.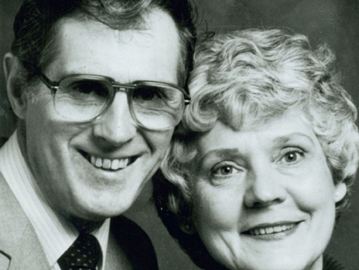 Arnold and Donna Edwards
When a 911 call was desperately dialled, the voice of George Lovie repeatedly sneering
"how do you like me now?"
was recorded, a phrase he repeated to match each thrust of his knife, in a psychotic rage that killed Arnold Edwards. During the trial that followed, George Lovie threatened to kill all the Edwards family. He was sentenced to life imprisonment; 25 years served concurrently for each murder. And of course he applied for early parole.
Don Edwards' son Chad was five when his grandparents were murdered. He is now 28 years old. The family has struggled for that period to convince Corrections Canada that the man who murdered Arnold and Donna Edwards and who has vowed to kill all other members of their family should never see the light of day. At a hearing before the parole board several years ago, Chad submitted a statement by audio recording for fear of George Lovie seeing his face.
"If Lovie is released, I will leave Canada. I will uproot my life rather than live here in fear"
, he said.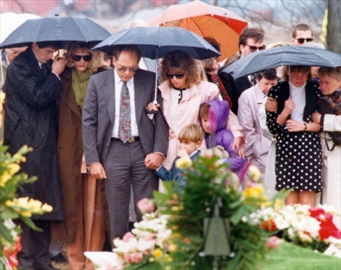 Spectator file photo

The Edwards' funeral: John Mattachini, Michele Edwards, Don Edwards, Tannis Edwards, Chad Edwards(in front of Don), Stephanie Edwards, Christy Edwards, Marcia Kinrade.
And now, the Edwards family has been contacted by Corrections Canada informing them that the decision has been made to begin permitting George Lovie out of prison on unsupervised work releases. In fear and trepidation, Don Edwards has contacted local media, has sent out appeals to Canada's Public Safety Minister and Prime Minister Stephen Harper.
He speaks to the news media of the trauma he and his family have suffered under. Don Edwards moved from Canada to live in the United States to protect his family. It hasn't been revealed where they live now, for obvious reasons. In the twenty-some-odd years he has tried to inform the public of the danger inherent in allowing this violent psychopath to go free, he knew he was dealing with a "master manipulator", one who convinced the Hamilton police to release him in 1991.
And now, said Don Edwards, this master manipulator has had a full twenty-four years in which to manipulate the psychologists, his caseworker and the warden of the minimum-security Beaver Creek Institution, to allow him the freedom he craves, reflected in unsupervised work release. Leaving the Edwards family vulnerable to this murderer's threat to kill them all.
"The kitchen completely devastated, bullet holes were riddled through the cupboards, sink, window and walls. Glass from the remains of a smashed brewing coffee pot was all over the floor. The counter spattered, the floor smeared and saturated with a large pool of moist blood. The blood soaked floor a clear reminder of where my father had fought for his life, took his last breath while repeatedly being stabbed to death. During the assault the offender is heard yelling numerous times to my father, 'How do you like me now?' . . . which is also recorded on the 911 call."




Don Edwards, victim impact statement
Labels: Canada, Crime, Family, Human Rights, Justice, Tragedy