The Spring Deluge Drowning Canada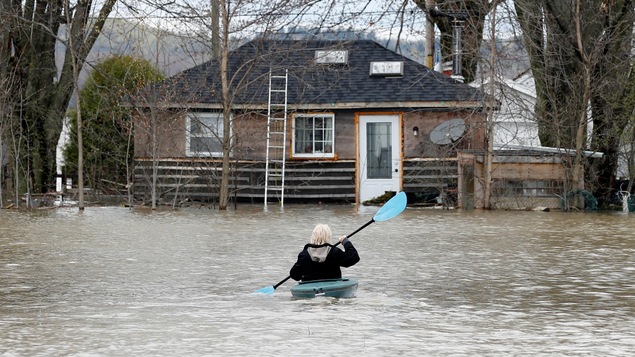 A woman canoeing toward her flooded home in Rigaud, Quebec.
Photo : Reuters/Chris Wattie
"We're doing a good job responding to an event on the ground right at the moment."




"What we're not so good at is having the event not happen in the first place."




"It's almost news that people don't want to hear."




Blair Feltmate, head, Intact Centre on Climate Adaptation, University of Waterloo





"We don't seem to learn our lessons. We have built and continue to build on floodplains, for one thing."




"When the flood comes and disaster assistance kicks in, it's the province that's paying them [municipalities]."




"It's not costing them [municipal responses to catastrophic local flooding] anything to do this."




Glenn McGillivray, managing director, Institute for Catastrophic Loss Reduction





"Most jurisdictions in Canada will not provide government assistance if you could have bought insurance instead. In some ways there's more confusion than there was in 2013 [when Alberta and the Toronto area experienced extraordinary flooding events]."




"Most people are not aware that overland flood insurance is available. Therefore, unless they have been directly in a conversation with their [insurance] broker or their agent at the time of renewal over the past year, they likely won't have it."




Craig Stewart, vice-president, Insurance Bureau of Canada
A woman carries her belongings as two members of Quebec provincial police follow close behind, with more of her things in tow. Flooding in Rigaud forced the evacuation of several neighbourhoods in the town west of Montreal.
(Graham Hughes/Canadian Press)
Copious, continuous rainfall has caused flooding conditions across Canada, from the Maritimes to the West Coast and Central Canada. Spring flooding of the normal variety related to runoff of melting snow and ice in the transition from winter to spring had already taken place, with some insignificant flooding occurring along lakes and rivers, which had since subsided.
And then came the month of May when April showers traditionally heralds the introduction of early spring flowers. But the sun sequestered itself behind banks of rainclouds for days on end, and subsequent rain that seemed to go on forever -- because it did, --swelled lakes and rivers beyond absorptive capacity.
Quebec was the worst-hit province, with a number of communities under water, people evacuated, and an emergency called, the military requested to enter the picture to give assistance. To help with the sandbagging, and the evacuation of residents from low-lying areas.
And in some areas hillsides comprised of Leda clay and sand simply gave way and slumped, completely destabilizing the area causing house foundations to shift and engineering inspections to declare the houses too compromised for homeowners to remain in them, forcing residents to evacuate.
Canadian Forces personnel wade through the flooded streets, Monday, in Deux-Montagnes, Que. About 1,650 soldiers were expected to be helping in the flood effort by the end of the day Monday.
(

Ryan Remiorz / THE CANADIAN PRESS

)
From the St.John River in New Brunswick, the Gaspe Peninsula in Quebec, areas of eastern Ontario where the Gatineau and Ottawa rivers overran their banks and Interior British Columbia where the mighty Fraser did likewise, people have been forced out of their homes. In many instances gas and electricity has been cut off to prevent potential side-effects.
People who opted to remain in their homes, hoping that the peak would be reached without the floodwaters rising above their cellar ceilings into their first floor, managed to get out and about with canoes. Until they were convinced it was time to leave.
Canada once had a federal flood damage reduction program that used flood mapping to discern where and when such devastating floods would take place, and the conditions that led to them. Those flood maps, updated to show where the high-risk areas are, are no longer available, since the program was shuttered in the 1990s.
As for it being resurrected, it is seen by those who evaluate such situations that it would be a "politically toxic" move to restore it. Not because the data provided would not be enormously useful, but because that data would include naming areas most susceptible.
And that in turn would lead to homeowners experiencing the cash value of their property crashing, should they be among those living in an identified high-risk area. Developers would "go apoplectic", mused Blair Feltmate at the University of Waterloo. And, as matters stand now, municipalities don't recognize much of an incentive on the prevention route, to deny building permits to development on known floodplains, as sensible as that would be.
Pierre Gagnon surveys the floodwaters around his home in Deux-Montagnes, Que. That city, northwest of Montreal, is one of at least 10 under a state of emergency due to flooding.
(Ryan Remiorz/Canadian Press)
Glenn McGillivray of the Institute for Catastrophic Loss Reduction speaks of workable measures that could be undertaken to complement a partial ban on new development in high-flood-risk areas. Such as the building of diversion channels and cisterns capable of holding excess water. Alternately, making available a battery backup for a sump pump when electricity is shut off.
But the real situation at the present time is that Canadians generally have no idea when and how their properties may be at risk. New research recently released demonstrated that a mere six percent of Canadians were knowledgeable enough to be aware that they live in a designated flood risk area.
It was only following the 2013 flood in southern Alberta that insurance companies initiated overland flood insurance, previously not available. It is now, to aware homeowners, but as an add-on to regular insurance, and at a steep price in recognition of the fact that flooding is the number one risk to home values being compromised through acts of nature. Only ten to 15 percent of homeowners have taken the additional assurance that "overland flood insurance" provides.
A flooded area of Gatineau, Quebec, seen from the Ottawa side of the Ottawa River, Monday. A ground and air search will resume Tuesday to try to find the two-year-old who went missing near the Sainte-Anne River in eastern Quebec.
(Fred Chartrand

/

THE CANADIAN PRESS)
Meanwhile, people are frantically coming to grips with the dilemma of losing everything they have worked for their entire lives. Their properties so badly damaged it will require more money than they have to repair them. Even so, their resale value will be decreased enormously. And since so few people have the add-on, expensive flood insurance, it will be up to them, their own responsibility to somehow come up with the funding to restore their homes to livable condition. They will never be able to recover personal possessions that will have been ruined, or simply floated away.
A man, driving a SUV in response to friends' communication that they were in need of rescue, set out to do just that, his girlfriend and her two-year-old daughter in the vehicle with him. The vehicle was swamped, turned over and floated away with all three within. The woman managed to swim to safety, the man and the child have not yet been found, despite an intensive search. This is nature teaching humanity that it can not, ever, be too smug about our place in her landscape.
Canadian forces soldiers lay down sandbags to reinforce the highway in Saint-Andre-d'Argenteuil, Que.
(Ryan Remiorz/Canadian Press)
Labels: Canada, Environment, Flooding, Nature, Quebec